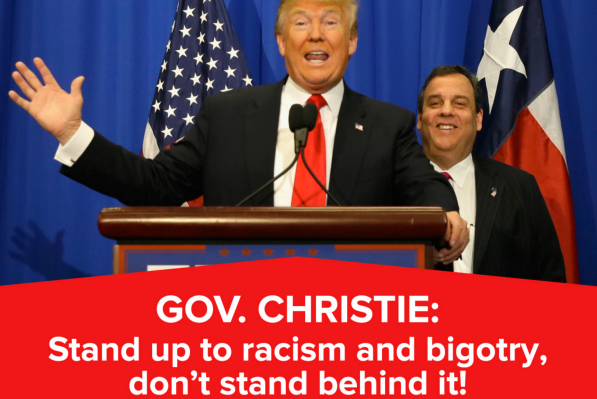 The Associated Press reports that new billboards asking for Governor Chris Christie to rescind his endorsement for Donald Trump have appeared in Bergen, Hudson and Mercer Counties. The billboards, which show Christie standing behind Trump and target the Republican presidential candidate's anti-immigration positions, read "stand up to racism and bigotry, don't stand behind it."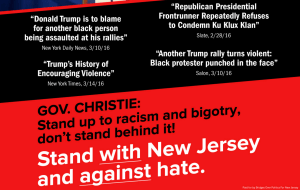 The ads include critical quotes from the press on the aggressive tenor of Trump's campaign, including claims that the billionaire has encouraged violence at his campaign rallies and passages taking him to task for not immediately disavowing an endorsement from Ku Klux Klan leader David Duke. In accompanying video ads, Christie is shown standing behind Trump at the press conference announcing the endorsement with thought balloon reading "HELP."
The nonprofit group Bridges Over Politics, led by former Capitol Hill senior advisor Aaron Keyak, is behind the billboards and videos.
"What's sad is that anyone would give this a second look," Christie spokesman Brian T. Murray said of the ads.
See the rest of the billboards, and the accompanying video spots, here.