This story was reported by Sonja Hansen, Kelsi Trinidad, Janaki Chadha and Felipe De La Hoz. Jillian Jorgensen contributed writing. It will be updated throughout the day with more reactions from voters.
New Yorkers finally have their time to shine in a still-competitive presidential primary: members of both parties are heading out to the polls to have their say in selecting their party's next presidential nominee.
Voters here even have the option of selecting some hometown candidates: Queens-born Donald Trump leads the polls among Republicans, while Westchester transplant Hillary Clinton, the former secretary of state who represented New York in the Senate, leads among Democrats. And her competitor, Vermont Sen. Bernie Sanders, was born in Brooklyn. Also running for the GOP nod are Texas Sen. Ted Cruz—who didn't win many fans in the city after deriding "New York values"—and Ohio Gov. John Kasich.
For some, voting was a bit of a social outing. At Norman Thomas High School on East 33rd St. in Manhattan, Bob Lorenzo, a banker, and his neighbor Elaine Moore Hirsch, a retiree, turned out to vote together—something they've been doing for the last eight years.
"We have a great time going together, and afterwards we'll have coffee. Or maybe drinks," Mr. Lorenzo said.
A Republican, Mr. Lorenzo voted for Mr. Kasich—though he seemed resigned to the fact his candidate wouldn't win.
"I know Trump is going to win. But Kasich could stand to use the vote. I'm a die hard Republican, Trump will either get the nod or he'll get darn close, but I want to keep Kasich in the running because he'd make a great Vice President," Mr. Lorenzo said. "And I wanted to keep Ted Cruz out. Trump doesn't scare me."
Ms. Moore Hirsch, meanwhile, is a Democrat who voted for Mr. Sanders.
"He makes the most sense. He's weak on foreign relations, which he'll get plenty of advice on. Hillary and Bernie, now they'd make a great team because they'd cover all bases, her on foreign relations and Bernie on domestic issues. At the same time I'd like to see a woman in office," she said.
"So you're feeling the Bern?" Mr. Lorenzo asked.
"All the young people are going for Bernie," she replied. "But I'm almost 84, so what does that tell you?"
In Harlem, James Stanley Jones, 82, said he was staying loyal to the local candidate.
"Two years ago, I had never heard of Bernie Sanders. He wasn't our senator, he doesn't have a history of serving New York City, or New York period," Mr. Jones said. "He's from Vermont or somewhere up there."
Robert Jackson II, a 35-year-old Ethiopian-American community activist and preacher who has lived in Harlem for the past 20 years, also voted for Ms. Clinton, saying he supports  "whoever stands for the cause of the black and Latino vote, for affordable housing, against gentrification, things of that nature."
"Sanders don't have no background. People know he's a socialist, and a civil rights activist from back in the 60s and 70s, but what is he doing now?" he asked, adding that Ms. Clinton was more popular in his community.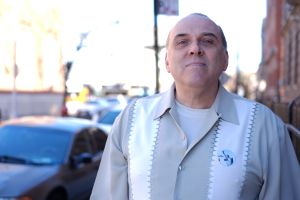 But Dora Korewa, 25, a GED teacher, was backing Mr. Sanders.
"The main reason I'm supporting him is that I know what he stands for and I believe he genuinely has an issue with how the society is set up and how people can make money," she said.
Despite all the attention on the rare competitive primary, she said her polling place wasn't that crowded.
"I've definitely seen more people canvassing and everything like that, but I was always going to vote, and I was always going to vote for the same person, so the attention didn't really change my personal voting experience," she said.
At PS 20 on the Lower East Side, it seemed most voters heading in and out of the polls were Democrats—perhaps not surprising given the city's political leanings.
"I voted for Hillary because she has a better chance against the Republicans. I like her style and ability to compromise," Chris Bornhorst, 34, said. "I'm not sure Bernie would be able to find a compromise. She knows how to get a deal done when you need it done."
But he welcomed the competition—and the presence of the candidates in New York, a late primary state that typically doesn't see much campaign trail action.
"The candidates having their speeches in New York brings more enthusiasm," he said. "It's easy for New Yorkers to write off the election, but it shows that our voices do matter."
Margery Teplitz, 58, cited Ms. Clinton's experience.
"I voted for Hillary. She's the only person fully qualified especially in foreign policy," she said. "I have nothing against Bernie but I think she's a thousand times better candidate."
But Samara Lubelski, 48, voted for Mr. Sanders "because it would be really nice to see change."
"In the paper they said something about him being a once in a lifetime candidate and I really believe he is," she said. "I don't feel like I have to settle for the lesser evils."
Sam Thornton, 21, also voted for Mr. Sanders—though he said he'd considered Ms. Clinton and would vote for whoever the Democratic nominee was in the general election.
"Hillary was a senator and if Bernie has a shot to win, this is a big one," Mr. Thornton said.
And some people were shut out of casting they voted they wanted to cast by New York's closed primary system—which required people who wanted to switch parties to do so by October.
Lorence Dippolito, 38, said he didn't vote because he had wanted to change his registration from Republican to Democrat, and had been trying to get a judge to sign off on a court order to change his registration.
"I'm not voting for Trump or any of them. I'm voting for Bernie because he's for the people, all the people," Mr. Dippolito said. "Trump has a niche demographic, but Bernie's for everybody. I'm about everybody."
At Thomas Giordano MS 45 in the Bronx, Harold Grant said he voted for Ms. Clinton
"I think she's in the mainstream. She's for everything: your rights, my rights, and not only concerned with racial or feminine, but with poor," he said. "Bernie, he wants to come in and complain about people taking money. Everyone does it! I mean, he came out of nowhere."
He said Mr. Sanders, along with Republican Ted Cruz, hadn't been presences in the Bronx before: "You think they would have come here [to the Bronx] if there wasn't an election?"
Annette Rivera, 54, wasn't going to vote—but then decided on Ms. Clinton.
"I want Hillary to win, not only for me, but for my mom," she said. "I want her, in her lifetime, to see not only the first black president, but also the first woman. She's 76."
But Kevin Ryan, a 54-year-old astrologer, voter for Mr. Sanders. He said usually votes with the Socialist or Green parties.
"I joined the Democratic Party specifically to vote in this primary. I'm a small 'r' republican and small 'd' democrat," he said. "If he wins, he really becomes dominant. If he wins California also, which could happen, he might even catch up in delegates."
Lesli Garcia, 24, Latina, also had confidence in Mr. Sanders—and said all her classmates were supporting him, too.
"I don't think we should doubt him just because others are saying he can't do it," she said.
Disclosure: Donald Trump is the father-in-law of Jared Kushner, the publisher of Observer Media.