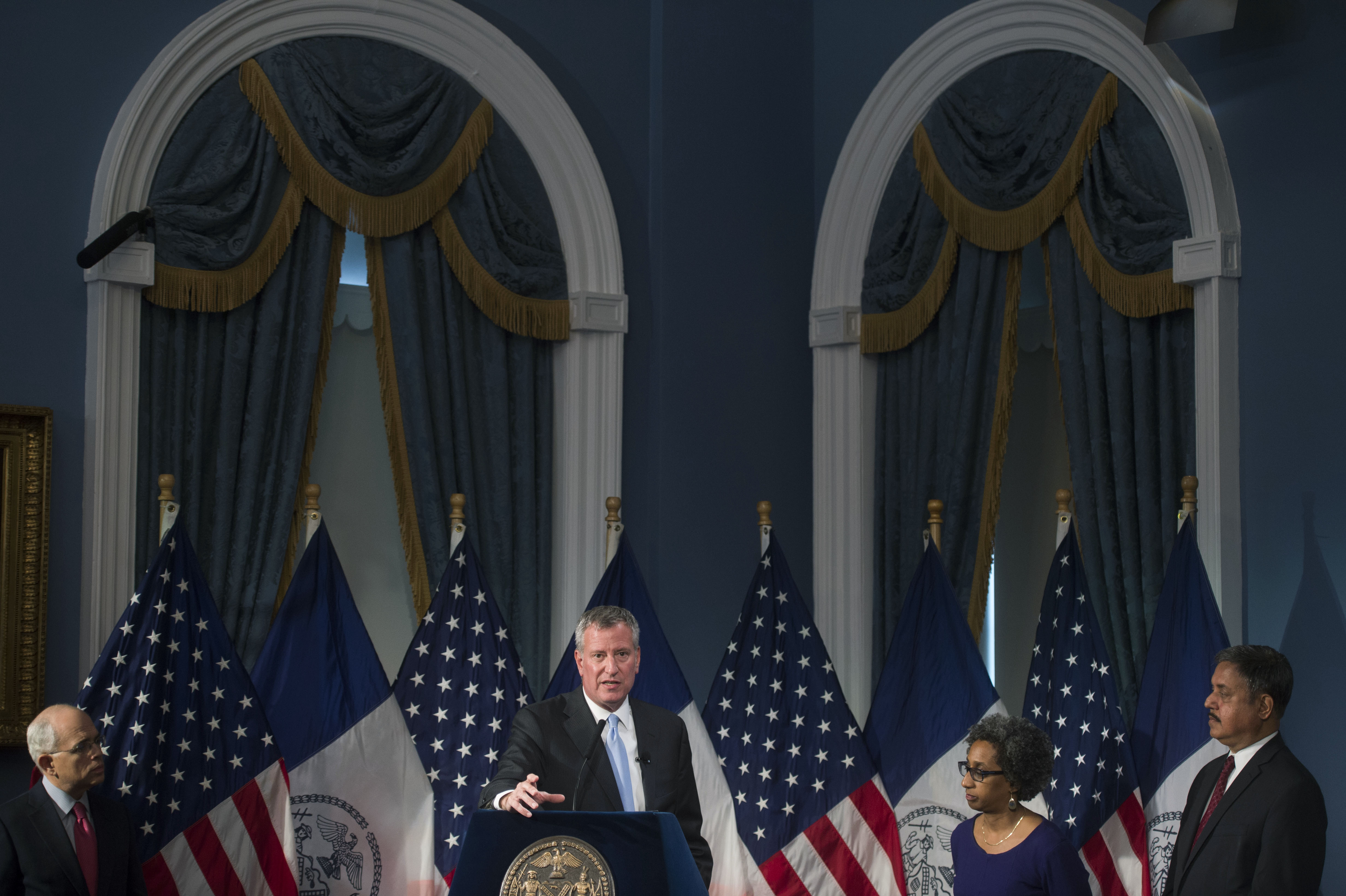 A single topic dominated Mayor Bill de Blasio's budget presentation today: the dire finances of the city's public hospital system.
New York City Health + Hospitals, the sleek new name for the Health and Hospitals Corporation, is facing a cash crunch spurred by declining federal dollars and the cost of tending to the uninsured—and if unaddressed, would face a $1.8 billion shortfall by fiscal year 2020.
"The challenges in our public hospitals have been growing each year, and in many ways have gone unaddressed," Mr. de Blasio said at a City Hall press conference, as he rolled out alongside the budget a plan to grow revenue in the hospitals. "Unfortunately it's been a perfect storm for the HHC."
It's a storm the city can longer afford not to address—literally, as the expenses at the city's public hospitals have begun to outpace its revenue.
To put that more bluntly, the city's public hospitals are running out of money—and not even for not the first time this year. Mr. de Blasio today allocated $160 million just to get Health + Hospitals through the existing fiscal year, which ends on in a couple months on June 30. That's on top of $331 million he added into the 2016 budget back in January.
"I think the answer is this has been coming on in waves," Mr. de Blasio said, when asking why the hospital system needed cash yet again this year. "And it's been troubling, because this is the combined impact of a number of external realities."
Going forward, the city plans to forgive $180 million in debt service owed by the system in fiscal year 2017 and annually.
"You have to think of it as investment in the transformation," Deputy Mayor Anthony Shorris said.
After being pressed, the administration acknowledged the bursts of $337 million and now $160 million in this year's budget is necessary just to keep the hospitals running.
"That is needed to ensure the appropriate operation of Health + Hospitals through this year," Budget Director Dean Fuleihan said.
So what's behind the "perfect storm" Mr. de Blasio mentioned? Declining federal reimbursements as a result of President Barack Obama's Affordable Care Act is one major factor.
"I love the Affordable Care Act, I really do. I don't think any of us could have seen the unintended negative" consequences, Mr. de Blasio said.
The city is receiving less funding to reimburse hospitals for caring for the uninsured, under the assumption that the number of uninsured patients would decrease thanks to the ACA's requirements. But some have ignored those requirements. And one large group of the system's patients aren't eligible for insurance: undocumented immigrants.
"The federal government does not recognize the existence of undocumented people, and we end up paying," Mr. de Blasio summed it up at one point.
Of those Health + Hospitals patients who are insured, many are covered by Medicaid—and reimbursements for their care can lag for years in some cases, Mr. de Blasio said.
"Really neat trick, to owe us money and not pay us money," Mr. de Blasio said.
Other insured patients are simply coming to the hospital less, opting for walk-in clinics, Mr. de Blasio said, or opting to go to private hospitals.
The financial crunch comes not long after the system was rebranded, an effort that CEO Dr. Ram Raju said was done internally. He did not know during the press conference how much the name change cost.
"One of the things we want to do is to be rebranding the Health and Hospitals," Mr. Raju said, "and we are in a competitive market right now."
He said the agency wanted to shed the word "corporation" and would try to emphasize that hospitals, in the future, will be defined "not as a brick wall hospital," but reaching into communities.
But Mr. de Blasio said today the city had no intention of shedding any of those brick walls: he said the city would not close any hospitals or stop using the buildings as hospitals, though he said it was possible there could be changes to the mix of in- and out-patient services.
The new plan for making the city's health system more profitable follows a report from Manatt Health, an outside consulting firm that was hired to put together a report on turning around the system's finances.
That report cost $3 million, Dr. Raju said.