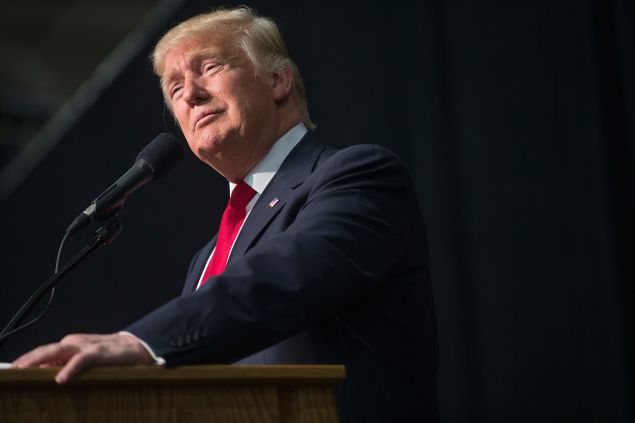 Two days after Donald Trump's landslide victory in New York, the state's Republican chairman announced today he was endorsing the billionaire real estate developer for president.
Ed Cox, an establishment-friendly Republican and the son-in-law of Richard Nixon, said Mr. Trump has "shown remarkable political skill that has energized Americans who have felt disenfranchised by a government that hasn't worked for them."
"He has a record of cutting through bureaucratic dysfunction and his message to 'Make America Great Again' is exactly what we need after two failed terms of President Obama," Mr. Cox said.
Though Mr. Trump, a New York native, and he and Mr. Cox have been cozy of late, the Republican leader irked the incendiary billionaire when he refused to clear a path for him in the 2014 New York governor's race. Mr. Trump wanted to run, but only if Mr. Cox ensured he would have no primary opponent. Mr. Cox refused and Mr. Trump bowed out, allowing time to eventually plot a presidential bid. Though Mr. Trump's bomb-throwing candidacy—he routinely insults immigrants and has been accused of making white nationalist appeals—has angered and frightened many Republicans who crave a traditional nominee, Mr. Cox spoke warmly of Mr. Trump over the past few months and said he would be a strong general election candidate, despite polls that show he would lose to any Democrat.
Ultimately, Mr. Cox had little choice but to shed his neutrality and back Mr. Trump. The Queens-born developer utterly dominated in New York on Tuesday, winning more than 60 percent of the vote and almost all the state's delegates. Mr. Trump could fail to secure the majority of delegates needed to become the nominee and face a brokered national convention this summer, but he's still an overwhelming front-runner. After a low-key few weeks and the shake-up of campaign staff, Mr. Trump appears to be moderating himself to win the backing of more people like Mr. Cox.
"I'm honored to have Ed's endorsement and I look forward to working with him and the entire New York Republican Party as we head toward victory in November," Mr. Trump said in a statement.
Disclosure: Donald Trump is the father-in-law of Jared Kushner, the publisher of Observer Media.