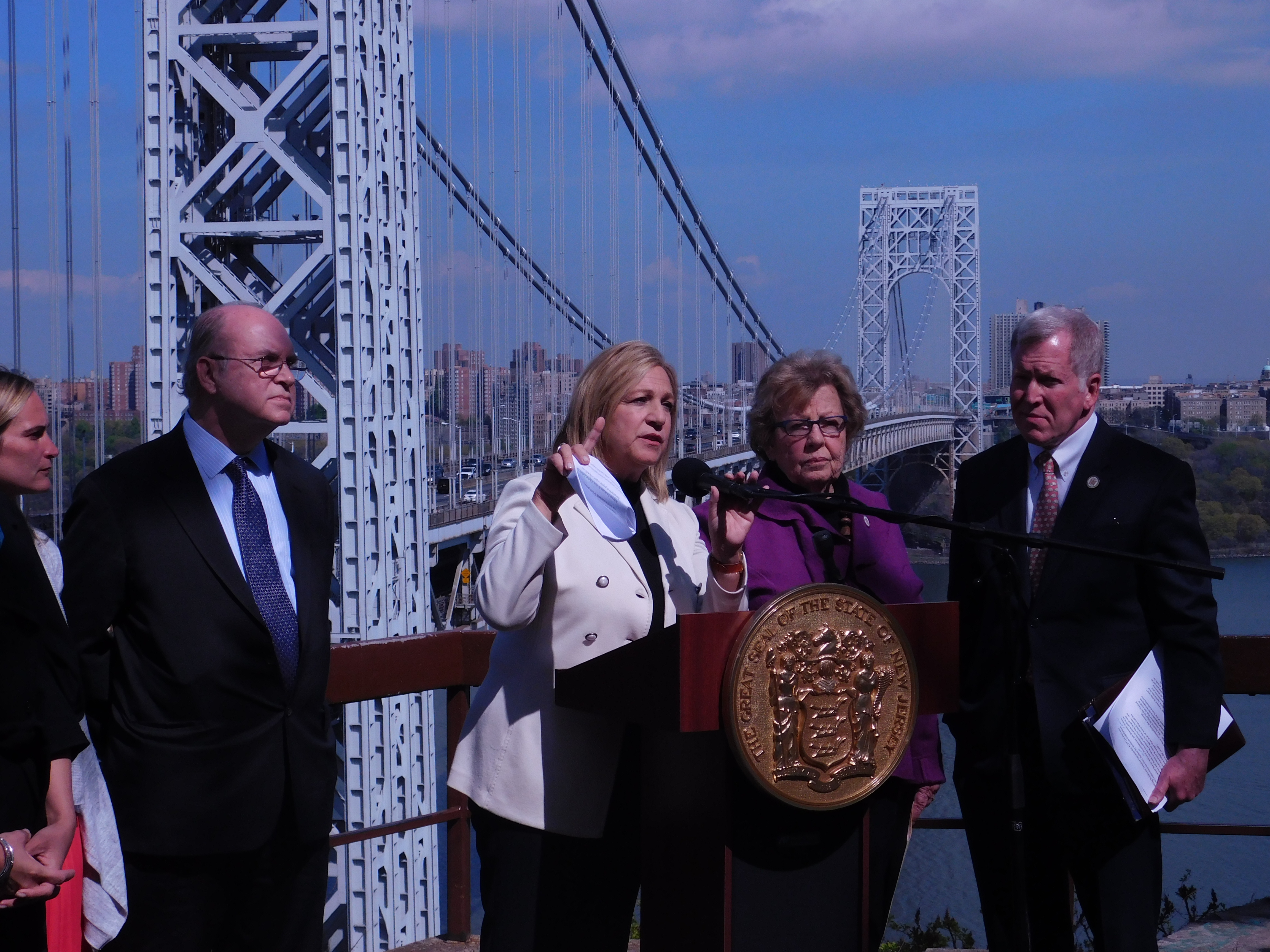 FORT LEE – With the George Washington Bridge looming behind them, a bi-state group of legislators gathered to ask New Jersey Governor Chris Christie to approve the Port Authority reform bill that passed in the New Jersey legislature and went to his desk on April 7.
The group included New Jersey Senator Bob Gordon (D-38), Senator Loretta Weinberg (D-37) and Assemblywoman Valerie Vaineri Huttle (D-37). Also present was New York Assemblyman Jim Brennan, who is the primary sponsor of legislation in New York identical with the New Jersey legislative democrat-approved Port Authority of New York and New Jersey Transparency and Accountability Act (S708/A2184).
A Port Authority reform bill was approved in New York last year and signed by New York Governor Andrew Cuomo. In New Jersey, an identical version of that bill (S355) was supported by Republican Senator Tom Kean. For legislative Democrats, however, that bill lacks sufficient legislative oversight, provisions to control tolls and fares and transparency protections, among other issues. Those perceived shortcomings are what spurred NJ Democrats to draft new legislation.
"Reforming the Port Authority is vital to bringing accountability to the scandal-plagued agency, and any true effort must include legislative oversight. The Port Authority is not only going to be responsible for building a new Port Authority Bus Terminal, but also is being entrusted with the lead role in coordinating the construction of the new Gateway Rail Tunnel," said Gordon. "These projects are critical to New Jersey's future, and it is crucial that we have the ability to monitor the cost and progress of these and other projects on an ongoing basis in the years ahead."
According to Brennan, the extra provisions by New Jersey legislators strengthen the New York law. New York State Senator Martin Golden also approves of the new bill.
"The New Jersey bill keeps the New York law intact while enhancing it by adding a few provisions which are entirely consistent with the spirit of improved transparency and accountability," Brennan said. "We believe that the additions greatly enhance the value and effectiveness of the reforms found in the New York law."
Despite the fact that New York legislators have introduced identical legislation to the new bill, Kean still thinks that posting his bill for vote and passing it is the way to go in order to avoid holding up the reform process.
"Passing my Port Authority reform bill is still the speediest, most effective way to enact critically-needed and long overdue reforms," Kean said in a statement. "Simply posting my bill for a vote to advance to Governor Christie's desk and become law, as it already has in New York, would end the rampant dysfunction that puts much-needed projects like these at risk."
Governor Christie has until May 23 to take action (either veto, conditionally veto or pass) the New Jersey legislation. New York's legislative session ends in June.