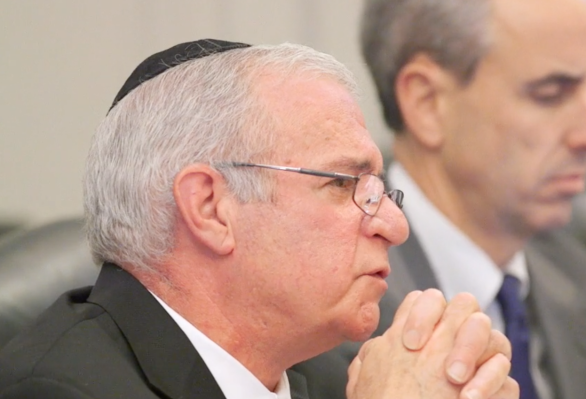 Following the Democratic majority's rejection of changes to New Jersey's school funding formula in the legislature last month, DOE Comissioner David Hespe said Wednesday that he believes lawmakers are better suited for making changes to the formula than the department in addressing the uneven distribution of money to under and over-funded schools. Lawmakers from both parties criticized the department and the administration of Governor Chris Christie for their inability to effect the necessary changes to the formula since Christie issued an executive order on school funding in 2012.
About half of New Jersey's 600 school districts are underfunded, while 40 districts receive what Hespe and members of the committee called an "unfair" share of of the funding due to a rigid School Funding Reform Act (SFRA) and its inability to account for changes in enrollment or local property tax bases. With the state strapped for cash in all areas of the 2017 budget, Hespe acknowledged that funding the SFRA will be a struggle and that the problem will persist into the next school year.
"You have to think it's both an educational issue and it's a political issue," Hespe said of the need to move funding from overfunded suburban districts to impoverished school systems like Paterson, Camden and Red Bank. "If we're going to start pulling aid away from half the school districts in the state, I do think it can't be just a proclamation by me and the state aid notice. There has to be a legislative change.
"If we had a $500 million increase in school support in the budget back in 1999,  almost all of it would have gone into the formula to support districts," Hespe continued. "Now, only a small amount. Almost all of it goes to teacher tensions and benefits and debt costs for school facilities."
Assemblyman John Burzichelli (D-3) joined Declan O'Scanlon (R-13), Benjie Wimberly (D-35) and chairman Gary Schaer (D-36) in expressing frustration over the formula's scattershot apportionments.
"Everyone knows that we've come through very difficult times and it's going to be a struggle," Burzichelli said. "What's hard for people to understand is why that is not a shared and equal struggle across the board."
Hespe testified that if adjustments were made to account for those 40 overfunded districts, $10 million would be available for long-suffering districts like Paterson. Unilateral action from the administration, he said, would not offer school districts enough advance notice. Hespe believes that legislative changes to the SFRA would better prepare districts to meet a May 15 staffing reduction deadline with full knowledge of their budgets for the coming year — a deadline that he noted comes before the state's June 30 deadline to fund the formula.
Schafer brought attention to Christie's 2012 executive order to create a New Jersey Education Funding Task Force that would examine the formula and devise recommendations for the governor. That task force's report, Hespe said, is still forthcoming despite being long past its original deadline. Difficulties in determining on-the-ground poverty through reduced-price lunch data and the lack of a registry of existing PILOT programs have delayed the report by four years.
"I am trying to understand exactly what it is that we have done in the past six years except to put  more and more band-aids across a very badly damaged body," Schaer said. "I would never be so bold as to suggest anything to the governor. But he and his executive order called for this to be done 120 days after April 2012. And although your math, I freely admit it, is better than mine, there is no way that your math takes you 120 days from April of '12 and brings you into April of '16."
"Agreed," Hespe said.