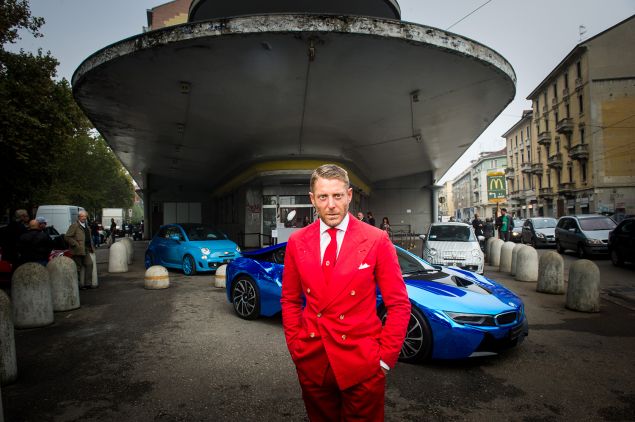 The MIDO Eyewear Show in Milan is the largest in the world, and Lapo Elkann was the most well known person in its 484,600 square feet this year. Walking across the trade show floor with him, one could have mistaken him for a member of a boy band. Guests clamored for selfies, and followed us through the display for his booming eyewear empire, Italia Independent. Charm itself, Mr. Elkann wrapped his arm around my neck as though I was a long lost brother. He is the epitome of an Italian playboy, though his partying days are far behind him.
Mr. Elkann's trademark raspy voice and tattoos, most of which are by Mark Mahoney, add to the intriguing combination at work. And Mr. Elkann is always at work. He is impeccably dressed at all times in ensembles ranging from pastel double-breasted suits inherited from his late grandfather, Fiat CEO Gianni Agnelli, to off-duty James Bond looks fit for Lake Como. On the day we met, he wore tailored trousers and a T-shirt emblazoned with his favorite slogan, "Italians do it better."
We wove our way through Italia Independent's offerings, including pair-ups with Adidas Originals, Jeremy Scott, Hublot and Ducati. As a self-proclaimed petrol-head, the Ducati collaboration, which debuted last year at Art Basel Miami Beach, is Mr Elkann's favorite. The Hublot collection is worthy of note, crafted from a brand new material, Texalium. As we glided by, he caressed the leather seat of the Ducati Scrambler motorcycle on display, which he designed to accompany the range of sunglasses. "We made the Scrambler—how do you say?—Sexier," he said. His speech is peppered with this requisite, "How do you say?"
We sat down to chat with Mr. Elkann's business partner, Giovanni Accongiagioco. "Giovanni and I first worked together at the Fiat Group," Mr. Elkann recalled. In addition to his own pursuits, his family is also a major shareholder of Exor, the investment company owned by the Agnelli family, which maintains a controlling stake of the billion-dollar Fiat Empire. "It was bankrupt, and Giovanni and I united over working on the relaunch. With the launch of the Punto and the Fiat 500, we helped bring Fiat back into the panorama where it deserves to be, in a profitable company. When we left Fiat, we decided to start a company in eyewear. The basic premise being 'Italians do everything better, why not eyewear, too!' "
Italia Independent's success became the impetus for other companies such as Garage Italia Customs. They work one on one with owners to customize already-luxury automobiles, boats, even scooters. The results range from camouflage yachts to custom candy-colored Vespas. Pirelli will not produce custom-colored tires for anyone other than Mr. Elkann.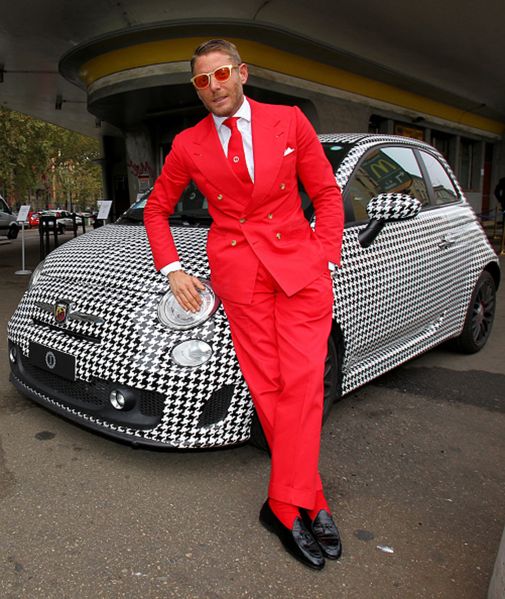 "If you look at the world of customization, it's worth around $590 billion over all—not only automotive, but cars, bikes, boats, planes, etcetera, it's a business with a lot of opportunities." He anticipated that Garage Italia Customs will reach a break-even point in two to three years and also add outposts in Miami and Dubai by the end of 2016.
All of Mr. Elkann's product designs—whether transportation or eyewear—are cross-pollinated with his appetite for Italian racing and luxury. When designing a new pair of sunglasses he often looks toward the racing or aerospace industry, or vice versa when designing a new car. "We're always seeking new opportunities and possibilities for materials. Everyone in our company has a 360-degree vision, because ideas can come from places you least expect," he said. "It's in the DNA of my companies, and now it has—how do you say?—become the DNA of my employees, too. Italia Independent is roughly 230 people; Garage Italia Customs is 30-40 people. The reality is, I always want to drill down to the creative energy of the team, to the people, to the collaborators, because if as an entrepreneur I don't do that, it means I am failing—as a businessperson and as a leader."
"When I came into the professional world I said, 'Nobody will stop me and nothing will stop me, and every dream I have in my cupboard, whichever dreams they are, I will make them come true.'"
Mr. Elkann is also a partner, along with sister Ginevra Elkann, in a film distribution company, Good Films; the owner of an advertising agency; and, his most recent venture, a charity, L.A.P.S. The acronymic title, which is also a play on his first name, stands for Liberia Accademia Progetti Sperimentali or, translated, Free Academy for Experimental Projects. The program focuses on aiding disadvantaged youth targeted by gangs in Southern Italy where the mafia maintains a stronghold. "If you receive from your country, you need to give back," he said. "My foundation focuses only on Italy's problems—specifically 75 percent in the South—and it's my own money. It's not my family's money, and I'm extremely happy and proud of it."
All together, Mr. Elkann's empire is a storm of wildly different ideas, and it is difficult to comprehend how one man hones such a breadth of concepts to be produced in a strategic, profitable way.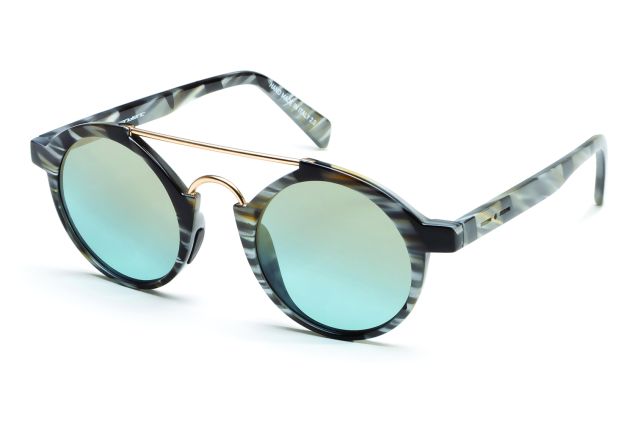 "I'll be very honest with you, and I'll tell you the real story," he said with a pause after some gentle prodding. "When I was a kid, I was dyslexic. I had high attention deficit disorder, and I was always the worst one in school, so I was perceived and viewed as a failure in my childhood. Boarding school in France, which I hated with all of my heart, gave me the opportunity to be very much in my mind, and my mind is extremely creative. When I came into the professional world I said, 'Nobody will stop me and nothing will stop me, and every dream I have in my cupboard, whichever dreams they are, I will make them come true.'"
At first examination these may sound like broad platitudes, but the numbers are there to back it all up. The Italia Independent Group's 2015 financial results touted a 20.4 percent rise in net revenue to €39.63 million, owing primarily to growth in the eyewear sector which, in 2015, accounted for 79.7 percent of the group's total consolidated revenue. In dollars and cents, the dreams are coming true.
While Mr. Elkann's aesthetic reflects his own flashy taste, he insists that nothing he creates or conceives is just for him. "I do believe that I have a constant drive, because I'm an extremely passionate person," he said. "But, at the same time I'm extremely professional, driven and focused. I have clear ideas of where I want to go, what I want to do and exactly how I want to do it."n