"This is a very rare offering," Core broker Heather McDonough informed us as we stepped out of the bronze elevator at 25 Bond and into a second-floor loft. "It's one of only 10 in the building."
Sadly, the current owner of the 3,722-square-foot condo, which is listed for $12.25 million, didn't get much of a chance to enjoy it—he rented it out shortly after purchasing it but not before bleaching the floors and adding stainless steel around the two huge wood-burning fireplaces in the living room and master suite. The current resident seemed ready for summer—there was not a single log to be seen.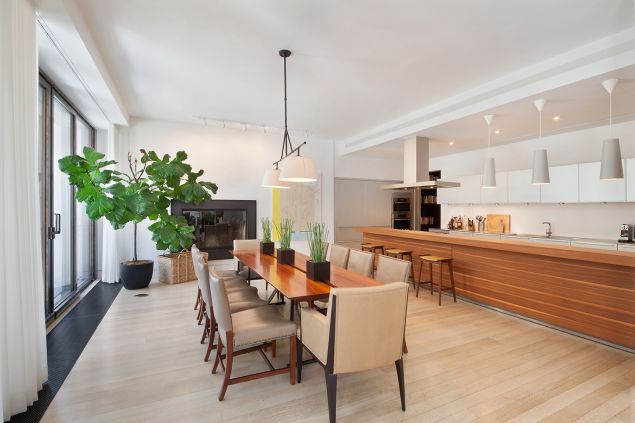 The stainless steel kitchen looked like it got more use, and three stools were pulled up to the 15-foot long counter, in case the 10 cushy leather chairs around the adjacent formal dining table didn't suffice. Less formal and perhaps more comfortable was the sectional in the cozy media room next to the kitchen.
"The tenant had Michael Smith come in—the decorator who did the Obamas' stuff," Ms. McDonough informed us as we passed by a stack of the designer's books in the living room. Perhaps Mr. Smith also had input over the towering bouquet of D.C.-esque cherry blossoms perched on the entryway table.
Less flowery were the bedrooms, which were done in rather standard neutrals—a brown and beige guest bedroom with en-suite bath, along with a second room currently in use as a den of sorts. The master suite, though, had its own wood-burning fireplace, and its limestone master bath contained an enormous shower, which doubled as a steam room—just in case the sleek standing tub simply wasn't relaxing enough.
"It's just a very special, unique place," Ms. McDonough said as we prepared to leave, peering out the living room's floor-to-ceiling glass windows to the cobblestone street. "Did you know about the sidewalk?" she asked excitedly.
Indeed, the granite walkway below is quite literally a work of abstract art—an engraving by Japanese artist Ken Hiratsuka of a single, wavy line with a corresponding stone sculpture etched by Mr. Hiratsuka with the same design in the lobby.