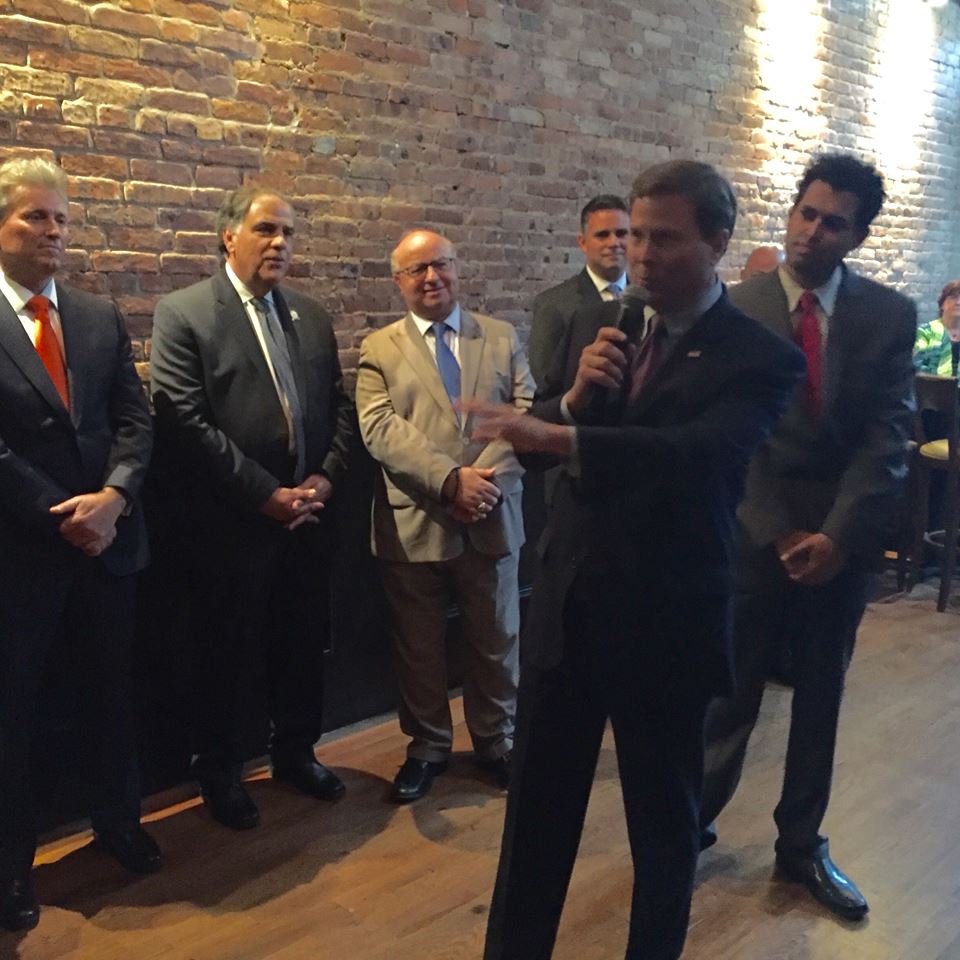 U.S. Rep. Donald Norcross, brother of South Jersey Democratic Party titan George Norcross, headed north last night to headline an event for Monmouth County Democrats. The labor-themed event held at the Downtown in Red Bank featured leaders from major unions from throughout the state.
Norcross, a former union electrician, headlined his first major event for a county party outside of South Jersey. He stood alongside U.S. Rep. Frank Pallone and Monmouth's two new assemblymembers, Eric Houghtaling and Joann Downey. Those in attendance included several mayors – Aberdeen Mayor Fred Tagliarini, Belmar Mayor and Freeholder Candidate Matt Doherty, Freehold Borough Mayor Nolan Higgins, Lake Como Mayor Brian Wilton, Loch Arbour Mayor Paul Fernicola, Manasquan Mayor Ed Donovan, Marlboro Mayor Jon Hornik, Neptune Mayor Kevin McMillan, Red Bank Mayor Pat Menna and Spring Lake Mayor Jennifer Naughton. Also in attendance were 5 new Democratic Mayors elected in 2015, all of whom replaced Republican incumbents and were featured prominently standing alongside Norcross. They were Atlantic Highlands Mayor Randi LeGrice, Oceanport Mayor Jay Coffey, Matawan Mayor Joe Altomonte, Ocean Township Mayor Chris Siciliano and Spring Lake Heights Mayor Tom O'Brien. Also in attendance to see Norcross honored by the County Democrats was South Jersey's frequent rival, Jersey City Mayor Steven Fulop. NJDSC Vice-Chair Lizette Delgado was also in attendance.
"There is no doubt with the election of Assemblyman Eric Houghtaling, a 40 year IBEW Member and Executive Board Member, the county Democrats are building an important relationship with our state's building trades. Eric is one of a handful of trades members in the New Jersey State Legislature, and he represents 18 towns in Monmouth County," said Monmouth County Democratic Chairman Vin Gopal
According to ELEC Reports for 2015, both the Laborers and Carpenters Union maxed out at $37,000 each to the Monmouth County Democrats.