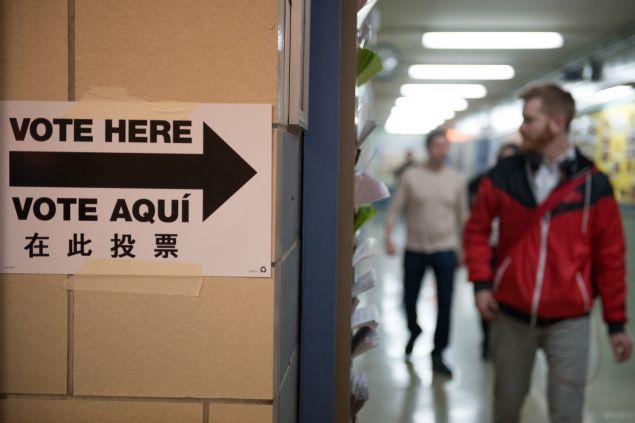 New York's primaries were at once dramatic and anti-climatic. The electoral outcomes were predictable. Unfortunately, so too were the extensive problems plaguing polling places.
The fallout has been reverberating since Brigid Bergin of WNYC first reported that Brooklyn had fewer Democratic voters than it had in the past—leading the Board of Elections to reveal that it had purged more than 100,000 voters from the rolls. The inexplicable decision to do so shortly before a major primary election was coupled with widespread reports of voting problems—ballots that weren't available, polling places like that weren't open—that conjured up images of botched elections past. Indeed, BOE executive director Michael Ryan told the Observer on primary day that he thought the election had been typical—and that's exactly the problem: local politicos have long known of the problems at the Board of Elections; now the rest of the country knows about them, too.
While there may be no grand conspiracy to disenfranchise Bernie Sanders voters behind the voter purge—it seems that the incompetence was caused by bipartisan patronage—that incompetence does create voter suppression. In the end, if your vote isn't counted, it doesn't really matter if it's an overt measure like a poll tax or voter ID law or a clerk's screw-up that kept you from casting your ballot.
And reports from multiple sources underscore the fact that the problems were far more extensive and not limited to Kings County.
And reports from multiple sources underscore the fact that the problems were far more extensive and not limited to Kings County. As the Observer's Jillian Jorgensen reported, just about everyone is angry at the NYC BOE and even Mayor de Blasio's emergency plan to pour $20 million into quick fixes won't address problems that even elected officials are deeming "systemic."
We were reminded of New York's sordid history of "voting irregularities" during a lunch two days after the primary with the legendary trial attorney David Ellenhorn. Mr. Ellenhorn was a young partner at Kronish Lieb in 1972 when he got a call from former Congressman Allard K. Lowenstein.
Lowenstein, a founder and the driving force behind the anti-war movement's "Dump Johnson" movement in 1968, had been elected to the House of Representatives that year from Nassau County. Two years later, after being named No. 7 on President Nixon's "enemies list," he saw his district disappear in a gerrymandered reapportionment. With his wife and three young children, he moved to Brooklyn's not-yet-gentrified Fort Greene and took on one of Congress' most senior and influential Democrats: John Rooney. And in so doing, Lowenstein also took on the Brooklyn Democratic machine and its powerful leader, Meade Esposito.
Despite an influx of hundreds of youthful volunteers, celebrities and newspaper endorsements, Lowenstein lost the Democratic primary—by 890 votes out of more than 30,000 cast. Convinced that the election had been stolen—what losing candidate doesn't believe that?—Lowenstein turned to Ellenhorn and a young Kronish Lieb associate named Harvey Lippman to prove it—in court.
Mr. Ellenhorn reminded us that dozens of campaign volunteers spent the hot summer combing the voter registration books, examining the "buff cards"—the signature cards named for the color of the thick paper—and looking for patterns of voter fraud. They documented hundreds of instances of dead people being allowed to vote and dozens of buff cards where voters had the chutzpah to sign the buff cards and vote—twice in a single day. And all of these irregularities happened in Rooney-friendly districts and under the watchful eyes of Election Board factotums.
Ellenhorn's young investigators found a different pattern of abuse in Lowenstein-friendly districts. There they discovered a pattern of voting machines breaking down or machines not showing up at all on Election Day. The wait to vote lasted up to five hours (in Cadman Plaza). But most often, voters would show up at their regular polling place and be told that their buff cards were lost—that they were not registered—and be turned away.
After a trial before a Supreme Court justice who just happened to be Meade Esposito's personal lawyer and not surprisingly ruled against Lowenstein, Ellenhorn appealed and prevailed before New York's highest court. The Court of Appeals threw the primary result out—declaring "massive irregularities"—and ordered a new election. Unfortunately, Meade Esposito's machine—and his control of the Board of Elections—was able to repeat the same tricks that led to the first stolen election.
We have no idea whether this year's primary election snafus—and particularly the hundreds of thousands of voters who were told they weren't registered and were turned away because their registration cards (no longer buff-colored but contained in the same Board of Elections binders) were missing—were the result of incompetence by the Board of Elections or something more nefarious. But we are very happy to see that both Attorney General Eric Schneiderman and City Comptroller Scott Stringer have opened investigations.
But their work needs to be done quickly: New Yorkers will go to the polls three more times before the end of the year. Yes, you read that correctly: three more times. We have primary elections for the federal Congressional races on June 28; another set of primaries for statewide races—Assembly and State Senate—on September 13; and the general election on November 8. The very fact that we are so disorganized as to have four separate elections within a six-month period speaks loudly about the inefficiency and potential for fraud.
This page has been critical of some of Mr. Schneiderman's initiatives. The tendency to pander to special interest groups can be overwhelming in New York. But an investigation of election fraud is at the core of the Attorney General's responsibilities, and essential to the very foundation of our democracy. We believe he has the insight, independence and determination to take this investigation to wherever it may lead—and then do what is necessary and right to serve all New Yorkers.