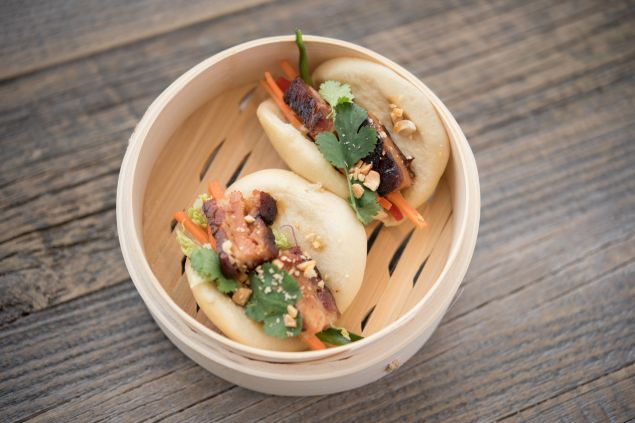 Jeff McInnis and Janine Booth make a striking pair. The obvious comparison to Mattel's infamous blonde-hair, blue-eyed power couple notwithstanding, it's their culinary chops that've put the world on notice.
Their latest foray into the restaurant scene: The Sarsaparilla Club, a rustic poolside enclave holding court in the newly renovated Shelborne Wyndham South Beach that's putting out hearty interpretations of Chinese dim sum starring… American comfort food.
Think the two make strange bedfellows? Well, sure—but damn if it doesn't work.
"The Sarsaparilla Club concept is inspired by the infinite possibilities of the multicultural American table, offering a platform for both of us to experiment and create new takes on American classics, while paying respect to culture and traditions," says Ms. Booth.
After star turns on Bravo's Top Chef (Mr. McInnis starred in season five, while Ms. Booth dished up her talents in season 11) and several stints together in well-respected kitchens around Miami (Gigi and Yardbird), the two struck out for New York and planted their flag in the East Village with Root & Bone—which quickly gathered success-affirming long waits and several accolades, including the title of "Manhattan's Best New Fried Chicken" from Eater NY.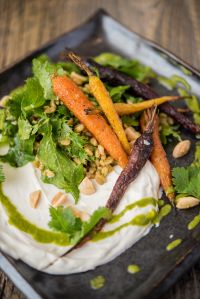 On a drizzly Thursday South Beach night, well-heeled diners summoned over carts brimming with wildly inventive small plates from their perch in a makeshift living room in front of the bar. The dining room's sleek mirrored columns and golden hues lend the space a posh sensibility, while the hanging succulents, coiled nautical rope and charmingly mismatched plates and rocking chairs helped to infuse a down-home, southern gentility to the room.
And it's those small plates, on dim sum carts roving throughout the restaurant, that guests seemed most tickled by. Roasted pumpkin sitting amid quinoa granola and topped with aerated pumpkin foam by the cart attendant. Deviled eggs soaked in pickled beet juice. House made steamed buns brimming with pork belly bacon and fish sauce caramel. All served tableside and with visual aplomb.
As luck would have it, the famed fried chicken also made the journey back to Miami. While Root & Bone uses a sweet tea brine on their poultry, Sarsaparilla's version enlists the help of green curry and lemongrass before it's finished off with a kaffir lime powder. An interesting veggie counterpoint to the chicken is the Roots & Soil, a veritable garden composed of pumpernickel "soil" and baby heirloom vegetables showered with yuzu crème.
The restaurant's eponymous ingredient makes its appearance throughout the menu, but nowhere more so than at the bar. Sarsaparilla ginger beer mixes with rum and berries in the No Money, No Honey while the Malt & Pepper makes quick use of house made sarsaparilla malt soda, cachaça and sugarcane.
"Returning to Miami to open another new concept reminds us of riding a roller coaster; we're excited, scared, and happy all at the same time," says Mr. McInnis.
And the city is all too happy to come along for the ride—even if it has to keep its hands, arms and legs inside the banquette at all times.