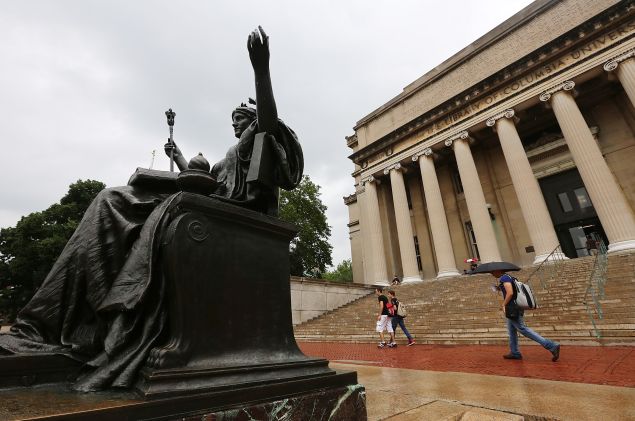 Student protests at Columbia and New York University this past week against the schools' relationship with the fossil fuel industry has taken a dramatic turn.
Sit in protests have been held across school buildings, with student activists demanding a dialogue with university officials regarding the financial support the two institutions receive from the fossil fuel industry. So far, no agreements have been met between the two activist groups, NYU Divest and Columbia Divest for Climate Justice, and their respective universities.
At NYU, protests have been ongoing since Monday morning inside of Bobst University library's elevators. Since 2012, the NYU Divest group has been campaigning to petition the university's Board of Trustees in regards to the $139 million dollar investment the university has in the coal, oil and gas industries, NYU Divest activist Olivia Rich told the Observer. A meeting was promised in 2014 by ex-university president John Sexton, but it has yet to materialize. The occupied elevator will be of no impediment to students, however it goes directly to the administrative offices on the uppermost floors.
The university has subsequently shut down the elevator. Ms. Rich explained the group plans to be inside the elevator until at least 1 am if demands are not met. Failing that, Ms. Rich said, "this isn't going to be over."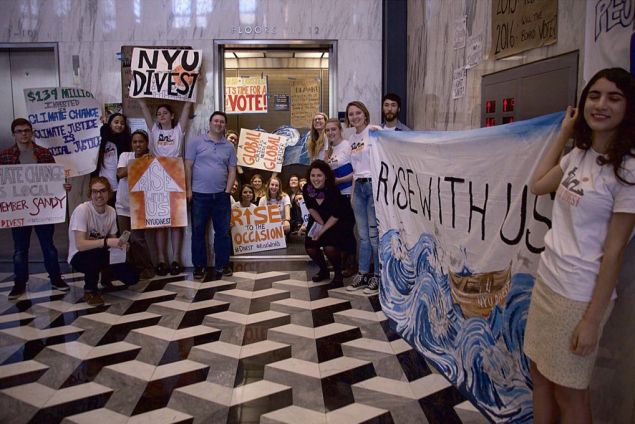 On the other side of Manhattan, Columbia students have occupied the area around the University President Lee Bollinger's office since Thursday. Other students set up camp inside Columbia's Low Library. The university's response has been to dangle the threat of arrest over protesters, but it has also threatened university suspension, both on the group and to its individual members.
One of the protestors in the library, Rachel Sisicult, told the Observer that a substantial part of Columbia's 9 billion dollar endowment comes from the top 200 fossil fuel companies. Columbia has also individually received donations from ExxonMobil, the oil and gas company that continues to cause catastrophic environmental damage to Greenpoint's Newtown creek in a spill that was first discovered in 1978. Columbia Divest for Climate Justice demands that the university's ties with the fossil fuel industry be severed completely.
Ms. Sisicult said that in the library, Columbia had even cut off food supplies and drilled windows shut in an attempt to lure students out. The group has stood firm, however. Ms. Siscult said that further "escalation," (a hunger strike and sit in protest outside President Bollinger's private mansion have been suggested) will be necessary if demands are not met.
Columbia Divest for Climate Justice has received many endorsements, from numerous student societies and from the university chaplain. Even Presidential hopeful Bernie Sanders lent his support to the two protesting university groups, tweeting on Monday afternoon:
UPDATE: "Today's action by NYU Divest is puzzling and disappointing, particularly given our many past efforts to work with this group and to demonstrate we take their issues seriously.  These include setting up a meeting to present their case to members of the Trustee's Investment Committee earlier this year, and a previously scheduled meeting with NYU's President later this very week.
And today, we went further, offering them a meeting with the full Investment Committee of the Board of Trustees.
Regrettably, they declined our proposal, which we offered in the spirit of moving forward in a positive manner.
We respect NYU Divest's right to protest and state their position. But the reality is that the matter is being considered in line with the process we have repeatedly described to NYU Divest, and we think it's unfortunate they turned down our offer to move forward," NYU Spokesman John Beckman said in an email to the Observer.
UPDATE: In a statement issued to the Observer, Caroline A. Adelman, Columbia's Media Relations Director said:
"Columbia University is defined by its embrace of freedom of expression and open debate, a commitment apparent on our campus every day. But our rules and values do not allow students to limit the speech or infringe on the rights of others in our community.
Because we place reasoned discussion and exchange of competing ideas at the center of the University's mission, President Bollinger last week agreed to move up his planned April 29 meeting with Columbia Divest for Climate Change to this Monday afternoon. Some members of the organization nevertheless have chosen to continue preventing the regular usage of Low Library as a central event space for our University community and, for a period, as a workplace for the President's and Provost's office staff.
Significantly, Columbia already has in place a serious, deliberative process to consider proposals for divestment. This process includes opportunities for student organizations to provide their insight and recommendations to a committee of students, faculty and alumni. Upon receiving and considering a proposal for broad fossil fuel divestment, the University's Advisory Committee on Socially Responsible Investing (ACSRI) issued a thoughtful report in November recommending that the University leverage our expertise in climate change to expand relevant research initiatives and consider other options, such as more targeted approaches to divestment or shareholder engagement strategies. The ACSRI has continued its work this spring exploring the practical implementation considerations of these options. We urge everyone to read their report and join this important conversation in the months ahead.
At the Committee's recommendation, the University has taken steps to enlist Earth Institute faculty and other climate change scholars, as well as students, to strengthen the principles guiding the sustainability of our campus operations. Going forward, we welcome the continuing discussion and debate in our community over the most appropriate and effective approaches for us to address climate change and diminish our society's reliance on fossil fuels — a vital goal that Columbia has long pursued through its pioneering research, teaching and advocacy."