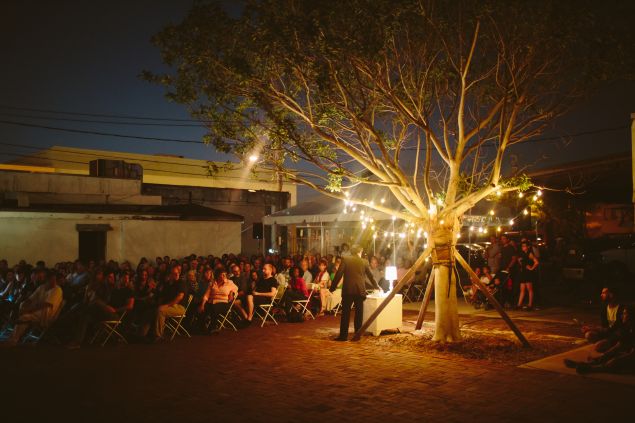 If one's only association between Miami and poetry is TIME Magazine's infamous 1981 "Paradise Lost" cover story—which was, after all, a tale of a city awash in cocaine and drug murders, not Milton aficionados—one clearly has not heard of "O, Miami."
Now in its fifth installment, the "O, Miami Poetry Festival" has a simple mission—to ensure each person in Miami-Dade County encounters a poem in the month of April. Part of National Poetry Month, the annual celebration features more than 35 events and 20 projects; it is run by the eponymous organization O, Miami, which exists to advance literary culture in greater Miami.
Relying on both conventional programming and guerrilla techniques, "O, Miami" aims to, in the words of founding director P. Scott Cunningham, "bomb" Miami with verse. In years past, its guerrilla tactics included painting gold-leafed verses inside public urinals, stitching poems onto clothing at thrift stores and staging a free, public tattoo session at a local watering hole, where participants made a permanent commitment to a favorite poetic line or couplet.
Amid the envelope-pushing novelty of these installations, a more serious project is germinating—city-building.
"'O, Miami' is a Miami festival first and a poetry festival second," Mr. Cunningham said. Once lauded as South Florida's P.T. Barnum of poetry, the festival's founding father is a poet in his own right and also founding director of a small press, Jai-Alai Books. He might just as well be compared to Pulitzer-finalist Dave Eggers, not simply for his love of words, but for his ambitious vision for community transformation through the literary arts.
BEYOND THE SHEEN
A poetry festival competing with the glitz and glamour of Miami's flourishing real estate market is a striking juxtaposition. Such has been the preponderance of Miami's post-recession development boom that the construction crane is oft referred to as the Miami-Dade County bird. While luxury high-rise condos are remaking the city's rising skyline, "O, Miami" looks to foment a different type of progress—by casting its sights on the grassroots.
"In the same ways that poems open up the hidden lives of people, through doing the festival, maybe we can pull out the Miami that is beneath all the advertising, Miami Vice—all the sheen that Miami tries to put on because it's always trying to sell itself as a destination for real estate or tourism," Mr. Cunningham said.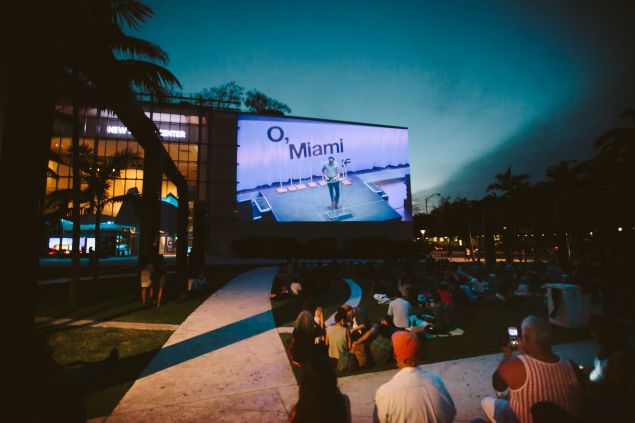 To celebrate the heritage of greater Miami beyond the famed locales of Downtown and South Beach, this year's version of "O, Miami" has targeted communities underserved by earlier efforts, in particular the municipalities of Hialeah and Opa-Locka and the suburb of West Kendall. Exemplifying this initiative was a workshop and walking tour that was thematically tied to the community in which it was held.
The event was called "The Golden Age of Islamic Poetry" and held in Opa-Locka, a community designed based on One Thousand and One Nights and boasting one of the largest collections of Moorish revival architecture in the U.S.  
Other festival activities explored pressing global issues that are particularly consequential for Miami-Dade County. With the Obama administration moving to remake U.S. policy in relation to Cuba, the festival's Spanish-language event "Building Bridges: New Encounters in Cuban Poetry" was designed to bring together poets living in Cuba with their Cuban-Miamian counterparts, for a reading and discussion of the future of Cuban literature and politics. Another event, "Rising Waters Poetry Flotilla," invited participants to kayak through Miami's canals, listen to ecologically themed poems and collectively grapple with the challenge of rising sea levels and Miami's unrelenting coastal development.
BUILDING UPWARDS AND INWARDS
In The Lonely City, which looks at art as part of a broader investigation of loneliness and the urban experience, author Olivia Laing writes: "You can be lonely anywhere, but there is a particular labor to the loneliness that comes from living in a city, surrounded by millions of people."
Much is made of the role of visual art in the making and remaking of the world's cities, but less is understood about poetry's place in this very process. However, there is obvious synergy: Cities are economic and cultural hubs, existing to connect people; meanwhile poetry facilitates all manners of connection—intimate and political, intellectual and spiritual.
In the various programs of "O, Miami," different layers of connections forged by poetry can be glimpsed. At the "Favorite Poem Project" reading, headlined by former U.S. Poet Laureate Robert Pinsky, Floridians of all stripes took to the stage and screen at the Wolfsonian-FIU museum, to recite favorite poems.
A kitchen designer who read a Pablo Neruda sonnet by video associated poetry with romance, and noted that without its presence in our lives, we become cold and "technical" with one another. A travel writer drew parallels between poetry and travel, since both provide gateways to new worlds.
A filmmaker referred to the verses of the late African-American poet Lucille Clifton as "the gospel," particularly for those who "looked like me"—thereby underscoring poetry's capacity for reinforcing bonds within racial or ethnic groups. A journalist and tour guide used Seamus Heaney's "Death of a Naturalist" to illustrate how the natural world connects us to the things that are most important in life.
Motifs like romance, internationalism, racial inequality and nature resound in Florida's narrative, and engaging with them through poetry can spur agency in community development and help shape the identity of a city that is redeveloping rapidly.
Mr. Pinsky explained that he started the national "Favorite Poem Project" to emphasize the bodily—that is, vocal—experience of poetry. "We intentionally don't use actors or other professional performers" so as to place focus on the reader's body as the medium for the art, Mr. Pinsky said.
But perhaps more than anything else, what has made "O, Miami" so effective has been its concern for the ways readers connect to poems. Reflecting on the festival's five years, Mr. Cunningham said: "The biggest evolution of 'O, Miami' is that when we started out, we thought of the mission as a delivery: We had all of this poetry and we were going to give it to everyone. What's happened since then is that now Miami is giving us the poetry. We realized that the poetry was already out there and we didn't have to give it to anybody."
Visit the 'O, Miami' website for details on all 2016 events.
Adeline Oka is a writer, editorial consultant, public speaker and the former editorial director of Invest: Miami. She holds degrees from Amherst College and the University of Cambridge. Follow her on Twitter: @adeline_oka