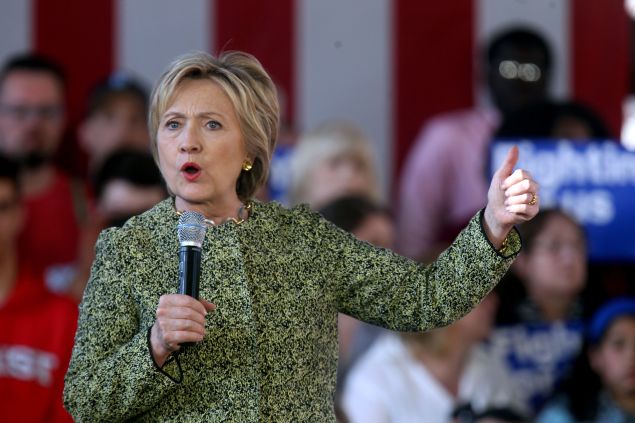 Renewing their attacks on her bitter rival, Sen. Bernie Sanders, Hillary Clinton and her supporters dismissed the Vermont independent as a candidate too beholden to the gun lobby and even likened him to Donald Trump at a Midtown rally today.
Ms. Clinton, speaking in a ballroom filled with several hundred supporters on the third floor of the New York Hilton, once again highlighted the fact that Mr. Sanders voted for a 2005 bill that gave gun manufacturers immunity from lawsuits if their weapons were used illegally. Ms. Clinton, then a New York senator, voted against the bill, along with the senator, and future president, Barack Obama.
"There are many powerful lobbyists in Washington, as I said in the debate the other night in Brooklyn. I said, look, Senator Sanders talks a lot about the greed and recklessness of Wall Street," Ms. Clinton, the former secretary of state, said. "But what about the greed and recklessness of the gun manufacturers?"
"Senator Sanders said the parents of the Sandy Hook children did not deserve their day in court," she added.
Though Mr. Sanders, a self-described democratic socialist who represents a rural, gun-friendly state, has campaigned to the left of Ms. Clinton, he is more conservative than her on the issue of gun control, a fact that she has hoped to exploit. Though Mr. Sanders has sought to distance himself from his past votes, including his decision to vote against the Brady Bill in the 1990s, his relative weakness on gun control could cost him the support of blacks in New York City, who disproportionately grapple with the issue of gun violence. Gabrielle Giffords, the former Arizona congresswoman who was shot in the head five years ago, introduced Ms. Clinton today, another reminder of Mr. Sanders' vulnerabilities.
Ms. Clinton returned to other lines of attack today, again taking Mr. Sanders to task for calling a comment that Mr. Trump, the incendiary Republican front-runner, made on abortion a distraction "from serious issues" facing America. Mr. Trump last month had said he'd punish women who had an abortion if it were illegal in America, a remark Mr. Sanders also called "shameful" and "beyond comprehension."
Both Mr. Sanders and Ms. Clinton are resolutely pro-choice.
"When Trump said what he said about punishing women, I was always apalled," Ms. Clinton said. "When my opponent in the primary said it was a distraction, that he wanted to talk about the real issues, I was appalled again."
Ms. Clinton is the front-runner in the Democratic primary and a consistent poll leader in New York, which she represented in the Senate for eight years, but Mr. Sanders has staged a furious challenge over the past two weeks. He drew nearly 30,000 people to rallies in Prospect Park and Washington Square Park, and almost 20,000 to the South Bronx last month. At these rallies, he's delighted in flaying Ms. Clinton, a more moderate Democrat, as too compromised by Wall Street.
Her surrogates punched back today. Congresswoman Carolyn Maloney, a Manhattan Democrat, derided Mr. Sanders as a candidate who only cared about "one thing," fighting income inequality, at the expense of everything else. Like Ms. Clinton, Mr. Sanders frequently references multiple issues in his stump speeches, including combating climate change and criminal justice reform.
Chirlane McCray, Mayor Bill de Blasio's wife, even said Mr. Sanders and his supporters were becoming "desperate."
"We have reached a critical moment in this election. We've been hearing Bernie's campaign. They're getting desperate," she said, promising a Clinton victory tomorrow.
Disclosure: Donald Trump is the father-in-law of Jared Kushner, the publisher of Observer Media.