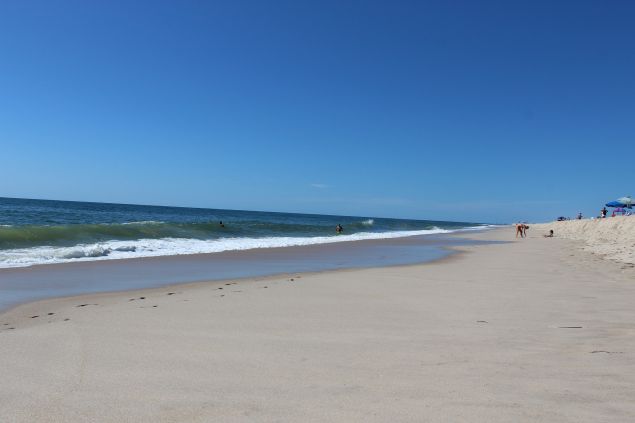 Louise Blouin, the "Great Gatsby of the art world," is renting out her Southampton compound on Gin Lane, reports the Post, for $1 million just for the month of August. Ms. Blouin was revealed as one of the many wealthy investors to stash money in offshore accounts via the Panama Papers, and instead of listing the La Dune compound for $145 million as planned, she has now opted for the rental route with Sotheby's Harald Grant.
Game of Thrones fans, prepare yourselves. With the sixth season premiere coming up next Sunday, the network is putting on an exclusive art exhibit on the Lower East Side, writes Bowery Boogie. It's called "Art the Throne," and five artist were chosen to reinterpret important scenes and characters and creating an "immersive art experience." It launched as an online feature last week, and culminates in a private event this Wednesday.
Elsewhere on the Lower East Side, there's a high-tech new self-serve beer bar at 7 Clinton Street that offers about 30 types of beers on tap, per Bedford & Bowery, where customers can read about them on screens before committing to the particular brew they desire. There are "Beer Ambassadors" (also known as the staff), and a "Beer 2 Go card," to, you know, pay as you go. Human interaction is so overrated.
Much further uptown, look out for even more Citi Bike stations! The bike-sharing program is now expanding up to 130th Street across the city later this year, per Curbed. So far, draft plans show 30 station sites in East Harlem, 17 sites in Central Harlem and 13 sites on the West Side. Other boroughs still lacking Citi Bike shouldn't fret—it's expanding to Queens and Brooklyn in the future, too.
Speaking of Queens, city planning officials are looking at an opportunity to move residents of the Edgemere community in the Rockaways, which was severely damaged by Hurricane Sandy, reports the Wall Street Journal. The plans would move the residents out of potentially dangerous areas while improving access to the beach, and delivering affordable housing and infrastructure. Residents, however, have mixed feelings on the proposal, and how and if it will come about.
A shiny new 33-unit West Village building will have seven cost-regulated co-op apartments, ranging from $90,000 for a studio to $170,000 for a two bedroom, according to DNA Info, as part of a deal for the preservation of the St. Luke in the Fields Church and expansion of its school—the rest of the apartments at 100 Barrow Street will range from just under $5 million to over $12 million.