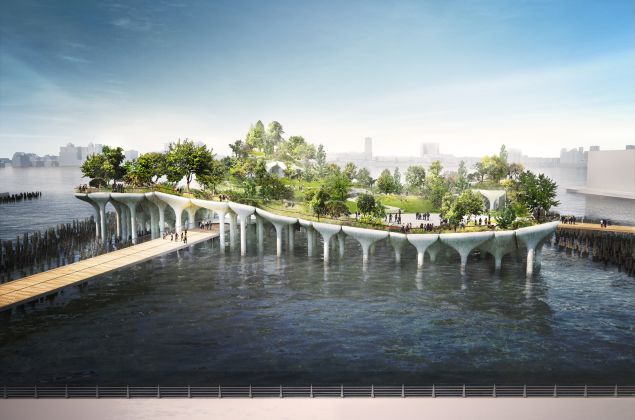 Barry Diller's Island is actually going to be a thing: the Hudson River Park Trust has announced that the Pier 55 park that was dreamed up and will be mostly funded by the media mogul and his fashion designer wife (for the next 20 years, at least), is expected to start construction this summer, according to Crain's.
Money can't buy happiness, Gothamist reports after a Saudi royal made the cover of the Post for looking sad and dumpy, drinking a big gulp outside of the night club Avenue. Must have been a slow news day… or some news editor has been dying to use "shabby sheik" for years.
Money also can't buy a good night's sleep, but it certainly helps. At home in Soho, media maven Arianna Huffington practices what she preaches—sleeping.  The New York Times reports that "everything in the decidedly low-tech bedroom is as carefully considered as a business move. On a bed surrounded with Fortuny curtains in a restful light blue, she sleeps on organic cotton sheets from a collection called Huffington." The line was designed by her 25-year-old daughter.
Sidewalks Labs, the unit of Google parent Alphabet led by former economic development czar Dan Doctoroff, plans to try its hand at building actual cities, or at least ground-up neighborhoods, according to The Wall Street Journal.
Watchdog group the Citizens Budget Commission is underwhelmed by de Blasio's plan to save the municipal hospital system, Crain's reports—noting that it offers a familiar blend of some "cost savings" combined with minor revenue increases from government funding and enrollment growth in health insurance plan MetroPlus—hardly enough to plug the expected $1.8 billion budget gap expected by 2020.
A landlord filed suit against Town Residential for not paying three months of its $38,305 rent for the brokerage's Union Square headquarters, Crain's reports. The dispute has since been settled.
Meanwhile, representatives for boutique L.A. brokerage the Agency were recently spotted touring Town's offices, sparking speculation that the brokerage might be eyeing a Hollywood debut (or more likely, partnership or referral service), according to The Real Deal. CEO Andrew Heiberger claimed he had no knowledge of the tour.
Robert Durst is headed to Los Angeles as well, where he will await trial for the murder of his  confidante Susan Berman, according to The New York Times. He is expected to be transferred to a low-security California jail after entering a guilty plea to a firearms charge in New Orleans, which earned him an 85-month sentence.