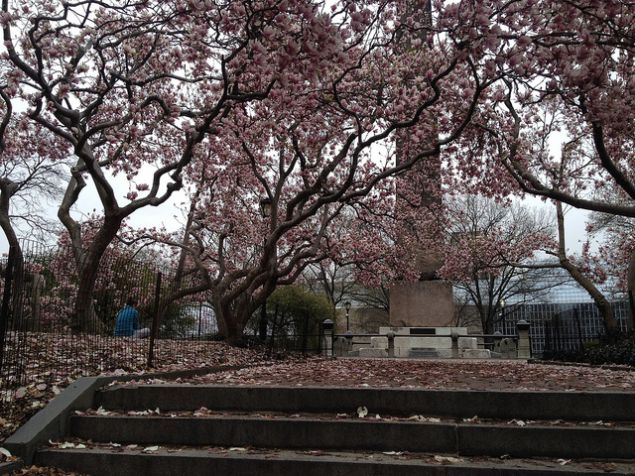 Despite a cooling ultra-luxury market, sales are brisk and climbing in the lower echelons of the Brooklyn market. Crain's reports that Brooklyn sales in the first three months of 2016 rose 8.4 percent over the previous year, hitting a median of $662,431—a contrast to Manhattan and Queens, where prices have stagnated.
Retail rents are also rising in Brooklyn, with landlords asking an average of $361 psf on Bedford Avenue in Williamsburg—the highest in the borough and 3.9 percent increase from the previous year, The Real Deal reports.
Plans for the Brooklyn Heights Jewish Academy, which is to be located in the city's first historic district, have finally passed landmarks, according to Yimby. The academy, which will serve young children, will be housed in a squat two-story structure that was a hardware store at the time of the area's designation.
Also moving forward will be plans for Barry Diller's island, aka Pier 55, after a judge dismissed a lawsuit that sought to impede the plan for being passed without sufficient levels of transparency and scrutiny, according to The New York Times.
Stalled! The would-be Sutton Place skyscraper landed in bankruptcy court yesterday, The Wall Street Journal reported, characterizing the project's inability to refinance its short-term loans as a bellwether of the luxury condo market.
Who lives in tiny apartments and how do they do it? The New York Post talks to a handful of micr0-unit dwellers. It's like Apartment Therapy, but with real people whose apartments aren't impossibly minimalist. i.e.: "Unlike many small-space dwellers, Smith is no ascetic; in addition to a piano, wall-to-wall art, a Howard Finster sculpture, action figures, and endless bits and bobs, she owns more than 50 pairs of shoes, plus the dozen or so she's selling on eBay at any given time."
Meet the real estate machers of the early 20th century: The New York Times profiles the Wendel family in the past perfect, noting that the reclusive, publicity averse real estate clan was about as far from the Trumps as could be. Nor were they given to luxury, marriage or continuing the family line: "Rich as they were, the family — six sisters and a brother, all unmarried — lived together in a shuttered mansion without electricity on the northwest corner of Fifth Avenue and 39th Street, and dressed in grim Victorian garb that had gone out of style half a century earlier."
It  can be easy to forget, but not even haute bourgeoius precincts like Cobble Hill are completely free of crime: Gothamist reports that  a woman was mugged walking into her apartment building last night. The assailant snatched her handbag and left her unharmed.
High fashion from the makers of high-priced yoga pants? Bloomberg reports that Lululemon's new Noho "lab" is designed to expand the workout wear brand's footprint and bring new ideas to its core business.