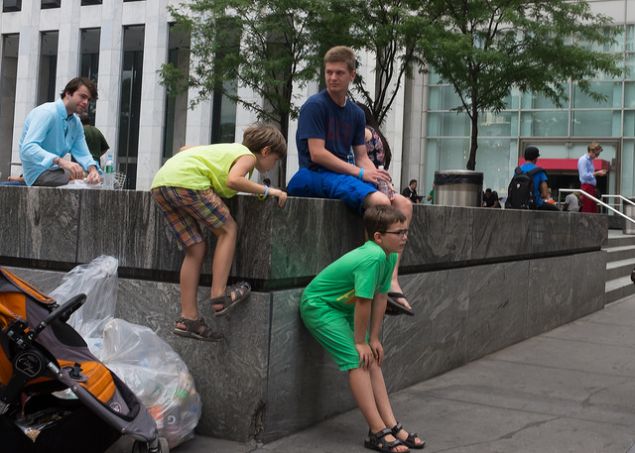 So much for Brooklyn manufacturing: MakerBot has announced that it will outsource production of its 3-D printers to a contract manufacturer in Florida, which has operations around the country and overseas, according to Crain's. The company will still keep its repair and logistics divisions in Sunset Park and its company headquarters at MetroTech in downtown Brooklyn.
Speaking of pipe dreams: an artists wants to build a crowdfunded pedestrian bridge from Red Hook to Governor's Island (so residents of one lovely, isolated neighborhood can go to an even more lovely and isolated place?), but as Gothamist notes, seems not to have put much consideration into the complications posed by the fact that boats also use the waterway and, uh, might not be so keen on a structure blocking Buttermilk Channel.
Some transit advocates are questioning whether the Mayor's two transit initiatives—the ferries and a waterfront streetcar—will compete with rather than complement each other since they serve the same areas, Politico New York reports. "Take a side-by-side look at a map of de Blasio's proposed streetcar and a map of de Blasio's ferry system, and a pattern emerges. The streetcar will start near the Sunset Park waterfront. De Blasio will also put a ferry stop on the Sunset Park waterfront, at the Brooklyn Army Terminal. The streetcar will pass through Red Hook, where the ferry will similarly stop. The streetcar will then travel north through Brooklyn Heights (where the ferry will stop); DUMBO (where the ferry will stop); south and north Williamsburg (where the ferry will stop)."
And will there be sufficient bike parking? In Williamsburg, bike-to-train commuters are peeved that all the bike parking by the Bedford Avenue L is being hogged by derelict "skeleton" bikes that no one ever appears to ride, DNAinfo reports.
Despite what the NYPD said earlier, they have since admitted that the cyclist killed by a car making a left turn onto Classon Avenue in Clinton Hill was not biking the wrong way, Gothamist reports.
Home sales in Manhattan and Brooklyn and down, while they're up in Bronx and Staten Island, according to a new REBNY report, written up by DNAinfo. "With growing interest and activity, particularly in the Bronx and Staten Island, home buyers are finding and being attracted to more options at various price levels throughout all five boroughs," John Banks III, REBNY's president, said in a statement.
But Susan Gutfreund, the wife of late Salomon Brothers big John Gutfreund, is apparently feeling optimistic: they just listed his 20-room duplex at 834 Fifth for $120 million with John Burger at Brown Harris Stevens as well as Larry Kaiser Craig Dix of Key Ventures, The Wall Street Journal reports. And apparently the place, which he owned since the 1980s, could use a re-do: "a buyer would likely update the apartment, Mr. Burger said, but 'many people will appreciate and want to preserve the grandeur of what is there.' "
Finally, proposed savings in the Mayor's budget would be more than offset by additional spending on homelessness, hospitals, snowplows, a new police precinct and an indoor pool for Staten Island, Crain's reports.