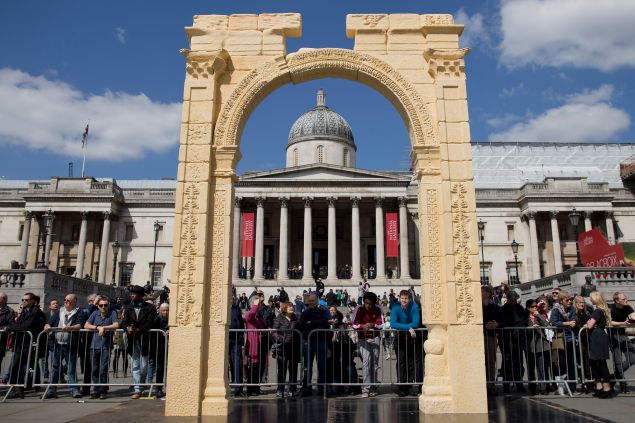 Replica of Palmyra's ISIS-destroyed arch rises in London's Trafalgar Square. Researchers at Oxford and Harvard have partnered with Dubai's Museum of the Future to build a marble reconstruction of a 50-foot-tall Roman triumphal arch from the ancient city of Palmyra in Syria, which was destroyed when militants occupied the city last year. The arch will be on view in London for three days beginning April 19, and there are plans to erect it in New York in September.
Do you know the presidential candidates' records on the arts? Hyperallergic's Jillian Steinhauer and Ben Sutton have put together an extensive guide to where each candidate stands on issues of arts funding and education, just in time for the New York primary—which is today!
Tate to mount unprecedented show of queer British art. In honor of its 50th anniversary in 2017, the Tate Britain will host the first ever major exhibition exploring queer art and culture. The show will feature work by artists John Singer Sargent, Dora Carrington, David Hockney and Francis Bacon.
Detroit gallery sells art made from confiscated weapons. Detroit Wick Gallery's owner Doug Schwartz has been making sculptures from illegal guns seized by the police and turned in through amnesty programs.
Barbara Bush rides motorcycle to Gagosian opening. Attendees to a book signing and art exhibition for photographer Jean "Johnny" Pigozzi were surprised when former first lady Barbara Bush arrived on a motorcycle.