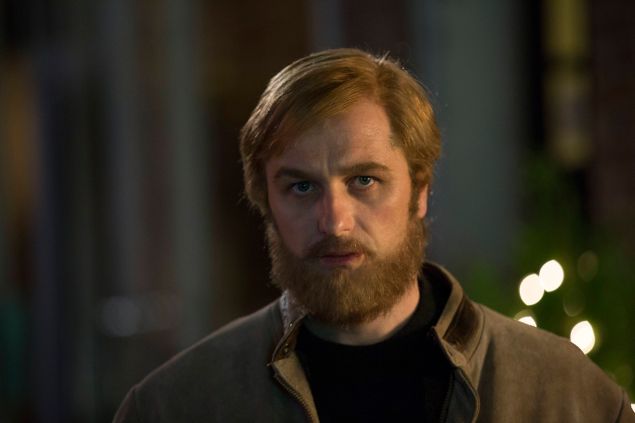 Welcome to our TV Fashion column, where TV Ate My Wardrobe's Emma Fraser discusses the trends in television apparel. This week: How Orphan Black and The Americans work to blur characters' identities—and reinforce them at the same time. 
When Orphan Black returns for its fourth season tonight, there will be at least one new clone to add to the already impressive roster Tatiana Maslany has already played. A total of 10 speaking iterations have appeared in the first three seasons, and this isn't even counting the times she has played one clone posing as another. Each character Maslany portrays has an entirely different style palette from their wardrobe to their hair, and it is a testament to Maslany's varied performance that it is customary to forget she is playing each part.
Keri Russell and Matthew Rhys have both played numerous roles on The Americans, and even though they are playing them from the point of view of the one character they inhabit, it is equally impressive seeing how they alter their performance depending on which face we are being presented with. Costume also plays a big part here as we are constantly thrust into different personas thanks to wigs, accessories, contact lenses, the clothes they wear and scars that are not really there.
On the surface the two shows couldn't be more different; one is a contemporary sci-fi story with a conspiracy that goes back decades and involves corporations, the military and experiments on humans, and the other has one foot firmly rooted in history and is set 30 years in the past. But beyond the variety of looks the lead actors don, there is also the overwhelming desire to protect family, a higher power dictating every move and an overall theme of identity.
The Americans has it easier when it comes to portraying the shadowy puppet masters in control of the strings as history books provide them with a trajectory to follow and Orphan Black treads water in the sea of over-mythologizing, which other shows such as The X-Files and Alias have certainly flailed about in. Introducing the male Castor clones in the Season 2 finale and exploring them in detail last year didn't always work, and drawing attention away from Sarah Manning and hers sisters not only complicated things to an unnecessary degree but was also far less compelling.
[youtube https://www.youtube.com/watch?v=fabH8RuKn_g]
BBC America has released the opening scene of Season 4, and the above clip goes back to a time before Sarah was introduced to this world and a brand new clone is added to the mix. This one wears a creepy-looking sheep mask and blunt short bangs—another hairstyle to differentiate from the other 10 we have seen before her.
Hair plays a big part in telling us who each clone is both in taste and simply identifying which one is which. When they have to imitate each other, clothing is the easy part to recreate; Cosima's red DVF coat, Sarah's leather, the Lululemon soccer mom uniform Alison favors or the expensive white wardrobe of Rachel Duncan. Hair is another matter and whether it is dreadlocks, bangs, straight locks or various colors from bleached blonde to red, time doesn't always present them with the ability to recreate this aspect. A headband to hide the lack of bangs, a wig to get that Rachel Duncan ice queen look or if you are Helena pretending to be Sarah pretending to be Beth at the police station where Beth works well then a big beanie to stuff those dirty blonde curls makes the most sense.
The real and imaginary are blurred on The Americans. Philip and Elizabeth's children are both part of their cover and their real life. With each disguise there is an agenda, but in selling themselves as a specific person they need to add depth that goes beyond a different look and the easiest way is by using their own experiences. Nothing is off limits if it means getting the information they need; this means tapping into relationship or parenting issues or even dipping into past traumatic events such as Elizabeth's rape. Having some truth makes it far more convincing in selling the lie.
At the end of last season Philip removed his Clark wig and Martha's death seemed inevitable after seeing Philip's true face. This has not been the case so far and Philip's intention behind this reveal was to keep Martha on Team Clark.
Philip as Clark is the longest running recurring disguise on The Americans and he has been around since the pilot episode. Even though we have always known Clark is really Philip, he is also very much his own character by this point. The act of removing his Clark parts was terrifying and Martha's reaction was very much like she was watching him pealing his face off; Alison Wright was excellent in that scene and she continues to play Martha as if she isn't quite sure what to make of 'new' Clark and I can't blame her because this isn't the sort of relationship quandary you come across very often.
One notable thing since ditching the Clark look is their very active sex life has dried up. While it could be argued that seeing his actual face has made them much more intimate, the person Martha fell in love with no longer exists and their same sexual spark has been extinguished for now. This spark caused Martha to tell Elizabeth back in season 2 (when she was in disguise as Clark's sister, Jennifer) that Clark is an animal in bed. Something no sister wants to hear about her brother or in this actual situation a wife wants to hear about her husband.
The lines between Philip and Clark are both well defined and have some major overlap; he talks through things with Martha in a way that he doesn't initially think is possible with Elizabeth, revealing an edited version of his childhood trauma in the season 4 opener before telling Elizabeth the whole story in the following episode.
When Elizabeth wants to have a go with 'Clark' after hearing about his wild bedroom style Philip is incredibly resistant in the same way he corrects Elizabeth when she calls Martha "your wife"; Martha is Clark's wife not Philip's. In season 2's "Behind the Red Door" Elizabeth waits in one of their safe house for Philip to return after he has been at Martha's insisting he keeps on his specs and wig. After complaining he is doing everything the same way he normally does things turn and this role play moves from light teasing to a moment of aggressive sex that no one is happy to be part of. Elizabeth curls up in a ball sobbing while Philip runs to the bathroom removing his Clark accessories like they are poison. This is why you shouldn't mix work with leisure and the ability to compartmentalize is a requirement to lead the healthiest life a spy can.
In last night's episode "Clark's Place" the tables have turned even further and while Philip tells Martha he loves her over the phone there is also no way he can see her until their designated day. Instead, Elizabeth is the one who transfers feelings of jealousy and work stress into a highly sexually charged moment with her husband as both a distraction and a way to forget about all the crazy shit they have going on. This while Martha lies awake staring at the ceiling contemplating how she went from a slightly strange marriage arrangement with a dude who wears a toupee to this cloak and dagger situation and a prescription for Valium.
Sex on Orphan Black has also been complicated, particularly in the case of Paul. Paul has slept with at least 3 clones – Beth, Sarah, and Rachel – and while you could joke that he has a type, each relationship is unique. He was a monitor to both Beth and Rachel, with Beth being the reason why Sarah came into his orbit when she took her identity in the pilot after she witnessed Beth killing herself.
Sarah used sex to deflect Paul's attention and as a distraction; from there Paul fell in a way he never did with Beth. Last season just before he died Paul answered Sarah's earlier question about Beth saying he never loved her, while heavily implying Sarah was the one. Paul's escapades with Rachel were all a power move by Rachel. She uses sex as a way to control the men who have been tasked with monitoring her.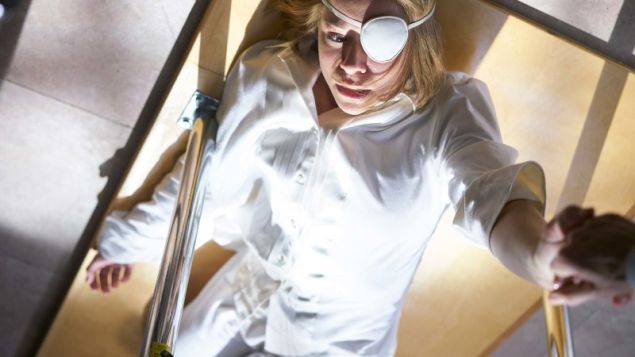 The new season of Orphan Black is set to take us back to Beth's investigation and the sneak peek above reveals that Paul will be back in a flashback capacity. An investigation that Sarah will no doubt take the lead on; pretending to be Beth got her caught up in this conspiracy so it makes sense for her to take over from where Beth left off. Profession wise they are from very different backgrounds -Beth was a detective, Sarah a con artist – but both require a similar set of skills and to be a good con artist doing your research is paramount to a successful job done. It is a deep rabbit hole to fall down and an even deeper one to voluntarily go down and if Sarah isn't careful this obsession could impact her in the same way it did Beth; perhaps there are more similarities to them than the glaringly obvious mirror image.
Ultimately what Sarah wants is to protect her family; both her child and the many that share her face. Self-preservation takes on a different meaning when there are multiple other people who look like your mirror image with style tweaks and it is very much a case of 'what happens to you, happens to me.' There are several shadowy organizations at play who want nothing more than to exploit Sarah and her sisters for what they represent, but they are much more than just a collection of cells to be experimented on.
Family is also at the heart of The Americans and the balance between duty to country and parental responsibility has caused much conflict between Philip and Elizabeth. This came to a head last year when it became clear that the Centre had plans for their daughter and Paige ended up confronting her parents about their strange behavior including middle of the night ventures and mysterious phone calls. They unpeeled the mask so to speak and while it didn't involve the removal of wigs or glasses it had just as devastating impact; they are now very much living in the fallout from this moment.
Humor levels tend to be low on The Americans, but one thing that never fails to be funny is when Philip and Elizabeth have very normal chats about their kids while in heavy disguise; to us they are discussing their son's disgusting cologne while wearing a fake beard and a blonde bob. The fact that they can switch between serious spy stuff and very relatable moments like this humanizes these characters and gives us a brief moment of welcome levity.
Paige is important to the cause because she was born in the USA and the second generation spy program is how the KGB are looking to secure their future no matter how detrimental this might be to the families they are potentially pulling apart. Her American face is her passport to secrets Philip and Elizabeth could never get; so no wig time for Paige if they were to ever get as far as recruiting her. As we know from where the Cold War is headed time is not on their side.
Children on Orphan Black play a significant role and Sarah and Helena are the only clones who are capable of having children (Helena is currently pregnant). Sarah's daughter Kira has been seen as a Holy Grail of sorts and for a large part of season 3 she was sent away to Iceland to protect her from the tangled web of clone related drama; however because of who her mother is she will never be entirely safe and as with Paige there is a certain inevitability she will get pulled back in.
The role of parent is tough when the levels of danger and manipulation are this high; it is a balancing act that goes far beyond the "can you have it all?" and the wearing of many different faces can take its strain. So Philip and Elizabeth are not only switching out how they look on a constant basis, but they are playing very different roles depending where they are. For Sarah she is juggling a similar identity crisis as she is not only a mother, but she is also the reason why Kira is such a science commodity. Sarah's face that matches all those other faces is important, but she is set apart because along with Helena they are the clone anomalies.
Despite the many times the clones had to pretend to be each other they all have a distinct sense of self; they can mimic each other and sharing the same face helps with this. The blurring of identity is more of a problem for those on the outside of this close-knit group. For Philip and Elizabeth they are also pretty good at staying detached from the personas they take on while using aspects of their real life to feed the lie. Clark is a bit of an outlier because of just how complicated things have become with Martha and Elizabeth's growing feelings of jealousy about the other woman in her husband's other bed.
What both Orphan Black and The Americans excel at is examining the notion of identity through characters that are constantly shifting in how we see them; whether this is by seeing the same face reflected as multiple characters or by using disguise to explore aspects of Elizabeth or Philip while they go about their work. Costume goes some distance to tell us what we need to know about whom we are seeing on screen and what role they are playing in the grand scheme. Individual style acts as shorthand for both the audience and the other characters they are interacting with.
These are both high stakes environments, and because there is so much reality distortion occurring, it would be easy for these characters to lose their sense of identity. On The Americans this fracturing of the self poses a bigger risk as they are constantly playing other people, which is why the Jennings family as a grounding unit is so vital. For the clones on Orphan Black, family and this bond they share beyond their matching DNA and face parts are also the things that act as a stabilizer in a chaotic world. Playing dress up has never been so dangerous.
Emma Fraser is the creator of TV Ate My Wardrobe and spends most of her time writing about TV, fashion and costuming; Abbi and Ilana's Broad City style, the wigs on The Americans and Mindy Lahiri's pajamas are just as vital as talking about '90s/'00s teen shows. Emma has a MA in Film and Television, and she probably holds Angela Chase responsible for this path. You can find her on Twitter @frazbelina.