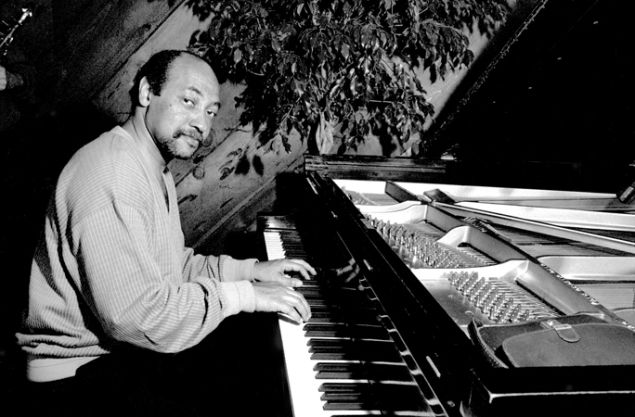 Since his earliest days performing in a trial-by-fire gig at the 1963 Newport Jazz Festival as a 20-year-old sideman for trumpet giant Dizzy Gillespie, pianist Kenny Barron has amassed one of the most respectable bodies of work in American jazz both as a leader and a sideman. On his excellent new album, The Book of Intuition, his second on the newly relaunched Impulse! label, the 76-year-old Philadelphia native and his longtime trio comprised of bassist Kiyoshi Kitagawa and drummer Jonathan Blake look back on the piano man's extensive back catalog that includes more than 40 albums as a leader and a seemingly infinite number as a sideman.
This new record actually marks the first time Barron has recorded in the studio with this particular trio, and what better way to showcase their road-tested chops and peerless unity than revisiting such deep Kenny faves as the fiery "Bud-Like," first recorded by the pianist on his solo project in 1982, Kenny Barron at the Piano on the Xanadu imprint, and the Latin-tinged "Cook's Bay," from 2000's Spirit Song on Verve.
Another reflection from the past comes on the upbeat "Lunacy," teeming with torrential rhythms and first being recorded in a quintet setting on 1988's Live at Fat Tuesdays for Enja Records, who also released Barron's 1985 masterpiece Scratch as well. The trio close out Book of Intuition with a gorgeous reading of Charlie Haden's "Nightfall" in homage to the late bass master, whose 1996 duo album with Barron, Night and The City, is absolute essential listening.
Kenny Barron will be returning to Newport this summer with his trio. And just like he has since that Independence Day weekend at the side of Diz, he will command that stage by playing with that perfect balance of head and heart that has placed him at the vanguard of the jazz piano for over a half-century. The Observer was lucky enough to catch up with Mr. Barron with a quick phone call shortly after The Book of Intuition hit record stores on March 4.
[youtube https://www.youtube.com/watch?v=Z7zB0k2Dt8U&w=560&h=315]
You've played so many great jazz clubs in New York City over the years. But one that comes to mind as a fan is Sweet Basil.
Yeah, that closed down long ago. It was Sweet Basil's and then James Brown bought it and did the booking. Then they changed the name to Sweet Rhythm. And that lasted maybe two years before it started to go downhill. Finally these folks who ran a soul food restaurant on Grove St. called the Pink Teacup, they bought it and tried to turn it into something real fancy and velvet rope, but it didn't work out. It's a clothing store now.
Ron Carter's 1977 album Piccolo, which features you at the piano, was recorded there. What do you remember about that show?
Well, we had a lot of fun. The only drag was that the house piano was atrocious [laughs]. It was really in bad shape. I think we were the first band to play there, actually. But that piano was not in good shape. There was a tuner on staff who tuned it after each set, but it just wasn't worth it. They eventually got a new one.
Didn't Errol Garner play a beat-up piano on Concert By The Sea?
Well, it was better than the one at Sweet Basil's [laughs].
The Book of Intuition is your second proper album under the Impulse! Label, but did you ever record for them in the past?
Not under my own name. I think I did some recording for Bob Thiele, who was the original head honcho at the label. I remember doing something with David Murray and a singer named Teresa Brewer, who was actually Thiele's wife for a time. I worked on a couple of Bob Thiele projects.
[youtube https://www.youtube.com/watch?v=5xd3_oa5vwQ&w=560&h=315]
How did you wind up on this current incarnation of Impulse! Records?
A producer, Jean-Phillipe Allard from Universal France, they decided to reactivate the Impulse! Label. And one of their first releases was that album I did with Dave Holland [2014's The Art of Conversation]. The trio happened when we were in Paris. And, again, Jean-Phillipe came to see us at this club called Le Duc des Lombards and told me that he would really like to record this group. We have a history, Jean-Phillipe and I, from when I was signed to Universal France. He produced a few of my albums for them.
How long have you been playing with your current trio?
Well, Kiyoshi has been with me for about 20 years, and Jonathan for about 10. Actually, The Book of Intution is the first trio album we've recorded together.
What took so long?
Opportunity, mostly.
How did you go about choosing material from your extensive back catalog to revisit for The Book of Intution?
There's a lot of stuff I haven't really played out before. I may have recorded it, but I never really played it at a gig. But that happens sometimes. You make a record and do this song or that song, and then you never play them again. And that was something I wanted to explore. So it's what we did. And we've been playing them out, too, like "Dreams" from Stan Getz's Voyage album and "Lunacy", which I originally recorded with Sphere.
[youtube https://www.youtube.com/watch?v=4I_iZHcTaqY&w=560&h=315]
Did you go back and listen to a lot of your old albums? For "Bud-Like", let's say, did you go back to Kenny at the Piano and revisit it?
No, I didn't actually. I remember recording it as a solo piece. But then I wondered how it would work with the trio. It was cool.
What inspired those two Thelonious Monk songs you play in the middle of The Book of Intuition?
Both are tunes that aren't played that often. "Shuffle Boil", Ben Riley turned me onto that song. And "Light Blue" is a song I always loved, but I've never heard anyone outside of Monk play it, which is why I decided to play it solo. I love the quirkiness of the melody. It's repetitious, but it has different harmonies. It's a piece I especially love.
Now this question is coming purely from a fan perspective, but as a listener I always felt a kinship between yourself and Vince Guaraldi…
Oh, I knew Vince from San Francisco. I would go see him whenever I was out there. He used to play a club in Marin County called The Trident. He played there quite a bit.
Like Vince, there is a sweetness to your sound, especially in the trio format. From where does that derive?
My biggest influences are Tommy Flanagan and Mr. Hank Jones. I first heard Tommy when I was in junior high school. And what I always liked about Tommy was his touch. He had a very light touch, a delicate touch on the keys. Plus, he was very melodic. And Hank Jones is the same way. I also can't forget Bud Powell and McCoy Tyner, who is from my hometown. He is two years older than me, but we are both from Philadelphia.
How is he doing, McCoy?
He's not playing as much as he used to. He's been going through some stuff. He's still playing, but he's a little more forgetful. But he's still McCoy, that's what matters.
You toured with Stan Getz during his last couple of years. How was that time?
Stan was cool. There were a lot of stories about the abrasiveness of his personality. But by the time I began working with him, he had weaned himself off all the substances which made him that way. He stopped drinking, didn't use drugs. He was great. He was playing really well back then, too, and the crowds would still come out to see Stan.
Would you consider your appearance with Dizzy Gillespie at the 1963 Newport Jazz Festival to be your first proper gig?
Well, kind of. My first actual gig was with James Moody, who played reeds for him and then Moody recommended me to Dizzy. It was like going to school; a big learning experience. It's definitely wild to go back and listen to that set again. It seems like a lifetime ago.