It seems that there's something about the Pierre Hotel that is just magnetic to art collectors—it could be the Madison Avenue Gagosian Gallery right across the street (or more likely, that both the Pierre and art collecting are both beloved by the very wealthy).
In any event, one such collector is on her way out: philanthropist Audrey Irmas has listed her two-bedroom, two-bath pied-à-terre at 795 Fifth Avenue.
The Pierre pad, which has such features as ten-foot ceilings and open Central Park views, is asking $6.5 million. It looks like a pretty standard second apartment in the listing photos, with the exception of a few of the pieces of Ms. Irmas's extensive art collection adorning the walls.
The second bedroom has "plenty of storage and shelving to display object d'art," the listing, shared by Brown Harris Stevens brokers Burt and Jessica Savitsky, notes, though we wonder if the next inhabitants will be able to live up to Ms. Irmas's collection. Last November, Ms. Irmas sold a 1968 Cy Twombly "blackboard" painting at Sotheby's she had owned since 1990, for a record $70 million. The Los Angeles-based Irmas is a longtime donor to art museums and Jewish causes in the area, including the Wilshire Boulevard Temple, and has reportedly donated half the proceeds of the Cy Twombly artwork for the construction of the Audrey Irmas Pavilion near the synagogue.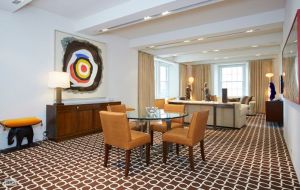 Ms. Irmas' sold her longtime condo at the Mayfair on 610 Park Avenue a few years ago, but it seems she didn't have much attachment to her place at the Pierre. At the very least, though, we expect that she'll miss the round-the-clock room service and twice daily maid visits that are included in the co-op fees.