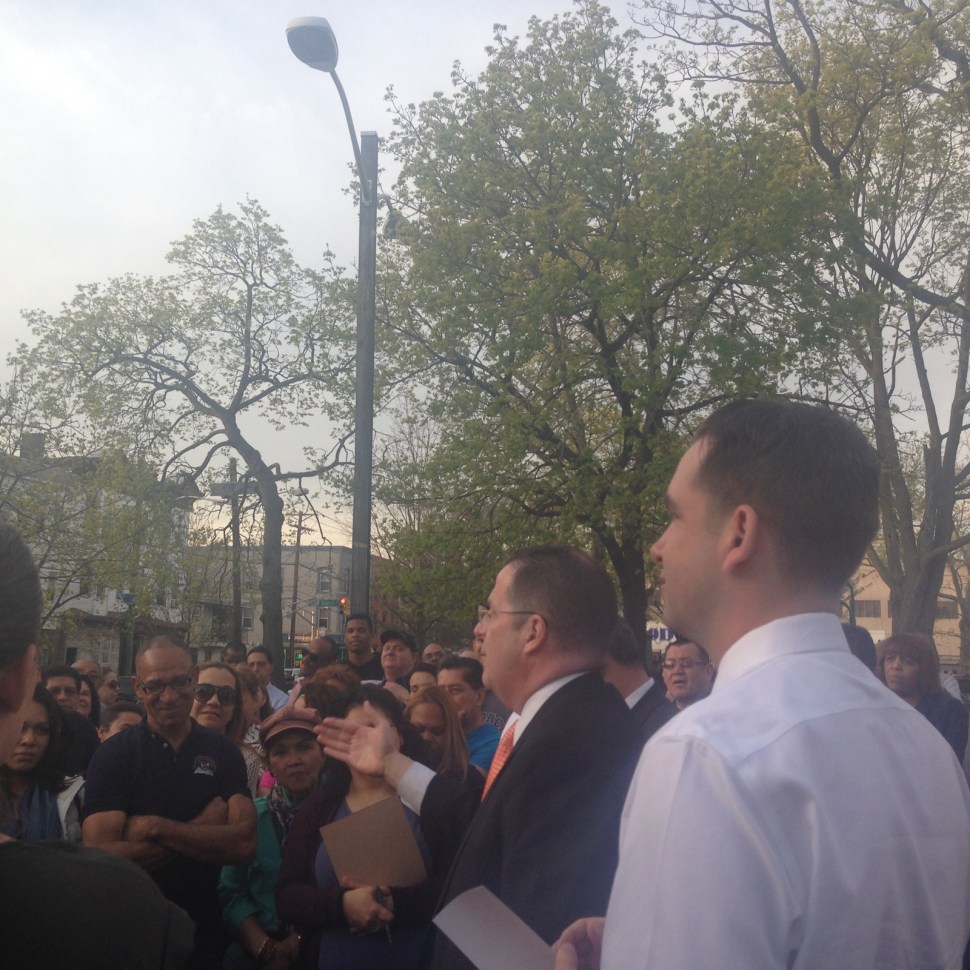 It's Tuesday, and in New Jersey neither funding the transportation trust fund, nor saving Atlantic City nor eliminating the estate tax can seem to find consensus among state lawmakers.
Quote of the Day: "One thing we've learned from this budget is that pensions are underfunded, K-12 public education is underfunded, the Transportation Trust Fund is not funded at all, higher education is underfunded. Indeed, the list goes on and on and on," – Assembly Budget Committee Chair Gary Schaer, on the need for revenue raised by the state estate tax.
Prieto Will Not Post Senate Bill to Cut Estate Tax in Assembly
Assembly Speaker Vince Prieto (D-32) said Monday that he will not post an Assembly version of a bill from Senators Paul Sarlo (D-36) and Steven Oroho (R-24) to phase out New Jersey's estate tax over five years. Pointing to the state's underfunded public schools, pensions and transportation infrastructure, the Speaker said from a press conference in Trenton that the state cannot afford to forgo those tax collections.
JT Aregood, PolitickerNJ Read more
Another Crazy Week in NJ Politics
Atlantic City-takeover drama has (once) again sucked all the oxygen out of room. Last week's rendition was especially fevered, allowing little bandwidth for much else. In today's column, we'll mine a few gems you might have overlooked amid this latest kerfuffle down in AC.
Jay Lassiter, PolitickerNJ Read more
Booker on Weekend Campaign Duty for Clinton
Spurring buzz about his potential to serve as Hillary Clinton's running mate should she win the Democratic nomination, U.S. Senator Cory Booker has essentially given up his weekends to campaign in the service of the former U.S. Secretary of State, according to a source close to Booker.
Max Pizarro, PolitickerNJ Read more
Garden State Equality Appoints New Executive Director
Garden State Equality announced its new executive director Monday. Christian Fuscarino, founder and community organizer at the The Pride Network, will be taking the helm at the LGBT advocacy group. Senator Cory Booker, Congressman Frank Pallone (NJ-06) and Senate president Steve Sweeney (D-3) all voiced their support for Fuscarino and the GSE following the announcement.
PolitickerNJ Staff, PolitickerNJ Read more
Mail-in Ballots Flood Paterson's Ward 2 Race
To date, 988 mail-in ballots have been received for the May 10 nonpartisan election in Paterson. Of those ballots about two thirds—639 ballots—have been cast by voters who live in the second ward, according to the Passaic County Clerk's office.
Alyana Alfaro, PolitickerNJ Read more
Eagleton Poll: Trump, Clinton Projected NJ Primary Winners
Republican presidential candidate Donald Trump and Democratic candidate former Secretary of State Hillary Clinton are the projected winners of the June 7 New Jersey primary according to a Rutgers Eagleton poll.
Alyana Alfaro, PolitickerNJ Read more
Christie says he talks with 'friend' Trump just about every day
Governor Christie said Monday that he and Donald Trump have been talking almost daily of late about the real estate mogul's bid for the Republican presidential nomination.
John C. Ensslin, The Record Read more
Christie marks Narcan law anniversary, saying antidote has saved several thousand lives
Governor Christie on Monday marked the second anniversary of a law that put a heroin overdose antidote in the hands of first-responders, observing that while no program is perfect, this one has saved several thousand lives.
John C. Ensslin, The Record Read more
Another state lawmaker calls for Elmwood Park trustee's resignation over anti-Muslim posts
Another state assemblyman has called for the resignation of district Board of Education member Gladys Gryskiewicz over a series of Facebook posts she wrote earlier this year focusing on Muslims.
Steve Janoski, The Record Read more
Christie reaches compromise on food stamp waiver requirement
Gov. Chris Christie says he has reached a compromise over work requirements for food aid.
Associated Press Read more
Two-thirds of Paterson's City Council candidates miss state campaign finance deadline
Four incumbents are among the 13 City Council candidates who missed last week's state deadline for filing the first-round of campaign finance reports for the upcoming ward elections, according to public records.
Joe Malinconico, The Record Read more
Are N.J.'s top lawmakers closer to an Atlantic City compromise?
As New Jersey lawmakers remain deadlocked over competing plans to keep Atlantic City from falling into bankruptcy, state Senate President Stephen Sweeney and state Assembly Speaker Vincent Prieto may soon meet to discuss a possible compromise.
Brent Johnson, NJ.com Read more
Can Lt. Gov. Guadagno distance herself from Christie without seeming disloyal?
In taking the first tentative steps toward pursuit of the Republican gubernatorial nomination next year, Lt. Gov. Kim Guadagno acknowledged the politically sensitive and potentially perilous path that lies ahead of her — creating space between her and the administration in which she serves while coming out from beneath the shadow of Gov. Chris Christie.
Carl Golden, NJSpotlight Read more
Atlantic City mayor: Takeover makes 'no sense'
As legislators debate Atlantic City's future, Mayor Don Guardian on Monday said a state takeover "doesn't make any sense."
Mike Davis, Asbury Park Press
In N.J., some offenders can erase record faster now
Javier Galindo was 22 – "young, dumb," he said – when police in Cape May County stopped the minivan he was driving and found a gun inside in 2005.
Michael Boren, Inquirer Read more
New Jersey doesn't have to give money to Atlantic City, OLS says
New Jersey doesn't have to give Atlantic City any money if the resort can't pay its debts, according to a legal opinion from the Office of Legislative Services.
Christian Hetrick, The Press of Atlantic City Read more