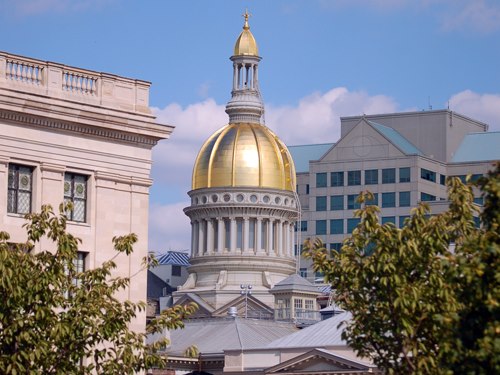 It's Monday, and before we get into another week of fighting and bickering in Trenton, let's take a look at this week's winners and losers in state politics.
Quote of the Day: "You can't say you have an alternative when you haven't passed it out of your own house," – Gov. Chris Christie, on Assemblyman Vince Prieto's Atlantic City bill.
Prieto Fires Back After Christie Calls for Him to Post Assembly Takeover Bill
The standoff over competing bills to have the state take over Atlantic City continued this week, with Assembly Speaker Vince Prieto (D-32) and Senate President Steve Sweeney (D-3) failing to come to a compromise despite meeting in person to reach consensus. Following Governor Chris Christie's dismissal of Prieto's bill as hobbled by its lack of a 41-vote majority in the lower house, Prieto fired back Friday with a harsh appraisal of Christie's standing with the public.
JT Aregood, PolitickerNJ Read more
Shah Officially Gets in the 18th District Assembly Contest
Intent on a contest, Edison Township Councilwoman Sapana Shah today formally announced her candidacy for a soon-vacant Assembly seat, pledging to be "an outspoken, faithful advocate" for people and families who live and work the 18th District's seven communities.
Max Pizarro, PolitickerNJ Read more
Monmouth Freeholder Candidate, One of West Point's First Women, Talks 2016 and 'DADT'
Monmouth County is shaping up to be one of New Jersey's few counties with competitive races this year, with two seats up for grabs on the freeholder board. Brenda Sue Fulton, one of the first women to graduate from West Point in 1980, joined Belmar mayor Matt Doherty's ticket last month and told PolitickerNJ that she expects the county slate to bring grit and dedication to a county suffering from high property taxes and sluggish wages.
JT Aregood, PolitickerNJ Read more
Paterson Council Candidates Square Off In Forum
Candidates running for city council seats from wards 4, 5 and 6 gathered at the Rogers Meeting Center in Paterson's Great Falls district on Thursday night for a candidate forum hosted by the Paterson Youth Council.
Alyana Alfaro, PolitickerNJ Read more
Teaneck Mayor Lizette Parker dies at 44
Township Mayor Lizette Parker, the first African American female mayor in Teaneck and in Bergen County, died on Sunday, her family said. She was 44.
Jeff Green and Jim Norman, The Record Read more
Defiance of Christie in Atlantic City battle puts spotlight on Prieto
Vincent Prieto boasts of his ability to recall arcane numbers, like the building codes for his day job as Secaucus' top construction official or the line-item costs in legislation for his elected job as speaker of the New Jersey General Assembly.
Charles Stile, The Record Read more
Bergen County Prosecutor Molinelli left with $14,000 payout
Bergen County gave former Prosecutor John Molinelli a day's pay for every full year he served in the job and he continued on the payroll for two weeks after a new prosecutor came onboard — collecting more than $14,000 as his tenure drew to a close, documents show.
Jean Rimbach, The Record Read more
North Jersey candidates in the June 7 primaries
Below is a list of candidates for the primary elections on June 7.
The Record Read more
A bipartisan agreement: Let's bankrupt New Jersey!
In Trenton, Senate Democrats now propose to continue bankrupting the state by cutting taxes when we can't remotely afford it, while offering no means to cover the cost.
Tom Moran, Star-Ledger Editorial Board Read more
Kean Jr.: Taxpayers should get a bigger break for supporting N.J. charities
New Jersey's nonprofit charitable organizations improve people's lives every day, and offer much-needed support in times of crisis.
Tom Kean Jr., Star-Ledger Read more
Christie tells N.J.: Get ready for a Trump visit
Don't worry, Gov. Chris Christie says, Donald Trump will bring his presidential campaign to New Jersey sometime in the six weeks before the state's June 7 primary.
Brent Johnson, NJ.com Read more
N.J.'s U.S. Attorney to lawyers: You gotta see 'My Cousin Vinny'
Perhaps it was fitting that it came up at an event named after New Jersey's funniest governor.
The Auditor, NJ.com Read more
I likely wouldn't sign transgender bathroom law in N.J.
As debate continues over a controversial North Carolina law that bars transgender people from using public bathrooms for the gender they identify with, Gov. Chris Christie said he hasn't read the law but he'd be unlikely to support a similar move in New Jersey.
Brent Johnson, NJ.com Read more
The new court, same as the old court: Christie fails to deliver on promise
I guess he'll be leaving that job for Governor Sweeney.
I'm talking about the job of fixing our broken system for distributing state property-tax aid.
Paul Mulshine, The Star Ledger Read more
EDITORIAL: Christie offers tax relief hope
Gov. Chris Christie says he has some ideas on how to cut property taxes in New Jersey — not just slow their growth, but reduce them — that he may reveal later in the spring.
Asbury Park Press Read more
Transportation funding debate steering toward summer
It could be well into the summer shore season before New Jersey residents and out-of-state drivers have any certainty on whether the state's gas tax is going up to pay for road and bridge work.
Associated Press Read more
As Pa. primary looms for Trump, where's Christie? #Sidelines
When Gov. Christie shocked the political world by endorsing Donald Trump in February, he shot back at critics by saying he doesn't like to "sit on the sidelines."
Andrew Seidman, Inquirer Read more
Hamilton Mayor Yaede reflects on first 100 days in new term
The re-elected Mayor Kelly Yaede has made public safety and economic development a major focus of her administration's new term since being sworn into office Jan. 1 by U.S. Supreme Court Justice Samuel Alito.
Sulaiman Abdur-Rahman, Trentonian Read more
Trenton to hold meeting on lead levels after scoring higher than Flint
With the water crisis in Flint, Mich. gaining national notoriety and charges being handed out, capital city officials will address Trenton's lead levels on Thursday.
David Foster, The Trentonian Read more