Admit it. Everyone has wanted to be a cheerleader at least once in their life. Okay, even if you haven't but you're itching to try some new ClassPass haunts, CheerFIT might be for you.
Located in the studio at Athleta's Flatiron shop, past trendy workout gear and down the stairs are multiple girls and one gentleman waiting to enter the studio for CheerFIT. "It's a bootcamp class," Danielle Wechsler, the founder of CheerFIT told the Observer. "It's cheer inspired, and it focuses on stability, cardio, strength training, abs and flexibility."
At Thursday night's class, the instructor (also known as the cheer caption) Kate McPhail leads the room through a set of four intervals. Ms. McPhail is a former Baltimore Ravens Playmaker and Baltimore Blast Cheerleader. The intervals include your typical conditioning workouts: squats, burpees, and planks with some spirit fingers thrown in. Unlike your typical workout though, when the instructor asks for jumps, she prefers a toe touch.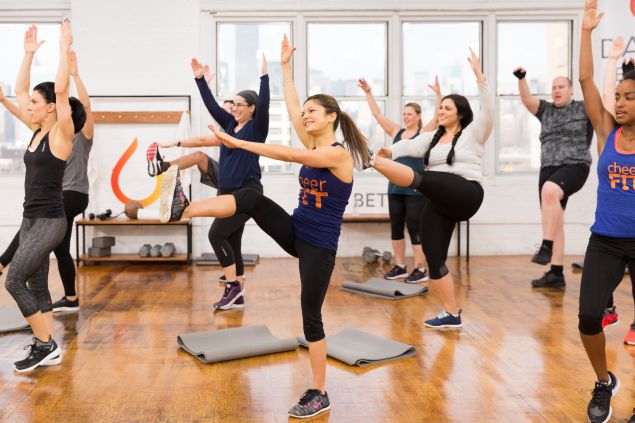 Instead of resting in-between intervals, exercisers are asked to grab their pom-poms. At the beginning of the class, a short dance is caught by, you guessed it, eight counts. "You think it's kind of a joke because you have pom-poms, but it's a high intensity work out," said Ms. Wechsler.
Ms. Wechsler, a former Syracuse cheerleader, realized that cheerleaders needed a transition program. "I actually started the company after personally experiencing the dangers of the cheer sport," she said. So who attends these classes? "It's a good mix, a lot of former cheerleaders," Ms. Wechsler said. "Also those who just want a fun workout or just want to switch it up."
The classes, which range from $10 to $30 take place at Athleta, Power Studios, Retro and DanceFREE. This summer, CheerFIT is debuting Camp CheerFIT for the first time. The five day intensive bootcamp will take place for an hour each night at Central Park for $50. Ms. Wechsler, who currently has 13 CheerFIT instructors hopes to certify more instructors to reach an even larger audience.