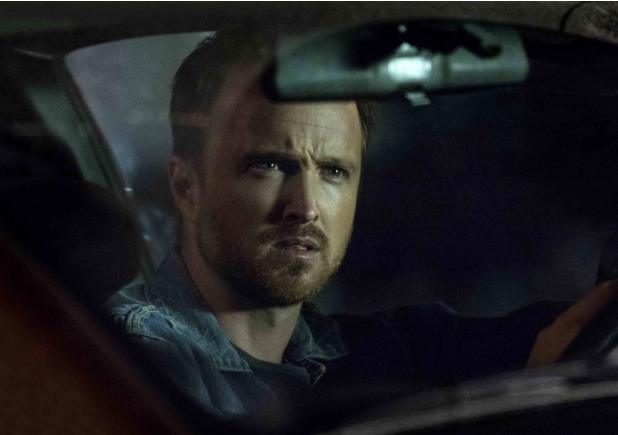 Pop Psych: Where we ask a real psychotherapist to delve into the mindsets of our favorite shows and TV characters.
Christ, can you imagine anything worse than joining a cult and still having to be responsible to your cell phone?  Hulu's new series The Path poses this very nightmare scenario right up front and, as goofy as it may seem, this is really a big clue as to what's going on in this show.  I'm a little too old, thankfully, to have been deeply affected by this sort of thing, but I remember towards the end of my time living at home that my dad started bringing his Blackberry on our yearly pilgrimage to Ocean City, Maryland.  And while I was unhappily, teenageily disassociated anytime I had to be around my family and girls in bikinis at the same time, I remember the look of total anguish on his face every time he had to answer a work email with sand in his bathing suit.  As people love to say, technology has served to make us more connected than ever.  Which is great for productivity, but makes it a lot harder to live a fantasy life.
And fantasy life, when you think about it, is the promise of cult life.  While most wisdom traditions offer to teach us to accept our worries, cults orient around the idea that if you just say these prayers, perform this ritual, drink this Kool-aid, you can say so long to your worries.  The Path has done a really extraordinary job of highlighting this in the first few episodes, across a few different traditional arcs through any belief system.  You have Sarah Lane, the true believer who was born into belief; Cal Robertson, the young convert dying to prove his belief; and Eddie Lane, the latecomer comfortable in picking and choosing his own beliefs through Meyerism.
Similarly, the needs they place on Meyerism are varied.  Sarah, claiming in an early episode that she's never made a mistake, needs this system to confirm her belief that her path through life is the most intelligent option.  Cal, twice-abandoned son of alcoholics, needs Meyerism to confirm that he is not essentially bad inside.  And Eddie, still reeling from the pain of his protective brother's suicide, needs what may be the simplest and most impossible promise of Meyerism: relief from his horrifying, human history.
It is this basic demand of Eddie's, the demand to be free of pain, on which this whole show revolves.  In the third episode, he confronts cult-defector and deprogrammer Alison, who has followed him home after he decides not to throw his family away over the non-surprise that Meyerism is kind of a hoax.  He's furious with her and tells her that if she bothers him or his family again he'll make her pay for it.  And then, in a moment of total clarity, tells her, "that is not a threat – you do not know where I come from."  If he only knew how true that statement was!
The fact is none of us can know where others come from–even if we know the facts of their lives–because all of us come from inside our own minds.  We are all doing our best to take our absolutely unique, ineffable and untranslatable inner experience and put it to words and actions that show who we are.  We do an alright job for the most part, but it's a rigged game.  And it hurts!  It hurts to be fundamentally so alone, it hurts to try so hard to show up, and it hurts even more to be misunderstood when we do try.
We all want, at least in part, to be free of this.  I have no worries generalizing on that point – I hold graduate degrees from two institutions that are a little more culty than necessary for imparting higher education, and something I've learned is that places which offer existential "answers" don't thrive when people feel existentially secure.  The pain of our personal histories and of our fundamental being – that we are individuals who long for community – is at the heart of all great religions, and most of the shitty ones too.  The question that delineates whether a religion is helpful or harmful for a person is what that religion, philosophy, brand loyalty, etc., offers as wisdom for facing the pain of being a living, lonely human.
What Meyerism seems to be offering its followers is not a group of practices and beliefs for working with the reality of being human, but rather an answer to it.  When they talk about transcendence, when they talk about climbing the ladder so as to enter the garden, they are talking about abandoning their humanity.  And pay attention to this garden talk, because there's no way it's an accident: the book of Genesis presents human life as paradise, until we get kicked out of the garden and consigned to a life with toil and pain.  These Meyerists would do well to reread the passage, because they're ignoring the lesson of Adam and Eve; after getting the boot those two are overwhelmed by pain because they're so focused on their previous lives in the garden.  Meanwhile, if they could just take their eyes off of those closed gates for a minute they'd find that, yes, endless toil can be a bummer but it's not all gloom if you just change your expectations.  It might even be joyous to exist in this world, once you make peace with the pain and allow yourself to really be here.  Abel figured this out, Cain didn't.
Which is something to keep in mind: if you're convinced your life is going to be easy, you might go a little crazy when it turns out to be hard.  This is why Eddie's so convincing when he tells Alison his menacing isn't just some idle threat.  This is the guy who's on the way out of Meyerism, which must mean some part of him understands his near-idyllic home life is probably as good as any of us get in this world of dew.  He has a lot wrapped up in Meyerism being an Answer, and she keeps reminding him of what he already knows: sorry buddy, it's not.  He's still human, it's still going to hurt even when it's good.  That said, he would do well to stop ignoring the important converse – that it's still going to be good even when it hurts.
Which, I hope, is something the show's creators understand.  Because what's really amazing is how well they anchor the show in family community.  Eddie, whose young survival lessons included "don't trust your family to stick around", has married into a big family that sticks around.  One of the most frequently returned to scenes in the show is the family dinner.  These scenes are portrayed joyously, even though the topics of conversation are often high-tension.  Which is accurate: it's easy to find the fun in difficulty when surrounded by people who truly love you.  And while this might seem utterly mundane, it isn't: when you and your loved ones transmute pain into happiness, don't ever forget that that's magic.
James Cole Abrams, MA, is a psychotherapist living and working in Boulder and Denver, Colorado. His work can also be found at www.jamescoleabrams.com where he blogs every Sunday.