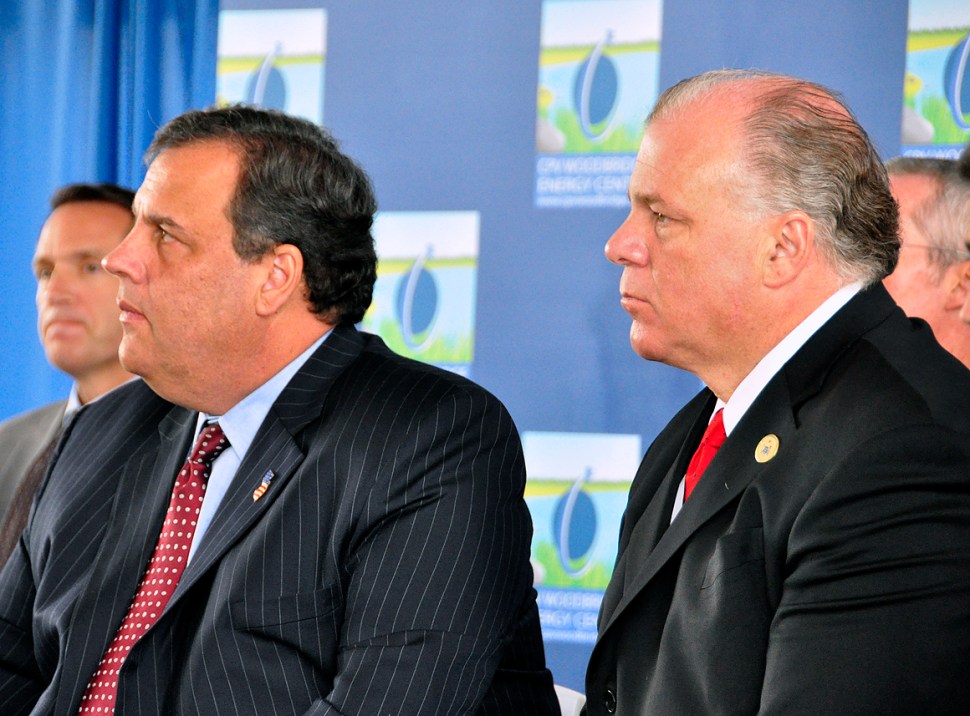 TRENTON – The event had all the makings of a Predator versus Alien showdown, with no one in a position to claim the role of unadulterated good guy as the legislature this afternoon appeared no closer to reaching a deal on a suitable bill laying out a state takeover of Atlantic City.
PREDATOR
Gov. Chris Christie
Legacy? You hear his fiercest allies talk like characters in a Bruce Springsteen song about the glory days of that first term. Now, the danger for Christie is that the history books (or at  least his Wikipedia page and Matt Katz's sequel to American Governor) will document how the guv pursued a doomed run for the presidency while Atlantic City fell into the sea. Gone from the state for months with only flash glimpses back home on occasion, the Republican governor attempted to reassert himself in the AC takeover crisis by playing his most effective role: name-calling bully. Christie promptly picked on what he figured would be two very easy targets: Atlantic City Mayor Don Guardian and Speaker Vincent Prieto (D-32). Nice guys? What was it that Steve Adubato, Sr. once said about nice guys? They  don't have much value in politics, other than to be readily available when someone needs to get mowed down. Guardian was a guy who wore a bow tie and rode a bicycle around town who won the mayoralty when Lorenzo Langford went to sleep during his 2013 reelection bid. And Prieto? Prieto was a public sector worker in Secaucus and back bench assemblymen who was crazy glued onto the speaker's chair by state Senator Nick Sacco (D-32). Perfect. Christie figured he could take both of these guys on with one hand, and with some reliable tag team theatrical throw downs supplied by…
Senate President Steve Sweeney
Running for governor out of South Jersey, Sweeney had to be careful not to get caught in compromising political positions as he headed toward 2017, and in the midst of the Atlantic City imbroglio he teetered dangerously now into his least useful role: Christie ally. It had to be immensely irritating to Sweeney. After siding with Christie on the public sector pensions and benefits overhaul that overruled collective bargaining, the senate prez had spent the last number of years with the cross of public sector labor hoisted on his shoulders, trying to climb back to redemption. And now this: Prieto offering an alternative bill on the Atlantic City intervention that had a more public sector union-friendly set of benchmarks in direct opposition to Sweeney. The point of contrast succeeded in doing nothing but steer the 2017 Democratic Party guv hopeful once again into the role of Christie WWF pard. What made matters more unbearable was the "what me, I didn't do anything" presence of Jersey City Mayor Steven Fulop up in Hudson County so obviously behind Prieto, calmly practicing his golf putting mechanics in a city hall office once occupied by Frank Hague of all people, or whatever it was he did up there, while Trenton sank on the banks of the Delaware. Sweeney had passed his AC takeover bill through the upper house with little drama – an achievement that would surely warrant a bullet point on a piece of campaign literature: "Sweeney successfully came to the rescue of Atlantic City" – if only the speaker had done what he was supposed to do, played ball, and passed in on the assembly side. Now the drama had Sweeney cranking up his response to the lead crisis and Port Authority as a way of trying to smother the dreaded evolving story line as Christie kept running invoking the bill backed by himself – and South Jersey's Sweeney.
Assembly Majority Lou Greenwald
There are circles in South Jersey (most of them emanating from the Cherry Hill area) where Greenwald – who looks like a candidate to play James Bond (in the Roger Moore, not Daniel Craig tradition of the part) – emerges in arguments as South Jersey's best option to translate above the ragged South-North divide that cuts the state in half like an overturned tanker truck in the middle of 195. The polished Greenwald, not the unpolished Sweeney, the argument runs, should run for governor in 2017. It's died off, of course, as the contest toward 2017 has intensified and Sweeney has shown fundraising strength and strong statewide caucus alliances, but even occasionally now one hears worried whispers in Fulopworld about a last minute switch from Sweeney to Greenwald. Part of the trouble with the argument is that Greenwald, the case goes, is not likeable and regular the way Sweeney is, and therefore, whatever the virtues of his mastery of subjects and inability to ever get tripped up at a microphone, he embodies the antithesis of the foundation of contemporary American politics, namely that a politician has to look, act and talk like a guy you meet on an accompanying bar stool at the local honky tonk. So here is Greenwald, his statewide ambitions on hold while Sweeney runs (and maybe impaired into the foreseeable future as long as the public doubts a well-quaffed candidate who seems smarter than average), dutifully in the role of South Jersey soldier, like the lieutenant in the WWII film who was born to be president who instead has to fall on a hand grenade to save the platoon. As late as yesterday, sources, who mostly seemed ill-informed, floated the notion that the South was trying to put together a coalition of assembly people to get rid of Prieto and supplant him with Greenwald in the speaker's chair (or someone more regular, like Assemblyman Wayne DeAngelo) but the votes (for once!) didn't appear to be there for such a South Jersey insurrection.
ALIEN
Speaker Vincent Prieto
Going back to when Speaker Emeritus Sheila Oliver occupied the assembly throne, the unspoken cool kids assessment from the front office and the senate chamber has been that the assembly will do what it's told when Christie makes that phone call to Essex County Executive Joe DiVincenzo (in the case of Oliver) or (LOL) when George Norcross III dials up Sacco (Prieto). Lyndon Johnson used to say the difference between the senate and the house of reps was the difference between chicken salad and chicken s**t, and if they didn't wade through the entirety of Robert A. Caro's Master of the Senate, Christie and Sweeney certainly delighted in their ability to master the transference of that line to New Jersey Statehouse politics. They could run over Vinny in a pinch. It was like that scene in Dr. Strangelove when General Frank N. Stein tries to fend off the rest of the U.S. Army under direct orders by the Pentagon to brush him aside. South Jersey and the front office could storm the Prieto garrison and take over anytime they wanted. But Prieto didn't see it that way. A former body builder from Cuba ("You push Vinny the wrong way, you'll see the Cuba come out of him," a Prieto confidant once told PolitickerNJ), Prieto played the same game that Sweeney and Christie played, only with less bravado and that soft spoken guy's something to prove card. No one said his stand for the public sector workers could be psychologically tracked back to an instinctive islander's revenge play on behalf of the Christie-demolished Marco Rubio, the son of Cuban immigrants. But there were inviolate walls within Prieto -some of them obvious – like his place in the emerging gubernatorial drama, some of them mysterious – that he would not allow to be breached without a fight.
Mayor Don Guardian
Up for reelection in 2017, the Republican leader of Atlantic City has proved himself yet another guy unwilling to get pushed around. A bow tied nerd who hardly looked like the kind of upper echelon cocktail party participant prized by Christie inner circle guys, Guardian looked like road kill before the dance had even started. But he fought back, going toe to to toe (one reached in vain for metaphors that didn't explicitly scream 2nd grade playground) with the governor, most notably at yesterday's rejoinder press conference. But he has one apparent looming problem: the presence at his press events of Council President Marty Small. The press avails are meant to project city unity, with the mayor and council chief together expressing mutual outrage. But they create a double image effect, whereby Guardian is not the sole face of Atlantic City but one side of a coin that includes Small, who incidentally is Guardian's chief competitor for mayor come 2017. So while Guardian fights the state takeover, he also has to concern himself with the politically savvy Small's efforts to project as the most consistently scornful Christie foe. Every time Guardian slaps Christie at the microphone, Small is not far behind to drive an elbow in, followed by a kick.
Mayor Steven Fulop
Assailed by Christie as the nefarious puppeteer behind Prieto, Fulop has sat back rather quietly and let this Trenton catastrophe play out like the fall of the Roman Empire, letting the main characters assume their roles and carry them to their conclusion while he waits for his moment to assume the part of 2017 pristine prince. Not everyone finds it funny. PolitickerNJ this week received an anonymous email from someone who has started an anti-Fulop website, which promises to reveal the dirty truth behind the Jersey City mayor. But at the moment, Fulop has an enviable narrative, as he backs the public sector union-worried Prieto with (South Jersey allies!) Guardian and Small against that old tiresome Trenton duo of Republican Christie and (Fulop's arch rival in the 2017 Democratic Primary) Sweeney.