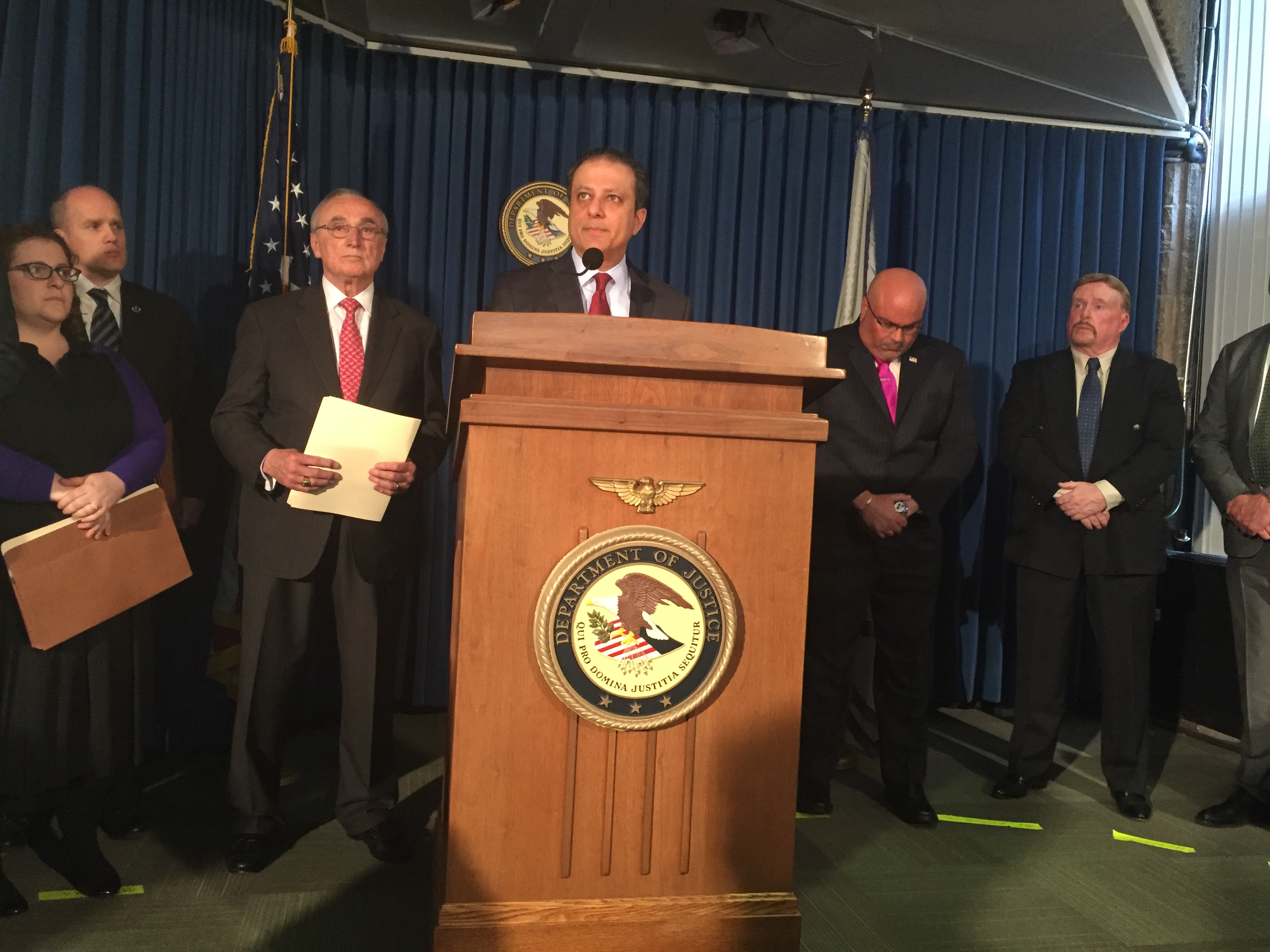 New York City's two most powerful and high-profile law enforcement figures stood together to announce a massive gang bust this morning—touting their collaboration even, as one is investigating the other's department.
U.S. Attorney Preet Bharara was joined by Police Commissioner Bill Bratton today, as the pair outlined a joint operation that resulted in the arrests of 120 people connected to two rival street gangs in the Bronx, 2FLY YGz and the Big Money Bosses. The gangs were conducting "open air" drug sales in playgrounds, and were connected to five deaths, including that of a 92-year-old-woman shot dead by a stray bullet in her own home, according to Mr. Bharara.
The joint operation and press conferences comes just week after several members of the NYPD brass were suspended in connection with a corruption investigation by Mr. Bharara's office, which alleges two businessmen, Jona Rechnitz and Jeremy Reichberg, traded gifts for favors from cops. But Mr. Bharara said that investigation had not gotten in the way of his office's work with Mr. Bratton on the gang probe.
"I hope it's obvious that the working relationship is excellent," Mr. Bharara said at a press conference at his office today. "We have an excellent police commissioner. With respect to this case, I think the results are obvious."
Mr. Bratton hasn't been implicated in the scandal, and Mr. Bharara said he and the commissioner have spoken, and their employees had spoken with another.
"To the extent that there is corruption in the department, I know there's nobody more committed to rooting that out than the commissioner," Mr. Bharara said, as Mr. Bratton stood alongside him silently.
Both Mr. Bharara and Mr. Bratton are media-savvy, swaggering lawmen who rarely shy away from the spotlight—sometimes to an extent that gets them in trouble, with Mr. Bharara being admonished by a judge for comments he made to the media while prosecuting former assembly speaker Sheldon Silver, and Mr. Bratton famously being pushed out of his job the first time around by former Mayor Rudy Giuliani.
Today, the two men kept their focus on their messages for would-be gang members.
"The message is even more blunt: unless you like jail or death, don't do it," Mr. Bharara said.
The law enforcement agencies tracked down the defendants in part by using social media, where they allegedly posted about criminal activity.
"These gang members do not belong on our streets. Instead they belong exactly where they're going: federal prison," Mr. Bratton said, where they will be far from their friends. "They'll no longer be free to terrorize the area where they grew up."
Mr. Bharara's office is also reportedly investigating Mayor Bill de Blasio's fundraising efforts and his connection to the removal of a deed restriction on a Lower East Side nursing home.