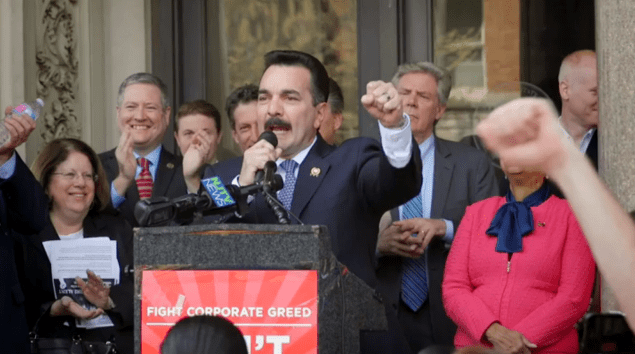 TRENTON — As union striking Verizon workers rallied outside the State House today, the state's top Democratic lawmakers voiced their support for the workers and their demands. Organizers from the IBEW, CWA and AFL-CIO demonstrated against Verizon's offshoring of more than 5,000 positions, and its increasing outsourcing of low-wage work to non-union contractors.
Assembly Speaker Vince Prieto (D-32) spoke at Monday's rally, where he said called on the rest of the legislature to act. Prieto and Senate President Steve Sweeney have been staunch supporters of the Verizon strike, despite their continuing conflict over collective bargaining in Atlantic City. Public workers there could see their contracts unilaterally altered this year if Sweeney's bill to have the state take over the city's finances passes. Prieto is sponsor of competing legislation that would offer the city two more years of benchmarks before that happens.
"When the one percent doesn't want to share the wealth with you, that's not right. We're going to fight and we're going to be here behind you and we are here to back you," Prieto said from the podium. "The working class has to have a piece of the pie."
Sweeney said in a statement that a new economy with new information infrastructure should not be used as an excuse to undermine union contracts an working conditions. The telecom giant is planning to consolidate call centers, a step that would force many workers to face commutes up to three hours or weeks-long out-of-state assignments.
"I want every worker at Verizon, every member of IBEW and the CWA, and all of their families to know that we are standing in solidarity with them in the fight for fairness:  fair contract negotiations, fair wages, fair pensions, fair health care, fair job security and fair treatment," said Sweeney.
"Each and every employee has the right to fair compensation for their labor and fair treatment for their dignity. This may be a new age of telecommunications but that does not mean that the basic American values of workers' rights should be sacrificed or compromised."