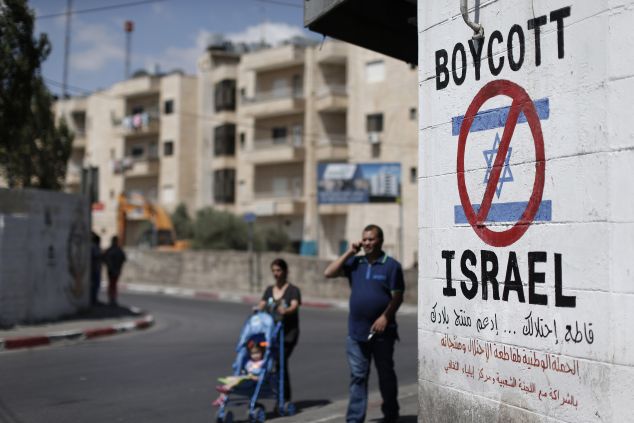 A lawsuit filed on behalf of four professors against the American Studies Association for its boycott of Israel accuses the ASA of "blatant politicization" of an academic association, in violation of Washington, D.C law governing nonprofit organizations.
In December 2013, ASA adopted a boycott policy against the Jewish state. The plaintiffs in this case argue that several anti-Israel activists, including founding members of the U.S. Campaign for the Academic and Cultural Boycott of Israel (USACBI), abused their position of leadership to make anti-Israel activity a priority of the Association. According to a press release from the Louis D. Brandeis Center for Human Rights Under Law, "ASA's stated mission has nothing to do with boycotting a foreign nation and thus the suit alleges its adoption violates the law that governs nonprofit corporations."
"Until a handful of zealots appropriated our learned society, the ASA was the leading organization for the study of American culture," stated professor Simon Bronner, one of the plaintiffs. "Yet in 2013, a handful of anti-Israel Boycott, Divestment and Sanctions (BDS) activists aggressively steered the ASA to an organization of social change pushing a narrow political agenda."
In addition to Mr. Bronner, professors Michael Rockland, Michael Barton and Charles Kupfer are plaintiffs in the case. Since 2013, distinguished academics have tried to handle their concerns internally. The professors filed this suit "as a last resort to return the ASA to the academically-focused organization it has been for 60 years," according to the Brandeis Center president, one of the attorneys for plaintiffs.
Northwestern Pritzker Law School Professor Eugene Kontorovich is working with the plaintiffs in an advisory role.
"Even if you are pursuing what you perceive as noble goals, you still have to comply with ordinary and regular corporate law, especially in the area of nonprofits, which have rules to prevent them from being taken over by activists who want to use the structure of the nonprofit to pursue a totally different mission, and that is what happened here," Mr. Kontorovich told the Haym Salomon Center.
He added, "Organizations have rules designed to protect their members from being hijacked by a small minority of activists.  The goal of the [ASA] leadership seems to be to inject their own politics into a scholarly association they happen to govern. It's the nonprofit version of misappropriations."
The lawsuit claims that, in addition to violating D.C. law, the defendants attempted to prevent informed discourse. The plaintiffs allege ASA leadership forbids opponents of the boycott measure from offering their perspective to members via the ASA website. The plaintiffs advised they wanted to share numerous letters opposing the resolution, including one signed by approximately 70 ASA members, and another opposing the resolution from eight former ASA presidents.
Kenneth Marcus, President and General Counsel of the Louis D. Brandeis Center for Human Rights Under Law, assembled the legal team behind the lawsuit.
"The BDS advocates have really made a laughing stock out of the American Studies Association. In a short period of time, they managed to get their long-honored institution dragged through the mud, castigated by dozens of university presidents and countless other groups," explained Mr. Marcus. "The Brandeis Center is concerned that other associations may have the perception that the wrongdoers have been able to escape accountability for their shenanigans. This can have a deleterious long-term impact on other fields of study as well."
Mr. Marcus continued, "To my mind, this is not only about the mission of the Academic Studies Association but also about whether academic activists will be encouraged to adopt anti-Semitic policies that undermine the pillars of higher education."
Responding to our request for comment, ASA said: 
"We respect the concerns that the current and former members have expressed, the complaint is under review by our attorneys, and we are open to proposals addressing the complaint to be handled within the internal processes and procedures of the ASA, to include submission of their own formal resolution to the organization."