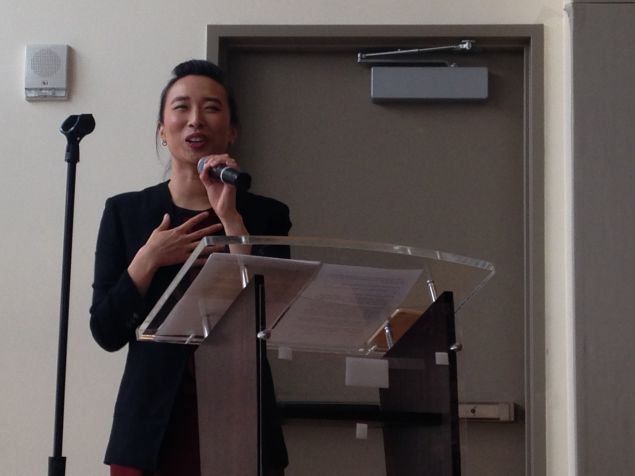 Public Advocate Letitia James today became the latest leading Democrat to endorse Working Families Party candidate Yuh-Line Niou for ex-Assembly Speaker Sheldon Silver's seat—spurning Alice Cancel, the candidate running on the Democratic line in the April 19 special election.
Like Ms. Niou, Ms. James is a Democrat who ran on the WFP ballot row against a Democratic opponent in a special election—in Ms. James' case, for a Brooklyn City Council seat in 2003. That victory made the future public advocate the first candidate to win office solely on the labor-backed third party's line.
"Yuh-Line is the best candidate to move this community forward and build a stronger City for working families," Ms. James said in a statement to the Observer. "She understands firsthand the need to support seniors, families, and children by protecting tenants, improving our public schools, and making our streets safer."
In accepting Ms. James' support, Ms. Niou vowed to push for more opportunities for minority and women-owned businesses, often called MWBEs. She also promised to advocate for the creation and preservation of low-cost apartments, a major issue both in Mr. Silver's old Lower Manhattan turf and across the city.
"It's an honor to receive her endorsement, and I look forward to working with her to promote affordable housing, to support small businesses and MWBEs, and to fight for social and economic justice," Ms. Niou said.
Ms. James endorsement is unsurprising for reasons beyond their shared relationship with the Working Families Party. Ms. Niou, who serves as chief of staff to Queens Assemblyman Ron Kim, has picked up endorsements from numerous influential Democrats and unions. The list of her supporters even includes Ms. Cancel's boss, Comptroller Scott Stringer.
The only elected officials to back Ms. Cancel, a longtime district leader, are Councilwoman Rosie Mendez and Councilwoman Margaret Chin, whose districts overlap with the Assembly seat.
Ms. Niou and her allies have sought to play up her rival's ties to the disgraced Mr. Silver. The Democratic county committee—the local panel of party insiders that selects candidates in special elections for state offices—that picked Ms. Cancel for the seat was heavily stocked with the fallen pol's allies.
In addition, Ms. Cancel's treasurer, scheduler and sometime spokeswoman was the vanquished speaker's liaison to the Hispanic community for 12 years. The candidate's husband, John Quinn, was a leader in the Lower East Side Democrats club, which strongly supported Mr. Silver.
"I can only say he did wonderful things in our district," Ms. Cancel told the Observer of Mr. Silver at her nomination.
Ms. Cancel has in turn portrayed Ms. Niou, who has lived in the district just two years, as a transplant and an interloper for the Queens Democratic machine.
Also competing in the special election are Republican businessman Lester Chang and Green Party candidate Dennis Levy.
Updated to reflect that Ms. Chin has also backed Ms. Cancel.