Arthur L. Carter, the investment banker-turned-publisher and founder of this newspaper, credits journalism for his art career.
"I became very interested in the graphic design of the newspapers," Mr. Carter said last week following the opening of a retrospective of his work. "I started to sketch a few things, tried to build a few and then sold a few."
Dressed impeccably in a gray suit, his white hair slicked back and his blue eyes softened behind a pair of glasses, Mr. Carter held court at the Leila Heller Gallery in Chelsea as the publishing elite mingled with emissaries from the world of art and business among his monumental sculptures.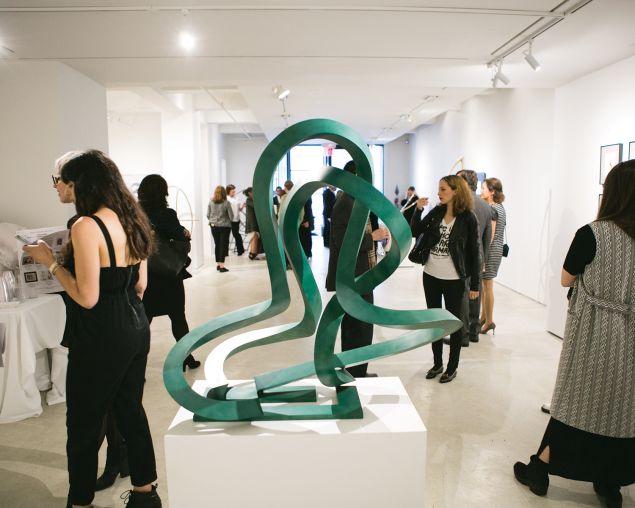 A biography took up three pages of Mr. Carter's newly released monograph put out by Abrams, Arthur Carter: The Geometry of Passion, touting his diverse career achievements. At an early age he showed promising skill as a pianist. He's owned more than 100 businesses, from real estate ventures to construction companies. At this point, he's sold nearly all his commercial enterprises (including The Observer in 2006), though he still owns one that produces precision metal springs.
'I became very interested in the graphic design of the newspapers. I started to sketch a few things, tried to build a few and then sold a few.'—Arthur Carter
"Some people might think that making art is easy for Arthur after all of his other accomplishments, but I actually think that's the hardest thing to do," said Abrams editor-in-chief Eric Himmel.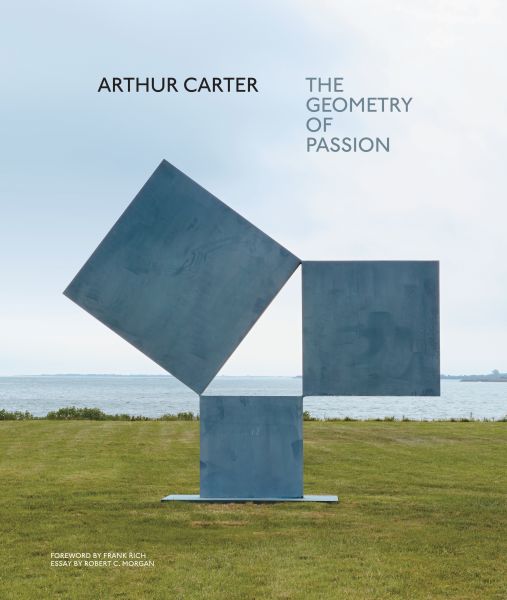 The renaissance man has accrued as many friends over the years as he has businesses. In attendance at the opening were representatives from his varied careers: hedge fund manager and philanthropist Michael Steinhardt and his wife Judy, art critic Robert C. Morgan and former police commissioner Ray Kelly.
Mr. Carter's slim arcs of polished steel and buffed plates of bronze stacked at impossible angles filled every corner, even a spot on the entrance ramp. Works can be grouped into two categories, but intermingle with each other in the gallery. There are gravity-defying lines of steel, which undulate upward from the floor drawing simple forms in space. And then, there are the flat planes, their surfaces treated to dance in the light, either mounted on the wall-like paintings (he calls these Orthogonals) or erected like buildings atop a freestanding base.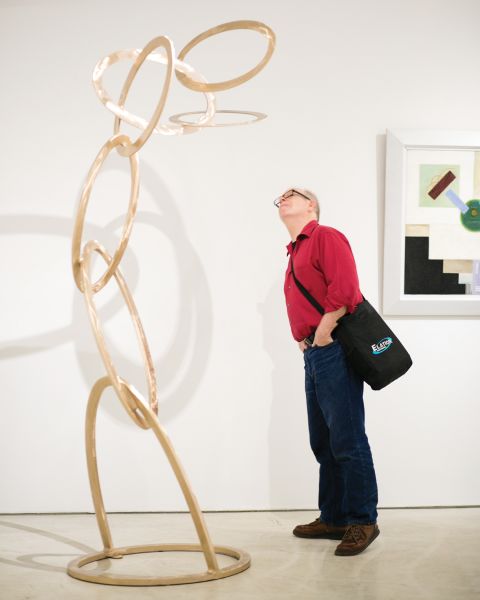 While his constructions are seemingly minimal in their presentation, the works are actually inspired by complex mathematical principals such as the Pythagoras' theorem. Some pieces stand taller than the average person, while others are only a few feet off the ground—no matter the size, there's a tangible weight to each.
On one wall is a series of his preparatory sketches, equally as sparse in design as his sculpture. On paper, his planning process never involves more than a few lines and a block of color—most often red. And not unlike the space left open in his metal works, there's as much purpose to the omission of words in conversation as there is to those spoken.
Making art is a solitary endeavor, and the opposite of producing a publication, Mr. Carter told us.
"It's still a collaborative field, and requires a lot of talent," he said, of working in media today. "If the talent is there, the publication will thrive on that."