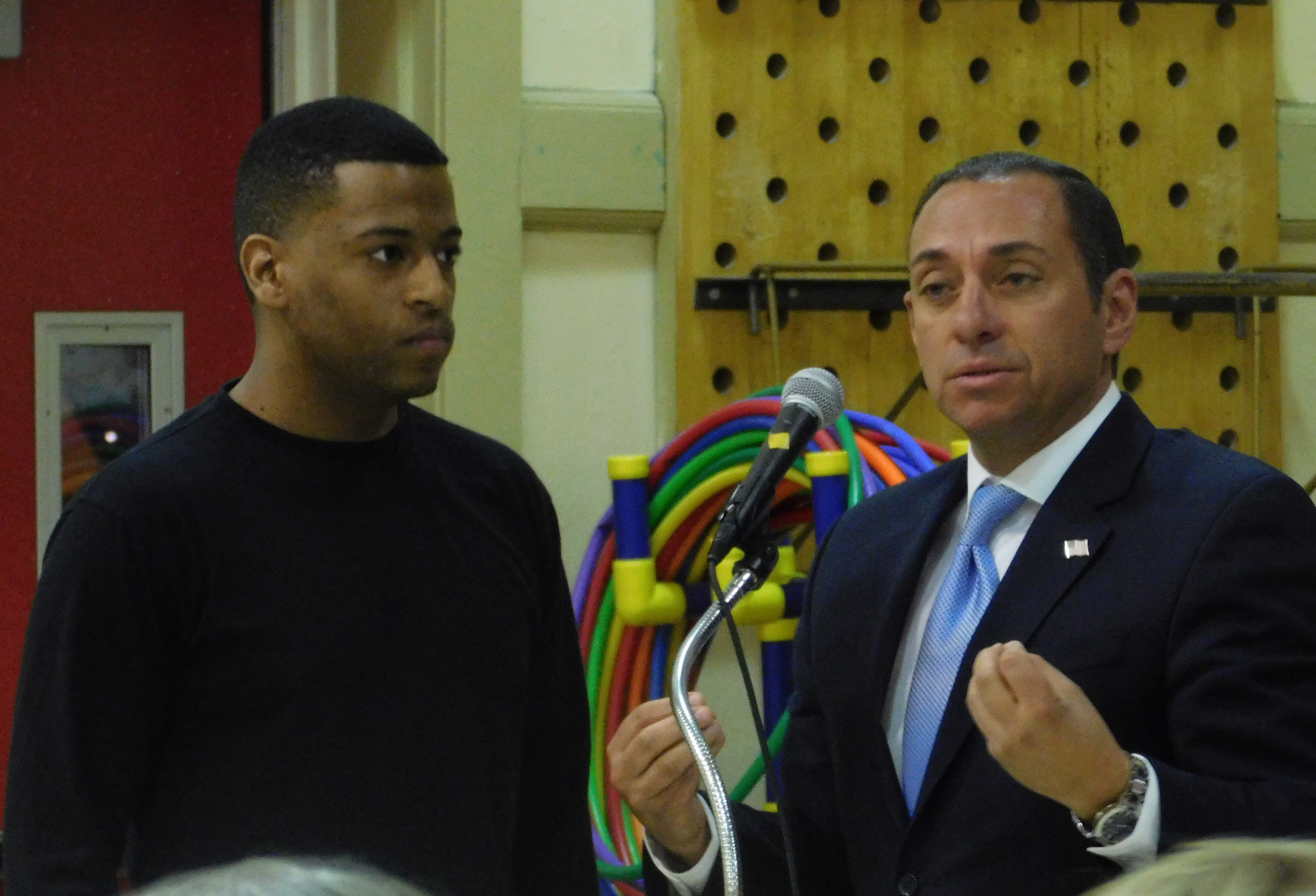 BLOOMFIELD – A place card bearing the name "Mayor Michael Venezia" sat on the table at Carteret School in Bloomfield on Tuesday, sandwiched between Senator Ronald Rice (D-28) and Councilman Joe Lopez, Venezia's archrival as they compete for the Democratic nomination for mayor in the June 7th primary election.
However, while his name was there, Venezia was not.
The event, a community discussion called by Lopez to address alleged racial profiling by police against minority residents, came hot on the heels of a report issued by Seton Hall University titled Racial Profiling Report: Bloomfield Police and Bloomfield Court. The study found that a disproportionate amount of tickets given by police in Bloomfield are given to black or Latino individuals. The study was recently featured in a Vice documentary. That study found that 78 percent of residents who answered tickets at Bloomfield municipal court over a month-long period last year were black or Latino.
Based on the SHU research, Lopez called the meeting in order to "foster and open and honest discussion and re-establish trust between the police and minority communities."
Before the event, Lopez circulated in the small auditorium of Carteret School, shaking hands and mingling with the constituents he hopes will cast votes in his favor in less than two months. According to Lopez, Venezia declined the invitation to attend.
The race for mayor in Bloomfield has been highly contentious so far as the two Democratic factions compete. Lopez and his running mates Kathy DeMarino, Jo Lewis and Yudi Sobharam are backed by Bloomfield Municipal Chairman Peter Strumolo, much to the dismay of Democratic Party officials striving for unity in Essex County. Venezia and his running mates Councilwoman Wartyna Davis, Councilman Carlos Pomares and Ted Gamble have the party line. Last week, ballots were drawn, securing Venezia and his slate of candidates' spot on the June 7 ballot under former Secretary of State Hillary Clinton. Because of the position of the Vermont Senator Bernie Sanders camp on bracketing, Lopez and his team are not bracketed with any presidential candidate.
But Tuesday night wasn't about politics.
The study was conducted by Seton Hall Law Professor Mark Denbeaux and his students.
"I don't think there is any reason to believe that Bloomfield as a town has any problem that is greater than the others," said Denbeaux. "The saddest part so far is that the reaction to this in Bloomfield is the reaction that it can't be happening here."
According to Rice, when the legislators who represent Bloomfield first heard about the findings, the first thing they did was reach out to Venezia.
"He expressed concern as well," Rice said, noting that he intends to meet with Venezia and the Police Director to "correct what needs to be corrected" and determine how to move forward. Rice also said that all officials "need to come together and acknowledge that this is real."
For Assemblyman Ralph Caputo (D-28), the failure of the report was not providing the administration an opportunity to comment before releasing it. He said that, due to the volatile nature of the issue, a discussion prior to release may have been illuminating. On Tuesday, Bloomfield Police issued a press release questioning the report and stating that they would be conducting their own investigation.
"Before you issue a report like that, you should have a conversation," said Caputo. He said that doing that could have avoided the "back and forth" likely to come from competing releases and statements.
According to Lopez, however, discussions behind closed doors can "water down" what actually is released to the public.
"I say put it out there. Some elected officials would like to sweep this under the carpet but I am not going to do that. I am here to represent you," Lopez said to applause from the crowd. "Whether it is true or false, flawed or perfect, we will get to the bottom of it."
Also on the panel were Assemblywoman Cleopatra Tucker (D-28), community activist Edward Correa, and police practice expert Rich Rivera. Like Venezia, Police Director Samuel DeMaio and other members of the city council were invited but did not attend. The Bloomfield Police are required to have an internal affairs process.
Community residents also had the option to share personal experiences and ask questions of the panelists.
On May 3, Mayor Venezia will hold a meeting also addressing the racial profiling issue. That meeting will include the Seton Hall authors, ACLU representatives, Police Director DeMaio and members of the Civil Rights Commission. The event will also be open to the public.