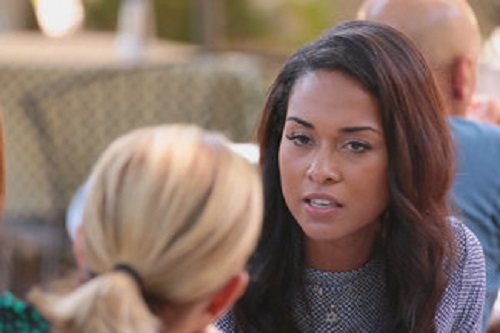 As we go on, we remember, all the crab we, ate together. And as our lives change, from whatever, we will still be, on vacation in Delaware.
It's the season finale. Let's do this.
Last week we left off with some tense conversations around racial identity at Charrisse's 50th. As a result, Gizelle decides to host a "Come to Jesus" lunch where she can educate the ladies about Black History. Katie doesn't understand why she should attend because she's Jewish.
Meanwhile, Karen offers some not-so-sex positive advice to That's So Rayvin as she packs for college, which includes that she can't even stand near a trollop such as Ashley. Speaking of Ashley, she wants a baby but instead is getting a restaurant.
Andrew, the garbage man, is convinced that Ashley's husband Michael has "a thing" for him after the butt-grabbing incident. Andrew is probably the kind of guy who thinks everyone has a thing for him, but Michael is also the kind of guy who probably has a thing for everyone.
Katie takes Andrew to "The Vortex," which she says is a nature hike, but I assume is the burial ground where she will turn into a vampire and kill him. When they arrive the floral decorations continue to suggest that this is the site where Andrew will die. However, instead he drops to both of his knees like he's ready to be beheaded and asks Katie to marry him. Obviously, she says yes. The power of The Vortex is strong.
Gizelle prepares for her lunch wearing an incredible hat that would make me listen to any word she said. All the ladies arrive, except Katie, the one who needs it most. Gizelle's goal is to mend fences and get the ladies to listen to each other. She even made a sign that says "Reserved" that the women have to be holding in order to speak. Come to Jesus, because Gizelle is an angel.
Karen takes the spirit stick first and offers the most incredible advice regarding talking about her daughter and using the pull-out method,, "Let him stay in, ejaculate, procreate, and get a baby of your own. Move up off of mine." This is the kind of lines I've been looking for ALL SEASON.
Ashley does make some comebacks but I cannot print them with journalistic integrity because she was not holding the "Reserved" sign at the time.
Katie busts in, announcing her engagement before any of the ladies have a chance to bust her ass. Robyn decides that just because Katie is engaged she is not exempt from a schooling in Black History. I feel like they could have just gifted Katie a copy of Between The World and Me and called it a day, but these are Real Housewives, so there's nothing Ta-Nehisi Coates can say that they can't.
Anyway, Robyn essentially tries to tell Katie that reverse racism isn't real but Katie's mind is still on the ass-grabbing element of the argument.
There's some back and forth about the butt debacle and Gizelle then pipes in that it was disrespectful to call her and Robyn biracial. Katie thoughtfully does say that she does identify as black, but also biracial. As much as I think Katie needs a whole lot of lessons, she's right here.
But Gizelle doesn't take it that way, accusing Katie of thinking being black is "a problem." This feels like a stretch, but I empathize with Gizelle's perspective overall. I just don't think Katie understands nuance, and now I'm starting to think Gizelle doesn't either.
Katie agrees as she calls Gizelle, "a stupid woman who says stupid things." Yikes.
Charrisse finally chimes in and tells the group that she thinks they all talk about race a little too much. Ashley and Karen somehow mend fences, and everyone apologizes to everyone else. What an anticlimactic ending to an anticlimactic season. I'm sure all of these arguments will be brought back up at the reunion.
And of course, we get our wrap-up credits. Charrisse can doggy paddle in her pool now! Rayvin is doing well in college! Ashley's non-baby restaurant opened in October! Gizelle is focusing on a beauty line that I will buy every item from! Robyn's house went into foreclosure and she had to move? That's a bummer. But the real bummer comes from our friend Katie Rost. We find out that since the finale, she and Andrew broke up. Wow. But then we find out that they've gotten back together. Wow.
There's been so many ups and downs on this booze cruise down the Potomac, but one thing is for sure, Katie's wedding is probably not happening. See you at the reunion!