TRENTON — An bill from Assembly Speaker Vince Prieto (D-32) to create new benchmarks and keep collective bargaining agreements off the table for two years in the potential state takeover of Atlantic City passed unanimously in the Assembly Judiciary Committee Thursday, with bipartisan support. Under Prieto's plan Atlantic City would be granted another two years to reach certain fiscal benchmarks, after which collective bargaining agreements and a potential sale of the city's water authority would be back on the table — enough time for Christie to be out of office.
"It was not that I was opposing the bill, it is that I wanted to make it a better bill," Prieto said in his testimony.
Assembly Majority Leader Lou Greenwald (D-6), who gathered southern support from a dozen Democrats in the lower house when he called on Prieto to post Governor Chris Christie's existing bill, hedged his support for Prieto's willingness to compromise with misgivings about any new bill being enacted in time to help the nearly insolvent gaming capital.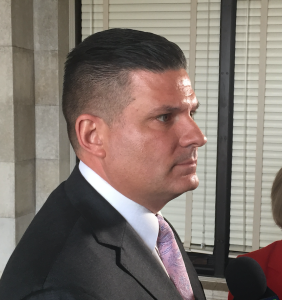 "I think that would be a unique political strategy with a cataclysmic end for Atlantic City," he said of the benchmarks coinciding with Christie's exit. "So in the meantime, in one of the poorest cities in the state that has the highest foreclosure rate in the country, where people can't sell their homes, our strategy is 'Just let it continue to fall into squalor.'"
The Assembly session today will be the last before Atlantic City runs out of money and starts paying its city workers on a monthly rather than biweekly basis. Though Greenwald said that he is willing to work into the night to achieve a compromise between Prieto, the governor, and Senate President Steve Sweeney (D-3), Prieto's version would need an emergency vote with two-thirds of the body to be introduced on the floor the same day.
Atlantic City Mayor Don Guardian acknowledged after the hearing that the benchmarks' coinciding with a governor's swearing in after the end of Christie's term in 2018 would put the city at an advantage. Guardian said all the leading candidates of either party "are going to be very favorable to working with municipalities, and i think they would be very supportive. Because what's good for Atlantic City is good for the state."
Governor Christie, a Republican, has said that he will veto any bill that differs in any way from the Sweeney-sponsored Senate version that passed in March. Despite the governor's insistence Thursday that he will not be meeting with Prieto to discuss the plan and Minority Leader Jon Bramnick (D-20) saying that he still supports the Sweeney bill, both Republicans on the committee voted with the Democrats in advancing Prieto's.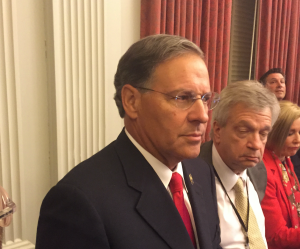 Assemblyman Chris Brown (R-2) voted against the governor along with Erik Peterson (R-23), citing an amendment to the Sweeney bill that would allow casinos to opt out of a payment in lieu of taxes deal for Atlantic City casinos if more casino locations open in North Jersey. Brown argued, along with his erstwhile casino expansion foe Ralph Caputo (D-28) and committee chairman John McKeon (D-27), that the Senate amendment defeats the purpose of the PILOT.
"Now they pass a bill that says 'You can file costly tax appeals if you want. If you don't like our sweetheart deal, hey! File costly tax appeals," Brown said of the PILOT, which he opposed before and after the opt-out provision.
"The next step is to stop the press conferences. The next step is to stop the insults," Brown said before his vote. "I'm going to provide my office, we'll bring them down to Atlantic City, we'll give them White House subs. If they can't get along, I'll pay for a mediator."