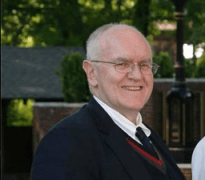 It takes a judge to replace a senator who became a judge, or so runs the logic of the Honorable Roger W. Daley, who announced this evening that he will seek the LD-18 seat vacated by former Senator turned Judge Peter Barnes.
Retired as a judge of the Superior Court after fifteen years, Daley is a 60-year resident of Middlesex County, presently residing in East Brunswick. The Republican was a two-term Freeholder during the early nineties, and was the first Republican to win re-election as a Freeholder in Middlesex since 1929. During his time on the Board he became known as a watchdog for Middlesex County residents, and a vocal opponent of the democrat machine. He was also a private practice attorney, and he is a veteran of the Vietnam War.  Daley also ran for Freeholder in 2012, when he was endorsed by the Home News, and 2013, when he was endorsed by the Latino Leadership Alliance.  He is presently the Chair of the Board of Directors of New Brunswick Tomorrow, a non-profit organization dedicated to enriching the lives of the people of New Brunswick by promoting self-sufficiency, responding to the needs of the community, and assuring that health, human service and social issues are addressed that complement the physical and cultural revival of New Brunswick.
Barnes nearly lost his seat in 2013 to challenger David Stahl, whom Democrats in the interim got out of the way by ensuring that he was installed – as a judge.
Daley is poised to run in a general election this year against presumptive party nominee – and habitually GOP-targeted – Pat Diegnan, who's running to succeed Barnes for the Democrats.
"Peter Barnes is a fine public servant and he will make an excellent judge," said Daley. "I certainly wish him all the best. I am running because we cannot continue to wait for the people in Trenton to fix their own failures. New Jersey, by any measure, is unaffordable to middle class taxpayers like myself. People are being taxed out of their homes. Money that should be saved for retirement is instead going to pay an oppressive property tax bill. Families that have spent generations in this state are effectively being evicted from their own homes. And the more this happens, and the more people flee to affordable states, the more those of us who are left behind have to carry the burden. This is a death spiral."
Daley enjoys the support of Middlesex County Republican Chairman Sam Thompson, who said of Daley, "I could not possibly think of a more qualified candidate."  His campaign is being managed by attorney and former running mate Jordan B. Rickards.
"I'm really happy for Pete Barnes, who is a gentleman and deserves to be on the bench," said Rickards. "He is known as a man with no enemies, and someone who was always available to his constituents. But New Jersey's middle class is under siege from its own government, and we need outsiders like Roger Daley in Trenton to stand up to the looting of New Jersey's taxpayers. Our state motto is still 'liberty and prosperity,' but it should be 'your money or your life.'"