As the weather warms, there's nothing better than going outside and curling up with a good book, especially one that can fatten your wallet. The forthcoming books that follow will stimulate your mind and keep you thinking long after you get out of the hammock.
Mobilized: An Insider's Guide to the Business and Future of Connected Technology by SC Moatti (May 2)
The phrase, "There's an app for that," is not just a snappy slogan anymore—it's a reality for most companies. But how do businesses know their mobile products are working? Ms. Moatti, who has worked at Facebook, Nokia and Trulia, gives her formula for success in this book—it involves making sure not only that the product looks good but that it also fills a need and enhances the user experience.
The Sharing Economy: The End of Employment and the Rise of Crowd-Based Capitalism by Arun Sundararajan (May 13)
We've been giving people rides and letting them stay in our spare rooms for decades—but now, thanks to Uber and Airbnb, we're making them pay for the privilege. Mr. Sundararajan traces the origins of the sharing economy, showing how on-demand platforms are changing laws and social norms and even the definition of employment.
The Seventh Sense: Power, Fortune, and Survival in the Age of Networks by Joshua Cooper Ramo (May 17)
Everything from science to trade and finance is impacted by our new, rapidly connected world, but how does that affect us day to day? Using lessons learned from generals and CEOs, Mr. Ramo explains in this "story of revolution and riches" how we can use the forces that shape an internet-connected society to our own advantage.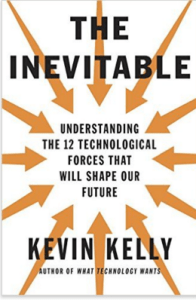 The Inevitable: Understanding the 12 Technological Forces That Will Shape Our Future by Kevin Kelly (June 7)
It's no secret that tech has become an ever-present force in our daily lives, from on-demand apps like Uber to the growing use of virtual reality. This book aims to both describe these trends and forces and demonstrate how they overlap to become even more powerful. But rather than bemoaning our new tech overlords, Mr. Kelly, former editor of Wired, comes to a hopeful conclusion about their potential.
Chaos Monkeys: Obscene Fortune and Random Failure in Silicon Valley by Antonio García Martínez (June 28)
Having worked at Twitter and Facebook, Mr. García Martínez aims to burn bridges with both of them in this memoir, in which he claims Silicon Valley engineers are simply "chaos monkeys" who run around trying to solve problems before they actually occur. He also details his Wolf of Wall Street life during and after his time at the social networks, filled with drinking, sex, fast cars and sleek boats.
The Switch: How Solar, Storage and New Tech Means Cheap Power for All by Chris Goodall (July 7)
Solar power has been used to power small projects for years, but Mr. Goodall thinks that it should eventually replace fossil fuels as our main energy source. His book explores the environmental and monetary benefits of solar power, using examples from an American startup experimenting with artificial photosynthesis to a British firm pioneering the use of wind turbines.
The Huawei Way: Lessons from an International Tech Giant on Driving Growth by Focusing on Never-Ending Innovation by Yang Shaolong (July 29)
While its name is not widely recognized in the United States, Chinese smartphone manufacturer Huawei has become a global force, serving 2 billion people in 150 countries. How did that happen?  Mr. Yang, a former Huawei employee, finds out in this book, which delves into business practices and philosophy to discover what makes this telecom company tick.