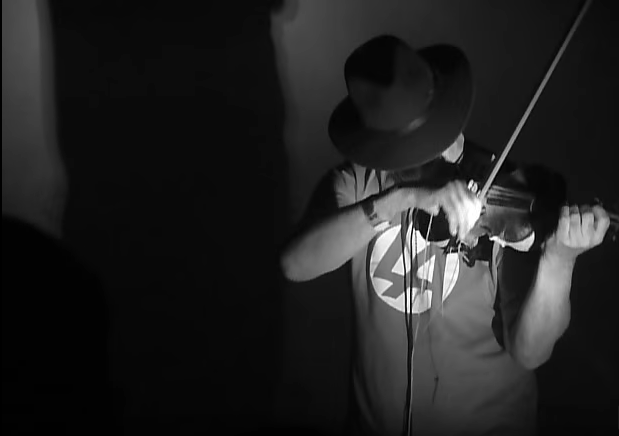 Tony Conrad made music of infinite possibilities.
A monumental figure of the avant garde (who I primarily knew as a composer), to listen to him was to hear the sticks an stones and fiddles and fears of 20,000 years of mankind, captured by a single man playing a violin who used the most simple ideas to speak a 1,008 languages, many of them not heard since mammoth walked the earth.
His music, built around the endless spirals and potentiality of drone harmonics, was the sound of millennia of celebrating, shouting, mourning, making love, war, making peace, learning hate, learning language, the shriek of birth and the silence of death.
His music was the hoarse holler of the crowd at the Circus Maximus the year Christ brought the Earth his gift of peace; it was the sound inside the Buddha's brain 2,500 years ago as he discovered that suffering was attachment and aversion; it was the sound of Stonehenge's monoliths shifting into place under the long, pale pink late-evening Northern skies; it was the sound of Buddy Bolden blowing his brains into his horn in search of the release of disharmony; it was the sound of blood red Hamburg ceilings shaking with the grind of Beatles barely 20.
Tony Conrad was a musician who made the sound of everything that had ever been rock 'n roll, everything that had ever been the cool coos of morning vespers, every ancient honoring the solstice.
The music he made sourced sounds from long before anything any of us culturally tamed children of the 20th century would call music. His slithering, sizzling, fuse-snapping sawing, often hysterically and beautifully over-amplified, recalled the sound of the Earth and the sound of the tribe and the sound of 1,200 notes between each and every one of the unnatural Do-Re-Mi's the Church imposed on the riotous, emotional, functional sound of mankind and his environment.
It always amuses me when a Hollywood or Pinewood film shows some scene of the ancient past, and the "contemporary" music being played is so full of modern harmony and perfect tuning; I can be sure of very, very few things in life, but I guarantee you that the music the Caesars and the Pharaohs fucked to sounded a lot more like Tony Conrad than John Williams.
[youtube https://www.youtube.com/watch?v=FGMnDcwoXns&w=560&h=315]
It is far, far too easy to say that Tony Conrad was a drone composer; his sound, his urgent, continuous, buzzing violas and cellos contained thousands of notes; they contained every note ever written and many many more that have gone unwritten.
Conrad insisted that you realize that behind every note was a literally infinite spiral of harmonics, every note was Pi, and if you listened (and it was hard not to, few musicians have ever created anything that so completely occupied the mind, alternatively frantic and fascistic and meditative and majestic, as Tony Conrad) you heard the whole universe opening up to you, every song ever written, and every star they were written under.
I may not be addressing a crucial and fascinating fact about Conrad, something that made him essential and fundamental to the arc of "traditional" modern rock 'n roll, and which will help many people make a little more sense of this stunning and extreme artist. In the very early 1960s, both Conrad and his friend John Cale were disciples and collaborators with La Monte Young, the minimalist/drone music giant (in fact, much of Conrad's earliest recorded works are mind-blowing home recordings done with Cale, in which they simplify La Monte Young's drone meditations into feral screams, as if they've summoned the soul of Young and Bo Diddley into an endless loop).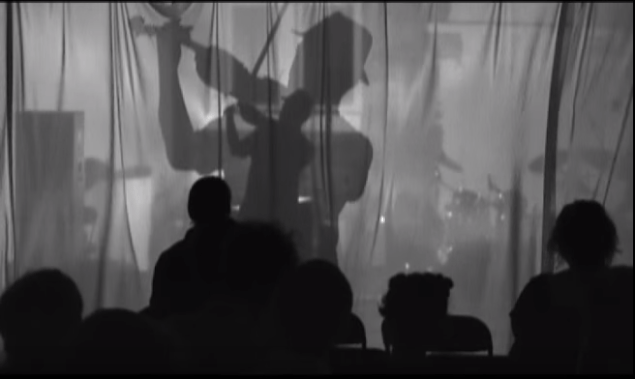 Conrad and Cale were very intrigued by bringing this radical idea of high-volume, low-movement Raga-via-Rivington Street sound to the exploding young world of rock; toward that end, they found themselves working with a dissolute poet named Lou Reed, and some other downtown avant-music veterans, Walter de Maria and Angus Maclise. This ensemble evolved into one of the very essential and most influential rock groups of our era, a band dedicated to marrying sacred drones to profane rock, and inventing the future in the process.
Conrad wasn't officially ever a member of this legendary band, but he is as responsible for their creation as any one person; and it was while at Conrad's Ludlow Street apartment that Reed and Cale spotted a book on Conrad's table, and decided to name their band after its title—The Velvet Underground.
Start here: Early Minimalism Volume One, which (largely) features Cale and is the sound of the sigh and the scream that marks the beginning of alternative music's atomic clock; and his collaboration with Faust, Outside the Dream Syndicate, a patient, pulsing, and wildly influential exploration of his ideas, which sounds like PiL dreaming in the womb.
[youtube https://www.youtube.com/watch?v=sY9RTSXki8E&w=560&h=315]
I saw Tony Conrad perform 20 years ago, at a darkened and tiny record store transformed into a black hole of possibility and imagination in lite-brite Los Angeles. I was forever transformed. He filled the room with starlight, with every angel choir song I had ever imagined, with every machine noise I had ever heard, condensed into an unimaginable and indescribable godchord. The listener, left stunned, shattered and ecstatic, could think of nothing but the power of sound as it must have felt in a time before language, as music must have lived and breathed before it was ever called music, and the power of music, music as it might expand into a future that we could never envision.
Tony Conrad left this incarnation on April 9 (the 40th anniversary of the passing of another musical bodhisattva, Phil Ochs). His music, his ability to tap into the potential of noise to reach the heart, continues on.