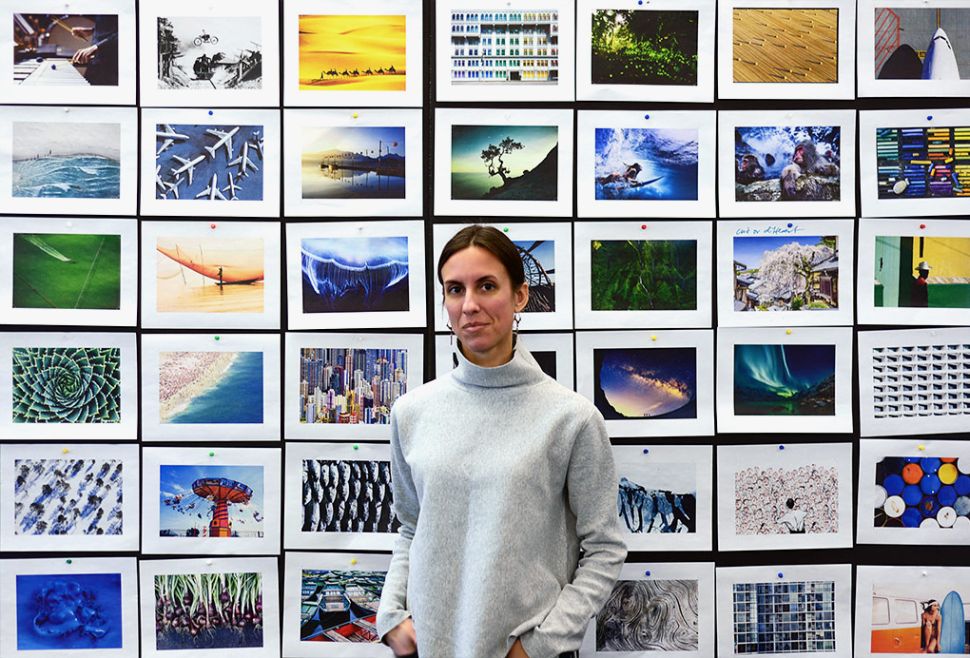 "What do you do?" The question is a staple of parties and chance encounters, but the brief answer given in response seldom provides real insight into what people actually do at work. Welcome back to the Jobs Report column, where when we ask interesting people what what they do, we actually mean it.
After more than a decade as a freelance photo editor at glossy magazines, Robyn Lange took a job last summer as an in-house curator at Shutterstock, the stock images company based in the Empire State Building. But what does it mean to be a curator a collection of over 80 million stock images, video and audio?
We talked to Ms. Lange on an unseasonably cold Tuesday evening earlier this month, and she walked us through her day.This interview has been edited and condensed for clarity:
This is actually the first full-time position that I've had in ages. I was a freelance photo editor at various magazines, from Conde Nast to American Express, Time Inc., and The New York Times, for eleven years. It's not that different from what I'm doing now, with the exception of producing the photo shoot. My title is 'curator,' but I can very easily change that to 'photo researcher' and I think it would still be fairly applicable. 
I go into the office right at 9, or just before. I usually go through my emails and respond or delete or file them. I use Trello, which is a sort of task-managing software. If there's any emergency requests that have come through from the previous day, I'll address that. An emergency request is something we need images for—like a last minute blog post or email, or maybe we just realized that there's some international holiday going on that we want to address and share with our readers.
It takes around twenty minutes to get through emails. And then every day is different.This morning, I was working on trying to finish up a monthly slideshow for CreativeMornings, which are a breakfast lecture series with chapters in cities all over the world, and we do a partnership with them. Each month has a different theme. So we'll present a slideshow of images so that as people are getting in, taking their seats, getting settled, they'll see images that relate to that month's theme. So I put together those slideshows each month. It's sort of a real mental stretch because they are these really vague, esoteric topics, but I really enjoy that. It gives me a chance to bust out the thesaurus and try to come up with new approaches to completing a hypothesis. For example, the most recent theme was "risk." One image that I used for that was of a man holding onto a puffer fish. In Japan, people eat the puffer fish raw, and if not prepared properly, I think it can poison you. I thought that was a fair topic for "risk."
At 10am every Tuesday, all of the creatives, the copywriters, the designers, myself, we all get together for about half an hour. We just review projects we're working on, share recent work, and discuss any issues or concerns we might have. It's an opportunity, once a week, to all get on the same page.
Then another project that popped up, so I took a break from the CreativeMornings slideshow. There's a piece we do on our website called 'Panorama,' where we feature one particular artist from a different country each week of the year. I'll select maybe six to ten images from their portfolio that I think best represents them. The one that I happened to be working on this morning was from Ukraine.
In the middle of  working on that, I was interrupted by the design director. We have been working on making cards that our events team can hand out. We selected a hundred images that we're going to have printed onto heavy card stock. The design director stopped by and showed me the first round of prints, so we had a look at that and decided what was working well, what wasn't working well, if there's any changes we wanted to be made to the print process. That happens a lot, people just swing by. It's an open office, so everybody has access to you at all times, for better or for worse.
We have our meals are provided for us in the cafeteria. However, I'm a big proponent of getting out of the office for lunch and to get some fresh air. I went out with the design director and one of our designers today for ramen, because it was cold and miserable.
After lunch, I had a quick meeting with another team member that works for our product division. We're making some structural changes to the website that are going to affect how I do certain aspects of my work, like how I will upload collections to the site. We were G-Chatting for a little bit, but we weren't really understanding one another, so we thought 'OK, well, a little face-to-face time is necessary.'
After I finished that, I went back to the CreativeMornings slideshow and wrapped that up. I sent it on to our manager for strategic partnerships. I really value his opinion and his feedback, so I like to see what he thinks, and he'll usually have some suggestions for some minor tweaking and changes. It's nice to have another set of eyes on your projects before they go out the door. He's on the West Coast, I'll probably hear from him tomorrow, or the day after.
With that finished, I went back to one of my main tasks, which is just updating the website. There's a section, the photo storefront, where you can find six different featured collections of images, and I also update the hero image, which is the big image that appears along the top of the website. And I'll update some of the smaller collections, any theme, any topic. There's really no rhyme or reason to it, I just pull fantastic imagery that I'm excited about and I want to share with our customers. I usually try to update all of that stuff monthly, if possible, just so that our customers have access to inspirational imagery and just new, fresh content. I know that everybody's always searching for something new, and even if they can't use it right now, maybe they'll stash it like I do, save it for another time.
I still maintain a lot of ties with photographers, and other photo editors and photo directors, so we'll often get together for dinner or drinks after work. I freelanced for a really long time and back in my younger days I spent a lot of time traveling. Now that I have a family, I really don't need that level flexibility, so the standard 9-to-5 works better for me at this point.