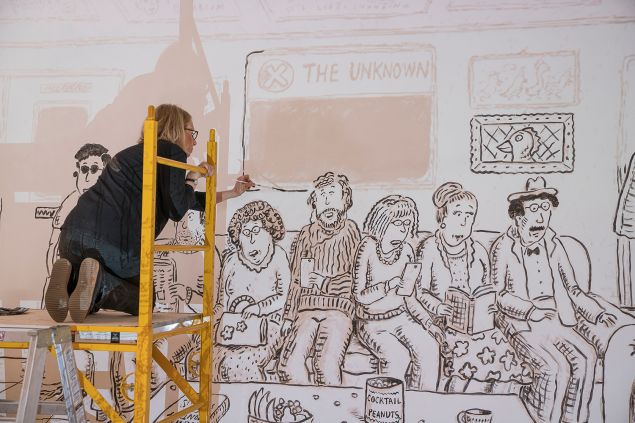 Roz Chast is on the third floor of the Museum of the City of New York, at work on a larger-than-life mural that will greet visitors to "Roz Chast: Cartoon Memoirs," the exhibition of 200 of her drawings that runs through October 9.  
It's a picture of a subway car, decorated like a frumpy living room with six people on a couch facing outward. Paintings of birds and flowers adorn the car walls. Ms. Chast, 61, seems to be saying that people carry their histories and their family lives with them wherever they go. And for New Yorkers, a lot of that drab, everyday journey is on the subway.  
Art is on the subway living room wall, the Brooklyn-born Ms. Chast said, "because it's so bee-yoo-tee-ful," extending the word as she drew with a deadpan focus. "What could be more bee-yoo-tee-ful than birds and flowers?"
Asked if the work has a title, she simply retorted, "No," without any inflection. (The museum lists the title as Subway Sofa.) She also won't identify the blondish woman with a frazzled expression who looks a lot like her many cartoons of herself. Nor will she say whether the lady on the couch with the pink purse is her mother, who worked as an assistant principal in a public school.
At this scale, there's a vague sense of longing in Ms. Chast's mural, a surprise for a woman who makes her living by getting to the point instantly as readers of the The New Yorker flip pages.
'I get rejected all the time. Whether it's rejected because it's too dark, too stupid or it doesn't appeal, I don't know.' — Roz Chast
Ms. Chast is the cartoonist who gave us the wry image of a gravestone, on which is carved, "Tuned In, Turned On, Dropped Out, Dropped In, Worked Out, Saved Up, Dropped Dead." Echoing Charlie Hebdo, she created burkas for "AFGHANIGAP" in another cartoon—they came in classic, cargo and slim fit (with Lycra). In her book-length memoir about her parents' final years, Can't We Talk About Something More Pleasant?, she imagined a purple tombstone-inspired assisted living residence with the chillingly realistic name, "Last Stop."   
"Death is such an unacceptable thought it sort of lends itself to comedy," she said on the phone from her studio two weeks before the show's opening. 
As a girl, Ms. Chast was drawn to the ghoulish humor of Charles Addams. "He was jolly—dark, and cheerful at the same time," she said. "I liked any kind of dark humor—Edward Gorey, Gahan Wilson, Sam Gross. I read the National Lampoon when it was just starting to be published."
Mad magazine was a crucial influence. "Mad was one of the first places that made fun of American pop culture, made fun of the ads, made fun of the stupid movies and the stupid television shows," she said.
Her favorite Mad cartoonist was Don Martin, whose characters were unhinged and looked it with huge jaws hanging from their faces and feet folded in two as they walked. "Sometimes the visual details will crack me up more than the joke," she said. "You know George Booth, of The New Yorker?" she asked, referring to the long-time cartoonist at the magazine who specialized in scenes of comic urban squalor with malevolent dogs and cats and improvised cords bisecting the space like telephone wires. "There would be an electric light in the ceiling that was attached to a light bulb, and so the electrical cord would go all across the room. It cracked me up."
"Cartoon Memoirs" also includes a section that Ms. Chast calls "When You Live in New York," an ensemble of pictures of eccentric New Yorkers in modest apartments and ordinary streets, plus "We Are Now Leaving New York," visions of those urbanites adapting, awkwardly, to life in suburbia and beyond. Ms. Chast, a Brooklynite transplanted to Connecticut, is a frequent bewildered presence in those scenes.
All the show's drawings, selected from the last four decades, range through experiences that turn futility into a punch line. Many of those appeared in the massive Theories of Everything: Selected, Collected, Health-Inspected Cartoons 1978-2006 (2006).
When Ms. Chast started out, cartooning was largely a man's craft, even though The New Yorker did have women cartoonists in an earlier era—Helen Hokinson, Mary Petty and Barbara Sherman and Nurit Karlin in Ms. Chast's days there, which began in 1978.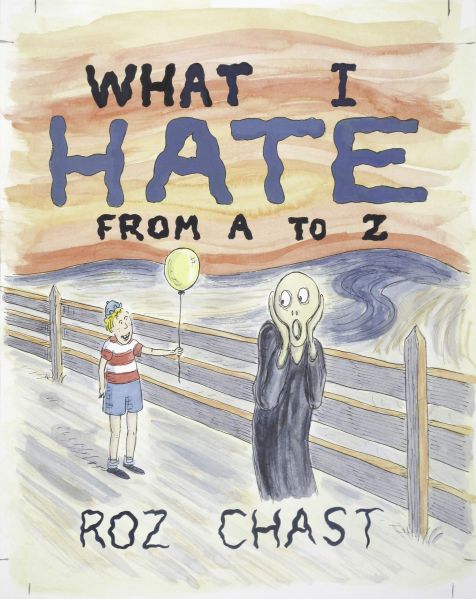 Ms. Chast said she was put off by the renegade underground comics of her generation—"too misogynistic, too male"—yet she found no strong gender barrier at The New Yorker, where she has been drawing since 1978: "I felt like there were so many other issues, that it was just one more thing. I was a lot younger than everybody there. Aside from Nurit, I was the only woman there. My stuff really looked different, my jokes were different. It was one of a constellation of things that somebody might get bent out of shape about." 
She admits that her style can be "a lot rougher" than that of other New Yorker cartoons. Ms. Chast sends her editors six or seven cartoon ideas each week. "Sometimes they take one, sometimes they take nothing. That's just how it works," she said. "I get rejected all the time. Whether it's rejected because it's too dark, too stupid or it doesn't appeal, I don't know."
Dark is the right word for Ms. Chast's last book, where nothing is off the table—not incontinence or senility, not even talk of the burdensome expense of keeping aging parents alive. 
"I hope no one is thinking that I want to put anybody on an ice floe," she said. "It's a topic that does not get better by sticking your head in the sand about it."
That topic becomes more endurable for the cartoonist and her readers when a dutiful daughter satirizes it. "If something's funny, I'll do it," she said.
Satire doesn't work unless it offends someone. "Sometimes I do what one should not do, and that is to read Amazon reviews," Ms. Chast said. "Occasionally there's going to be somebody who would say, 'THIS IS VERY DISRESPECTFUL,' " in high-pitched indignation, as if by a character in one of her cartoons, she said.
She paused for a moment, addressing her internet critic: "You write YOUR OWN book."