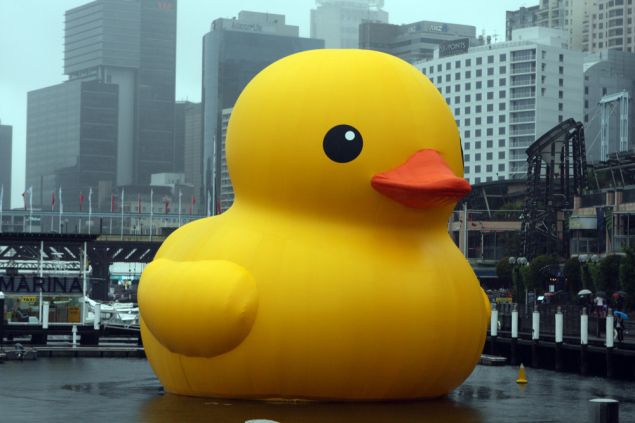 Giant inflatable duck artist alleges he was plagiarised—again. Dutch artist Florentijn Hofman has accused protestors in Brazil of creating a replica of his world famous rubber duck sculpture. This isn't the first time the artist has gotten fired up over unlicensed imitations of his duck. In July 2015, he spoke out against a copycat work slated to appear in Philadelphia's Tall Ships festival.
Museum expansions cost the U.S. $5 billion during the recession. Between 2007 and 2014, 26 institutions across America spent more to grow their facilities than any other country. A report from The Art Newspaper was compiled using building project data from 85 museums.
Martin Puryear wins the Yaddo Artist Medal. This is the third time the prestigious artist colony has given the honor (past winners are musician Laurie Anderson and writer Philip Roth) and Mr. Puryear will be feted during a benefit on May 18.
Erwin Wurm will rep Austria at the Venice Biennale. The artist is known for his strange and humorous sculptures.
Art stolen from new David Barton gym returned. The fitness guru's ex-wife, socialite Susanne Bartsch, took to Instagram to plea for the return of a photograph stolen from the lobby of Mr. Barton's new gym, TMPL. Apparently, the thief heard her virtual cry, and the photographic portrait of Madonna was returned.
The 10 women architects everyone should know. The late Zaha Hadid was known for her curvilinear designs and bold personality, but she was also one of the leading female architects in the world. Here, 10 others not to be ignored.