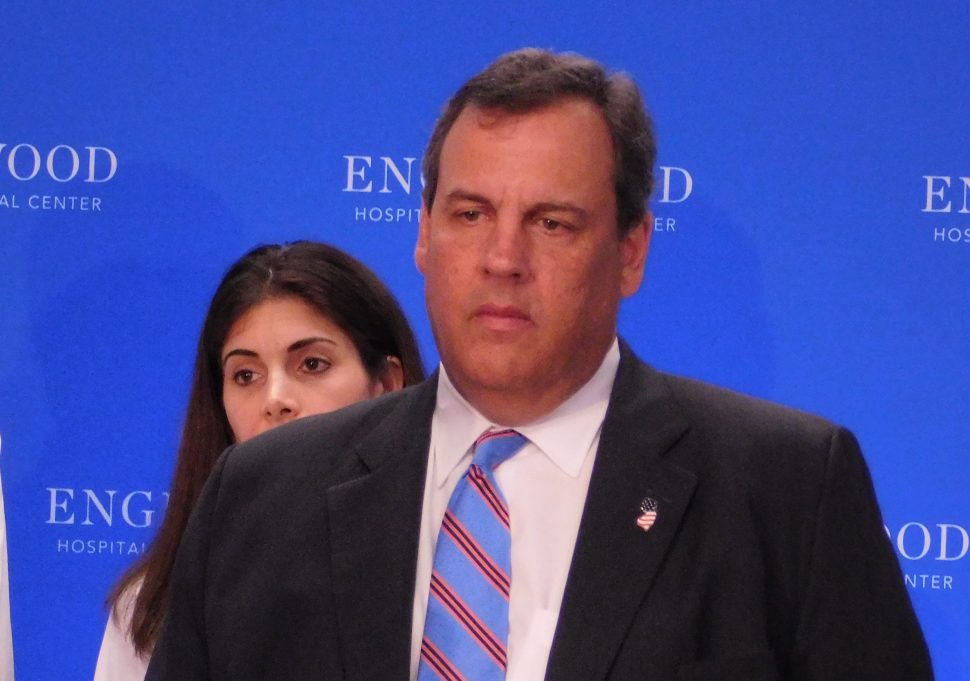 Having just stood on another stage with Donald Trump and emerged unscathed, but for an alleged eye roll by his wife, Gov. Chris Christie still has the albatross of New Jersey voters around his neck, according to today's Rutgers-Eagleton Poll.
Christie's ratings have dropped to their lowest yet, according to the poll, with just 26 percent of New Jersey registered voters expressing a favorable opinion of Christie – down three points since February. Sixty-four percent are unfavorable toward the governor, up five points since February and now at its highest point yet since Christie first took office.
Christie's favorability continues to drop among his own party base: 56 percent of Republicans feel favorable toward the governor, a seven-point decline since last polled two months earlier, while 34 percent say they are unfavorable. Independents and Democrats continue to be mostly unfavorable, at 63 percent and 87 percent, respectively.
Voters are kinder in their ratings to U.S. Sen. Robert Menendez than they are to Christie, even in the face of Menendez's ongoing federal indictment: while only 29 percent are favorable toward the senior senator, just 32 percent are outright unfavorable, and 39 percent have no opinion. Not even Republicans reach a majority in their opposition to Menendez, a stark constraint to the nine in 10 Democrats who feel the same about Christie.
Voters are most positive toward U.S. Sen. Cory Booker: 48 percent are favorable, 23 percent are unfavorable, and another 30 percent have no opinion. Sixty-four percent of Democrats, 47 percent of independents, and even 26 percent of Republicans like Booker.
 "Among the New Jersey politicians we poll, Governor Christie continues to generate the most negativity among voters, even more so than the state's currently indicted senator," said Ashley Koning, assistant director of the Eagleton Center for Public Interest Polling (ECPIP) at Rutgers University. "Not even Christie's backing of Donald Trump has helped him with New Jersey Republicans, who give Trump higher ratings than Christie and are now more likely than ever to vote for Trump come June."
When voters are asked to justify their ratings on the governor, favorable and unfavorable voters alike point to Christie's character, his overall job as governor, and his honesty (or lack thereof). Among those favorable, 35 percent like him because of the overall job he is doing, 16 percent mention something about him being honest and trustworthy, 13 percent point to his character and attitude, and 11 percent reference his policy decisions.
Among those unfavorable toward him, 15 percent point to his character, personality, or attitude as the main reason behind their negative rating; another 7 percent specifically say something about his confrontational, bully-like persona. An additional 15 percent cite Christie's overall job as governor and governing style. Fourteen percent say he is dishonest and untrustworthy. Other negative reasons include his lack of care for New Jersey (9 percent), his handling of education in general and teachers specifically (8 percent), his policy decisions and actions (7 percent), his ineffectiveness (6 percent), and his handling of unions and state workers (4 percent). Just 3 percent mention something about his support for Donald Trump as a reason for their unfavorable rating, as do another 3 percent about Christie's role in the 2016 presidential election, in general.
"Negativity toward Christie continues to grow, but not entirely because of his support for GOP frontrunner Donald Trump or his own involvement with the 2016 election cycle," said Koning. "Instead, Christie's unpopularity stems from the same longstanding reasons that voters have cited in both their praise and condemnation of him throughout his tenure – reasons that disenchanted voters emphasize now more than ever two months after Christie's return to governing full time."
Christie's overall job approval has likewise taken a hit: 31 percent approve (down six points) to 63 percent disapprove (up three points). Christie fares no better on a variety of individual issues. The governor falls to new lows on Superstorm Sandy recovery (43 percent approve, 47 percent disapprove) and education (31 percent approve, 60 percent disapprove). He continues to do worst on fiscal issues like the state pension fund situation (18 percent approve, 62 percent disapprove), the state budget (26 percent approve, 57 percent disapprove), and taxes (26 percent approve, 64 percent disapprove). Christie also fares poorly when it comes to transportation and infrastructure (28 percent approve, 59 percent disapprove) and the economy and jobs (31 percent approve, 59 percent disapprove). Voters are split on how Christie is handling crime and drugs (41 percent approve, 42 percent disapprove).
As with their views of the governor, voters remain mostly negative about the state's overall direction: 31 percent continue to believe New Jersey is headed in the right direction, while 60 percent say the state has gone off on the wrong track. About six in 10 voters have consistently said the state is off on the wrong track since April 2015.
Taxes persist as the most important problem in New Jersey (now at 26 percent), consistently taking the top spot over the economy and jobs since October 2014.
Results are from a statewide poll of 886 adults contacted by live callers on both landlines and cell phones from April 1 to 8, 2016, including 738 registered voters reported on in this release. Interviews were done in English and, when requested, Spanish.