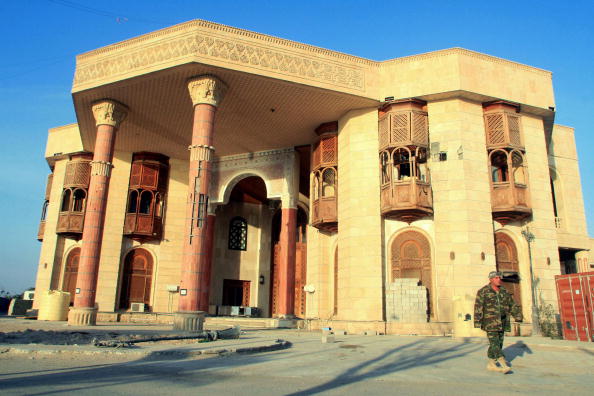 In September, Iraq's first new museum since the 2003 occupation will open to the public inside the Basra mansion of former Iraqi President Saddam Hussein.
With backing from the Iraqi government, a U.K.-based charity and oil company donations, Qahtan al-Abeed, director of Iraq's State Board of Antiquities and Heritage for Basra, is scrambling to ready the palace for its grand opening this fall, according to National Geographic.
The dictator was ousted from power, and forced to leave his ornate homes spread throughout the country, during Operation Iraqi Freedom. After U.S. Forces captured Hussein, the palace was used as a mess hall for the British Army, until 2008, when Mr. al-Abeed petitioned the central government to hand over the palace to the Board of Antiquities. In 2010, he got his wish.
Mr. al-Abeed envisions the palace split into four sections that will exhibit artifacts from the ancient civilizations of Sumer, Babylon and Assyria, along with Islamic art. He expects there to be between 3,500 and 4,00 artworks, many culled from Baghdad's Iraq Museum.
"We want a very modern museum that does more than display objects," Mr. al-Abeed told National Geographic. "We want to bring in people for all kinds of art and cultural activities, including training courses and professional meetings."
He's been given $3 million from the Basra government for renovations, though he's currently still waiting for the funds to materialize. The building has suffered damage from nearby car bombings in the years since the occupation, and Mr. al-Abeed would like to install steel doors to the entrance for extra security to combat looting. He has received another half million from the Friends of Basrah Museum, and the British Museum has agreed to give curatorial support to the new institution.
A native of Basra, Mr. al-Abeed also sees the museum as an opportunity to capitalize on the region's history and make it a cultural destination. Basra is a port city in the south with a storied connection to Sinbad the Sailor, and holds the country's second largest population after Baghdad. The Basra Cultural Palace, just blocks from the palace, recently held an exhibition of paintings from Kuwait and a writing conference, and several other homegrown arts organizations have recently sprung up.
"We want to make this a heritage area with hotels and restaurants and a heritage museum, but being sure that people still live here," said Mr. al-Abeed. "We want to make this like Granada in Spain, but this is a 15-to 20-year project."
He also hopes to have Basra listed among UNESCO's World Heritage sites in the future.