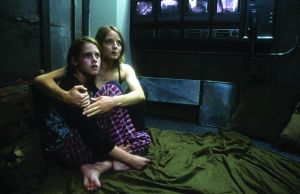 Let's get Panic Room right out of the way, shall we? Directed by David Fincher and written by David Koepp, the 2002 thriller starred Jodie Foster and a young(er) Kristen Stewart as a recently divorced mother and her diabetic daughter, who move into a brownstone on the Upper West Side housing a "panic room" fashioned in concrete and steel. Built by the former owner, a rich guy who didn't get out much, the space has surveillance cameras, a PA system, fireproof blankets and a phone line all its own. It also has a secret floor safe stuffed with millions of dollars in bearer bonds. Three bad guys—one of them the knowledgeable grandson of the previous owner—break in hoping to get rich quick. Mother and daughter flee into the panic room and claustrophobic chaos ensues.
A commercial and critical success, Panic Room remains a handy if misnomic touchstone for anyone contemplating the ultimate in residential security. And, these days—as suicide bombers shake cities across the globe, terrorists gun down innocents in Paris and San Bernardino, even the climate seems to have it in for us—more and more are contemplating just that.
Called "safe rooms" in much of the real world—screenwriter Mr. Koepp, who was inspired by reports of them springing up in California, believed the term "panic room" was more box-office-friendly—such spaces may be fortified with a litany of protective features, such as bulletproof windows, blast-resistant doors and Kevlar- and steel-reinforced walls. Video systems enable prisoners…er, inhabitants, to keep tabs on what's going on outside, while communications keep them in touch with law enforcement.
Depending on size and a homeowner's level of concern, there may be room for food and beverages, guns and ammo, valuables and heirlooms, and bathroom facilities. Those cautious about contagion, dirty bombs and/or nuclear war may spring for air-filtration systems and alternative power sources, with monitors to identify what's floating around. Oh, and let's not forget all-important internal and external triggers to re-open the space when all is clear, or when Junior throws a fit one day and locks himself inside.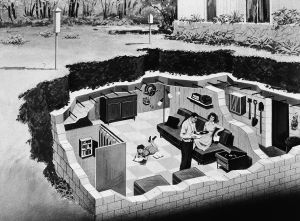 Given the kookiness of our times, safe rooms are becoming the new normal for homeowners of certain status, income and visibility. "There is a higher awareness of the lack of security out there," notes Thomas Gaffney, whose Vermont-based Gaffco Ballistics designs, manufactures and installs blast, ballistic and forced-entry systems for corporate, government and residential clientele. New York City accounts for 80 percent of Gaffco's business, reports Mr. Gaffney, who started 30 years ago outfitting check-cashing stores in the South Bronx against armed robbery. Business, he continues, is booming (pardon the cliché). "I'm figuring this year I'm going to be working on about 30 residential projects. For a certain percentage of the population, I think safe rooms are here to stay."
Al Corbi, founder of Strategically Armored & Fortified Environments (SAFE), another august firm specializing in architectural security solutions, agrees. "With the 1 percent protected against everything, there is nothing elite about safe rooms anymore," he says, adding that the super-wealthy are more inclined to "safe zones" these days. "If you have a Sub-Zero and a Jacuzzi, you have a safe room."
'I'm figuring this year I'm going to be working on about 30 residential projects. For a certain percentage of the population, I think safe rooms are here to stay.'—Al Corbi, founder of Strategically Armored and Fortified Enviroments (SAFE)
Indeed. Ian Hobbs, owner of New Canaan, Conn.-based luxury custom home builder Hobbs, Incorporated, says safe rooms are at least "a point of discussion on every project these days. Frequently architects lead the discussion. Some people want a door that locks and can protect them briefly; others want ballistic barriers."
Ultimately, continues Mr. Hobbs, homeowners make decisions on safe rooms based on "their own personal assessment of risks. There are enough stories of executives being kidnapped and robbers storming houses that an added bit of protection may be desired, particularly if the husband travels a lot and wants to make sure his wife and kids are secure." At about what price do people begin considering a safe room? "Over $6 million in construction costs." How many Hobbs projects end up with a safe room? "Probably 20 percent." 
According to a survey by the New York City Department of Housing Preservation and Development, there were some 3.4 million "housing units" scattered around NYC in 2014, including 854,000 in Manhattan. Scan real estate listings, however, and you'll be hard pressed to find mention of safe rooms amid amenities, square footage and views.
"People don't want to put that in a listing—why would they?" asks Victoria Shtainer, a real estate broker with Compass, who details the frightening motivation behind the less-security-detail-is-more approach to listings. Many high-priced city residences are owned by LLCs for the express purpose of shielding the identity of the owner, she says. "Anyone can go on StreetEasy.com and look for a $25 million property. When they see one owned by an LLC, they go to NYC.gov and find out the owner is an heir. If you have a criminal mentality, that's who you'll target."
Downtown—Tribeca and the West Village—is prime territory for safe rooms in the city, adds Ms. Shtainer. "There are a ton of single-family residences there, not big buildings with doormen."
Not every Manhattan safe room is kept under wraps. In early 2015, The Wall Street Journal reported that Ryan Serhant, star of the Bravo reality series Million Dollar Listing New York, was listing Prince Nawaf bin Sultan bin Abdulaziz Al-Saud's three-floor, 10,500-square-foot, four-bedroom apartment in the Heritage at Trump Place for $48.5 million.Along with a Hudson view, fitness center, hair salon, ventilated cigar room, built-in saltwater aquariums and six-person Jacuzzi, the apartment boasted "three bulletproof panic rooms." If the break-in comes at Jacuzzi time, let's just hope the panic rooms have towels.
Meanwhile, former bank executive-turned-private equity investor Alan Wilzig became something of a poster boy for city safe rooms when he listed his Tribeca townhouse for $43.5 million in 2014 and made no secret of the security features inside. Eventually dropped to $38.5 million and then taken off the market, the three-story property is decked out with video cameras and motion detectors, the whole front and rear facades are "up armored" in transparent bulletproof polymer, while the master bedroom is a safe room with drywall reinforced with Kevlar and steel, and a 1,488-pound door sporting six deadbolts and a peephole with a 180-degree view. 
The total cost of Mr. Wilzig's system ran $150,000 in 2003. He has since done updates to the video and security systems to monitor movements in the house. Meanwhile, he notes that as different technologies have become available at the consumer level, residents of a more modest-size apartment could get something like the Canary security system for $180 and have a scaled-down version to monitor movement and intrusion and see live video on a smartphone. At interview time, he said he planned to put the townhouse back on the market shortly.
Mr. Wilzig, who also races cars and pursues philanthropy, purchased the residence when he was CEO of the Trust Company of New Jersey. He was inspired to fortification by his bank's security staffers, whom he recalls as "suburban New Jersey ex-law enforcement who were intimidated by New York to begin with." With Tribeca an edgy spot for a bank executive to call home back in the early aughts—"there was graffiti everywhere and a non-liquor-licensed after-hours club called Vinyl across the street"—Mr. Wilzig believes his security team's counsel was driven as much by concern over mass panic or civil unrest as by risk of a home invasion. "If something broadly terrible happens, your personal sanctuary could be invaded by people who aren't bad but desperate," he says, "9/11 was still very fresh back then, and that got them speculating and wondering." 
Of course, speculating and wondering are what security advisors are hired to do. Patrick Brosnan of Brosnan Risk Consultants, a New York-based investigative, protective and intelligence firm with clients around the world, says that any security recommendation his firm makes is based on "a top-to-bottom assessment" of client vulnerability, with "economics and perceived gravity" coming into play. There is a range of security solutions for client protection, he says, with safe rooms residing "at the top end." Mr. Brosnan says he has come across several safe rooms in the New York metropolitan area over the years. "Sometimes they're just wealthy homeowners who believe in hedging their bets."
How often have client assessments led Mr. Brosnan's firm to recommend for a safe room? "Infrequent. And it's even less frequent that it actually happens." And yet, Mr. Brosnan adds darkly, "Fact is, if somebody bum rushes you before you can get in and lock your door, life as you know it really changes." In such a case, "a panic room that you could conceivably get into could save the day."
Mark Finlay, an architect based in Southport, Conn., has designed three safe rooms outside New York City over the years, including one in a basement accessed via a secret stairway from the master bedroom closet. "There was one project with a security consultant involved who came in and had a doomsday discussion with the client and it was really crazy stuff," he recalls, noting that the scenarios seemed like something out of The Walking Dead. "It was the worst possible stuff on the farthest edge. We said, 'please,' and brought the discussion back to reality."
'Fact is, if somebody bum rushes you before you can get in and lock your door, life as you know it really changes…A panic room that you could conceivably get into could save the day.'—Patrick Brosnan of Brosnan Risk Consultants
Whatever Mr. Finlay's own thoughts on risk or a client's level of interest in a safe room, he says, "Our job as architects is to bring it up."
Not everyone bites. Alan Singer, a builder-turned-home inspector in Armonk, N.Y., recalls an assignment four years ago inspecting a "very expensive penthouse apartment at Sutton Place" owned by someone who was "quite security conscious or paranoid." Every room in the residence had two entrances for quick escape, while the 14-by-12-foot safe room, which Mr. Singer remembers as being "nicer than my house," was accessible via bullet-resistant door hidden behind a bookcase. "The entire structure had stainless-steel mesh built into the walls, impossible to cut through and finished with lightweight cement and plaster."
Secure though it was, the prospective buyers who hired Mr. Singer had other ideas for the safe room: "They were planning to get rid of it for the square footage."
Ah, yes, there's always that. SAFE's Mr. Corbi, who when asked about work in the city would only say, "We like New York," recently put together a project somewhere out there to outfit a family in "abject comfort" for three generations. "They'll be the next Adam and Eve." Even in something sized like a penthouse apartment, he continued, "full-on protective environments come with a price." How much? "Security starts at $1 million. Ultimate security starts at $10 million." And just how ultimate is that? "The residence might be gone, but the protective layer remains. Lose the penthouse and save the people."
Gaffco's Mr. Gaffney, who assures, "I do have the eye of a designer," says a walk-in closet-sized safe room will run $50,000 to $60,000, while a safe room set up in the master bedroom and basement theater of a four-story townhouse will cost $500,000. "The $1 million level is basically the whole house being done."
Well, maybe. In 2013, a Robb Report roundup of "Ultimate Gifts" included a safe room "worthy of a James Bond villain" designed by Brown Safe Manufacturing. It features "the latest in high-tech security; offers storage for cash, jewelry, watches, wines, and more; and incorporates the vault door from the final bank robbed by the infamous Dalton Gang." Neat! The starting price was $2.5 million—pretty reasonable given the extras, including an underground compartment with temperature-controlled spaces for food and up to 1,000 bottles of wine. "In case of emergency, the owner will be able to hide out in the secured space for as long as two years"—pleasantly pickled at that, one assumes. (Calls to Brown Safe Manufacturing on the gift's status went unreturned.)
Nobody ever said wealth and fame come cheap.