Welcome to our TV Fashion column, where TV Ate My Wardrobe's Emma Fraser discusses the trends in television apparel. This week: Marnie Michaels, Marcia Clark, and the power of red in Girls and The People v O.J. Simpson: American Crime Story. 
A plunging crimson sequin gown with an equally dramatic leg slit and a red buttoned, bowed high-neck jacket share little in taste and occasion. But these two items play an important role showcasing defining moments on Girls and The People v O.J. Simpson: American Crime Story.
Marnie and Marcia are worlds apart; not just in time period, job or the small detail that one of these performances is based on a real person. However, there are more similarities to them on closer inspection including their ability to polarize even if Sarah Paulson's portrayal of Marcia Clark is definitely more popular with audiences than the real one was back in 1994. Self-belief and confidence that border on arrogance and a lack of self-awareness haunt both women and on the surface they could be labeled with typical gender-coded negatives such as bossy or shrewish.
American Crime Story likes to work in the gray areas and for all of her mistakes and missteps during the trial Marcia has become a sympathetic figure in part because of the level of scrutiny steps way out of the bounds of her professional actions. In last week's penultimate episode we also got to see just how good Marcia is at her job when she presented her argument regarding the Mark Fuhrman tapes; an argument that leaned into the emotional while staying very much on message and Marcia's big moment was visually striking because her jacket color broke from her signature muted tones.
"The Panic in Central Park" is the kind of self-contained episode that Girls excels at and focusing on Marnie and Charlie plays out like a twisted road not traveled adventure. A night with an ex in a grimy fairytale is what she needs to snap out of this cycle of faking it through her shitty marriage and while Charlie didn't pull a rom-com move showing up on her wedding day to end this charade he does play a big part in ending Marnie's marriage.
A chance encounter as Marnie seeks an escape from her claustrophobic apartment leads to a night of adventure switching out sweats for a just purchased evening gown paired with the sneakers she was already wearing. The whirlwind evening starts with a champagne-fuelled party and Marnie gets mistaken for a call girl; rather than taking offense Marnie sees this as an opportunity and plays along with a new name and some business savvy that earns her $600 for zero minutes work. The slinky sequined red gown has already paid for itself (and dinner).
Spending the night with an ex in a dress that he has bought you is a very different set up to working on the biggest trial of your career and in court Marcia Clark's suits have seen a steady rotation of black, grey, beige and the odd cream thrown in for good measure; all muted tones with the occasional pinstripe or check pattern to liven things up to a scale that isn't going to draw focus from proceedings. Much has been said about Marcia Clark's appearance – both the real Clark and Sarah Paulson's portrayal – and post dramatic hair chop has been followed up by the softer and sophisticated straightening; Marcia has adopted a slightly more stylish look.
The introduction of red into her wardrobe at this late stage on American Crime Story is significant as it comes after her appearance has been chewed, spat up and swallowed repeatedly and because this is a critical juncture in the case against O.J. Simpson. We first see Marcia stepping outside her repeated jacket cycle in episode 8 "A Jury in Jail" while getting blasted by Gil Garcetti over the colossal glove demonstration clusterfuck. In this episode red is tied to anger first from Gil and later on when Marcia trashes her office after another in court disaster; this time the dismantling of their DNA evidence and their expert crumbling on the stand. When a character wears nothing but neutrals the appearance of color is like a flashing beacon. Even more so when it is the color of a flashing beacon.
This isn't the first time Marnie has worn this shade, but it certainly isn't a signature. Other than her wedding it has been a while since we have seen Marnie dress for a fancy occasion and the presence of sequins has only occurred in the form of these incredible Michael Kors track pants. Even if Marnie wants to appear a little bit more boho cool there are certain all-American brands like Ralph Lauren and Michael Kors that will always be part of her aesthetic. This red dress is something else and it is a little more daring in color and cut; stepping outside Marnie's comfort zone and pushing her forward in this night of discovery.
In the past Marnie has fallen foul of trying too hard when pretending to be something she is not or she has a habit of reading the room wrong; take her oh so earnest and super cringe rendition of "Stronger" at Charlie's work party when they were last a thing. Perhaps most notable is the case of Booth Jonathan and the infamous plastic dress Girls costume designer Jenn Rogien created to show just how out of place Marnie was in this art-world scene with her not-boyfriend. Now she is in another Jenn Rogien custom dress that isn't quite her and this is a different kind of pretending; not the kind where she is compromising who she is and instead this night is an alternate reality fantasy of 'what if?'
Over on American Crime Story suits with color are for the defense in this case with Shawn Chapman wearing soft pinks and strong blues in comparison to Marcia's somber palette. Part of this down to what Marcia has already discussed about opposing counsel and how they are far flashier than she is; celebrity is not her wheelhouse and being a public personality is far from one of her strengths.
This is why it stood out last week in "Manna from Heaven" when Marcia wears red in what is one of her most emotional public declarations in trial proceedings. We've seen Marcia on the verge of tears in court before as a result of her life bleeding into the very public part of this trial in new and humiliating ways, but this is different as this entire plea is about the two people who have been lost in the shuffle; Ron Goldman and Nicole Brown. With a wavering voice, Sarah Paulson goes all in and has Marcia Clark fighting against the potential impact of an emotional response from the jury by being the most emotive we have seen her in presenting an argument so far.
Red is a powerful color and it is one which can signify a number of feelings from anger to love. Here Marcia stands in the center of the shot; in this moment in time and in this frame she is the heart of American Crime Story fighting for Ron and Nicole while everyone else is concerned with the larger narrative at play. For once everyone else wears the muted tones and it is notable that Shawn Chapman is in gray for these proceedings.
It also feels like Marcia is making a pact with the devil; ignoring the horrific statements made by Mark Fuhrman to get a conviction for Ron and Nicole. When Marica ends her remarks with "I am begging you from my soul" it sounds like she would be willing to sell it to stop these tapes from playing in court.
Marcia's choice of attire in this scene is made all the more significant not only because it isn't what we expect from her wardrobe, but also because of the emotional weight and delivery of her argument. An argument which she pretty much wins as Judge Ito only allows two sentences from 13 hours to be heard in court and it is actually Fuhrman himself pleading the fifth that screws the prosecution over. The perjury is the only concern here and Marcia's red wearing emotional appeal was a success. A brief victory in a sea of what we know is to come.
When it comes to lawyers who opt for scarlet the fictitious figure that springs to mind is The Good Wife's Alicia Florrick as this is her go to power color. The use of red on The Good Wife is linked to both confidence and sex; Alicia is who I instantly thought of when Marcia went this route, even if Alicia's courtroom attire is far more stylish than anything Marcia has worn. This is for a number of reasons including the obvious that American Crime Story is working off a real person and fashion trends are very different now (suits are far more fitted for starters). Plus from a narrative perspective, Alicia has been schooled in a media initially in her role of dutiful wife and now as a publically known figure returning to work, whereas Marcia is a publicity novice and is incredibly naive when it comes to the importance of appearance and the media however frivolous this may seem.
For romance, the unexpected love story in American Crime Story has taken place between Marcia and her co-counsel Chris Darden. The tension reaches new giddy heights with each episode as the looks continue to linger. Never did I expect to ship anyone when this show started, but here we are. Instead of having Marcia wear her new found fiery color in these moments they instead chose to have Marcia either without a jacket; giving us a glimpse of her super feminine floral embellished blouse in "Marcia, Marcia, Marcia" when they danced in her office or wearing a chaste looking cream high neck buttoned up jacket as they held hands and did not kiss in the penultimate episode. As The Good Wife has taught us red is the color of lawyer sex and sadly that has not happened here.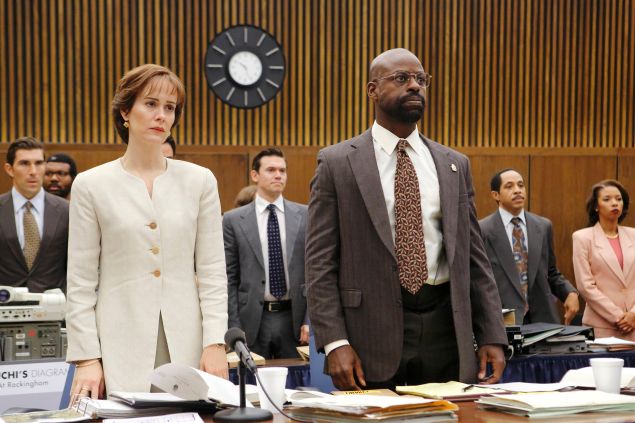 Back to Girls and Marnie's dancing girl emoji ensemble which definitely has a passionate kick. Charlie spends the whole time in his double denim ensemble and this contrast with Marnie's gown plays up to the whole other world element; this is not real. For Marnie, she has to go through these steps with Charlie to open her eyes to the reality that is Desi. This is dream date scenario with some bumps; Italian food and dancing followed by boating in a deserted Central Park with the very rom-com like falling into the pond because of kissing. If only all meet-cutes with exes were this magical, well except for the getting robbed at gunpoint part, which to Marnie's credit she doesn't have a meltdown over her lost bag and jewelry.
The night builds to Charlie's running away suggestion and the ensuing hook-up has all the hallmarks of a perfect night. A perfect night with caveats (see mugging) and the morning light is illuminating in more ways than one as Marnie spots a needle while she is separating her red dress from his clothes off the floor. The spell is broken for Marnie with both Charlie and Desi and as she walks back barefoot in this sad looking "Bob Mackie Barbie" sequin frock with wet hair it is neither a walk of shame or a stride of pride; there is a grim purposefulness and the levels of street feet Marnie endures without complaining adds to my sympathy levels. As with the wedding episode, Allison Williams delivers a strong performance forever putting me in a position where I want Marnie to win despite all her many, many cringe-inducing statements. Plus as she astutely points out she is not the same asshole she was at 22.
Marnie's existential crisis has not been cured by this night living a different life, but it has certainly made her stronger and she ends the marriage she knows she shouldn't have even entertained in the first place. Her eyes are open and it is important that she delivers this "ghost of myself" speech while wearing the clothes that prompted this realization in the first place. Marnie has always had a hard time pinning down what she wants versus what she thinks she wants and it is also significant that she returns to the place where we saw her first on Girls; in her best friend's bed.  And most notably she is still in the dress even though she could have easily changed when she went up to her apartment to get a few things; for now, this item of clothing is very much part of her being and a reminder of what led to summoning the courage to get out of her toxic marriage.
American Crime Story costume designer Hala Bahmet talked to WWD about accuracy and explained that it didn't have to be a carbon copy "It didn't have to match exactly to what the people were [wearing]. We just wanted to capture their essence and nail the iconic moments." So maybe Marcia wore red prior to the later stages of the trial, but visually it works to have her as the point of focus in this scene wearing this color. At the end of "Manna from Heaven," the ruling in Marcia's custody case is delivered; Marcia has won and while her suit is black, a bit of red peeks through from underneath.
For now and in this moment both Marcia and Marnie have found their power color; the one which makes a bold visual statement as well as getting to the heart of their ongoing personal and professional battles.
Emma Fraser is the creator of TV Ate My Wardrobe and spends most of her time writing about TV, fashion and costuming; Abbi and Ilana's Broad City style, the wigs on The Americans and Mindy Lahiri's pajamas are just as vital as talking about '90s/'00s teen shows. Emma has a MA in Film and Television and she probably holds Angela Chase responsible for this path. You can find her on Twitter @frazbelina.