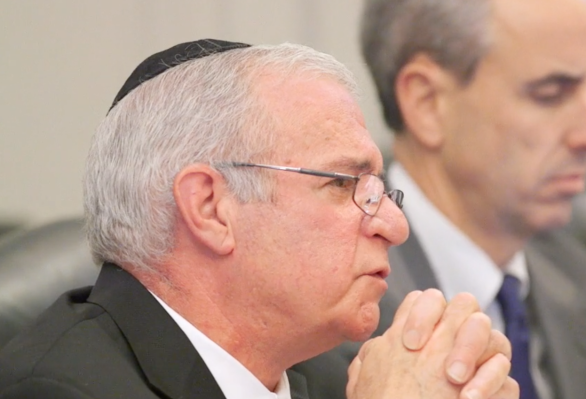 Governor Chris Christie's administration came under heavy fire from Assembly Democrats in Wednesday's budget hearing in Trenton, where chairman Gary Schaer (D-36) called New Jersey's depleted Transportation Trust Fund a matter of life and death. Schaer laid into DOT commissioner and Christie appointee Richard Hammer, accusing the administration of not having a plan for shoring up the fund that pays for maintenance and repair of roads and bridges.
"I almost wonder if we're children on a playground, right? Whether or not the chief executive goes first; whether or not the Legislature goes first; and meanwhile, lives of New Jerseyans are potentially being put at risk," Schaer said. "It seems to me that there should be some outrage."
"I would have assumed by now that you've had discussions with senior members of the Legislature, at the governor's direction, to plot out and to determine how we go ahead with this, not only financially, but from an engineering point of view, a repair point of view, whatever.  It seems to me this… this is an extraordinary event and it's not being approached with that kind of gravity."
The $1.6 billion Transportation Trust Fund could face insolvency as early as July 1, though Hammer testified that an August deadline is more likely. The state budget for this year does not include any specific funding for the Trust Fund, but Christie has shrugged off criticisms from the Democratic caucus. Christie has said that he is open to the possibility of raising the gas tax to provide funding, but only if that raise comes with cuts to the estate tax. Authorization for the Trust Fund expires June 30.
Assemblymen John Burzichelli (D-3) and Troy Singleton (D-7), who both served on the committee Wednesday, echoed Schaer's frustration in statements after the hearing.
"The governor's FY 2017 proposed budget does not include any funding for transportation projects. Instead it includes enough resources to pay for debt service on previously authorized bonds," Burzichelli said. "Given the shape of our roads and bridges, I hope the administration starts treating this with the urgency it deserves and that we hear something concrete from the governor's office soon, instead of just assurances that everything will work out."
"Governor Christie's five-year TTF plan has been a complete failure, underscored by the lowest pay-as-you-go financing period in the history of the TTF," said Singleton. "In fact, this last year of his "plan" will be almost entirely funded through bond proceeds and accounting gimmicks."