Maybe it's because we've been so distracted by other rebooted TV franchises recently (The X-Files, Gilmore Girls, Pee-Wee and FULLER HOUSE, anyone??) or maybe it's because of the on-again/off-again status of David Lynch's revived ABC cult hit slated for a new home at Showtime in 2017, but was I the only one who kind of forgot that Twin Peaks is coming back? I mean, at this point I wouldn't be surprised if David Lynch forgot about it as well, and wandered off to make transcendental quinoa somewhere, allowing Showtime and/or Mark Frost to just slip this casting announcement into The Hollywood Reporter:
On Monday, the pay cabler and executive producers David Lynch and Mark Frost confirmed the 217 returning and new actors on board for the project ahead of its 2017 debut. The list of participating actors comes after months of silence from the team behind the beloved series. Among the many surprising names set to appear include David Duchovny, Michael Cera, Ashley Judd, Jennifer Jason Leigh and even Lynch himself.
Haha, the great thing about this opener is that the names given in the graph are not even CLOSE to the most surprising. David Duchovny was in the original series, as was Lynch. Ashley Judd…I don't know, has anyone ever been "surprised" to see Ashley Judd in a film?  "Ashley Judd from BOTH  Divergent films?? You mean Kiss the Girls Ashley Judd? Double Jeopardy's Ashley Judd? The lady from Bug with Michael Shannon? She's going to be in Twin Peaks?! Well, doesn't that beat all! You don't say!"
Not to quibble about word choice here, but take a look at the new 217 person cast list and see if maybe you can find a couple more names whose appearance on this list could aptly be described as "surprising" or even, hell, "interesting."
[scribd id=310398546 key=key-YXCm1FYxEy6iae4IRK6W mode=scroll]
Okay, here's a couple things, right off the bat:
Eddie Vedder: David Lynch put Chris Isaacs and David Bowie in the Twin Peaks prequel Fire Walk With Me, and Trent Reznor has a history with Lynch when he produced the soundtrack for Lost Highway, but Eddie Vedder? I guess the connection is Pearl Jam —> Grunge —> Seattle —> Washington State? Maybe Pearl Jam goes on tour and ends up in the Great Northern? Maybe Vedder will duet with Leland Palmer on some old, familial tunes?
Mariqueen Reznor: Not content to merely put Trent and Vedder in the show, we have what appears to be the entire extended Lynch family, and also, just like, Trent Reznor's wife is going to be in it. Don't ask why. In fact, if you're still asking "Why?" to any part of this, maybe Twin Peaks isn't the show for you.
Charlyne Yi AND Michael Cera: See, THR missed the point of that Michael Cera announcement. In and of itself, Cera's involvement in a hipster project like this isn't totally unexpected, but Cera and Yi (who most recently was in the Netflix show Love) pretended to date for three years in a never fully explained long con, leading me to extrapolate that they will be the new Deputy Andy/Lucy Moran power couple of the Peaks.
Tim Roth AND Jennifer Jason Leigh: Maybe The Hateful 8 took place in the Black Lodge THIS WHOLE TIME??
Malone (???): WHO IS MALONE?
Best guess: the guy who killed Bruce Wayne's parents is going to team up with BOB for a super-special crossover episode!
6. Tom Sizemore: YAS! Tom Sizemore–a bad guy in just about every cool 90s movie, including Natural Born Killers, Heat, Strange Days, Point Break, and True Romance; not to mention cameos in such classics as Penn & Teller Get Killed, Pauly Shore is Dead, and Saving Private Ryan– is a perfect Lynch character actor. He just oozes "Shady Angelino"…or maybe that's just because I associate him with the third season of Celebrity Rehab with Dr. Drew.
7. Cornelia Guest: Wait, like…the Cornelia Guest? OUR Cornelia Guest? Come on, what could possibly convince the world's first celebutante to grace the Pacific Northwest. It can't be the Miss Twin Peaks Contest. I'm actually more surprised that Jay McInerney isn't making a cameo as Twin Peaks new wine columnist, or some such.
8. Matthew Lillard: AKA Stu from Scream AKA one of my first crushes ever AKA a person who one time complimented my tattoo at a sponsored tequila party NO BIG DEAL?!
9. Rebekah Del Rio: SILENCIO! 
[youtube https://www.youtube.com/watch?v=uHQnb3HS4hc]
10. Amanda Seyfried: Well, this make a lot of sense, actually. Seyfried basically played an updated Laura Palmer on Veronica Mars, and could be considered a spiritual, doe-eyed successor of Heather Graham…who, by the way, is NOT on this list! Speaking of…
Sorry to bury the lede on this guys, but here is the real Twin Peaks casting announcement: Billy Zane doesn't appear to be reprising his role as the mysterious "Billy Zane with hair" character from season 2.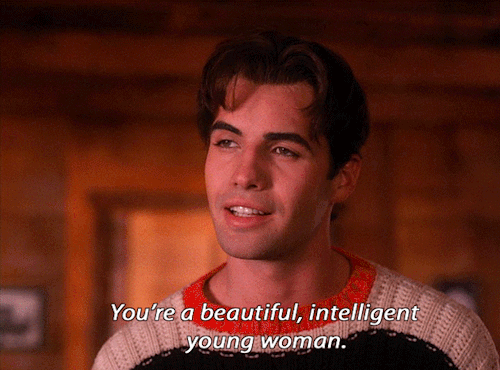 In fairness, Mad Dogs took a lot out of the Zanester.