You won't have to walk a thousand miles to live in Vanessa Carlton's Soho loft, but it'll cost you in other ways.
The songstress replaced her "Nolita Fairytale" with a Soho one in 2004, when she paid $1.82 million for this 2,500-square-foot co-op at 182 Lafayette Street. Alas, 10 years later the fairytale came to a (sort of happy) end, and she began renting out the two-bedroom, two-bath abode in 2014—she's rented it out four separate times since, and it's now back on the market,  just four months after it was last rented.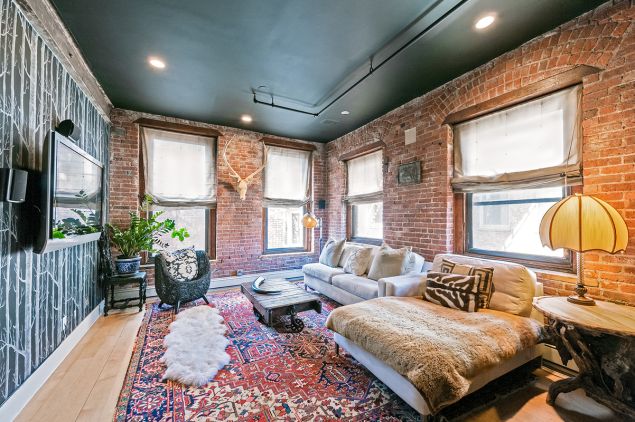 Listed by Core broker Lisa R. Garey for $17,500, the co-op is trying for significantly more than its most recent $15,500 asking rent, but a tad lower than the $17,950 it's tried for in the past.
The full-floor loft has hardwood floors, high ceilings, an open chef's kitchen and a windowed dining area and office alcove, as well as three exposures.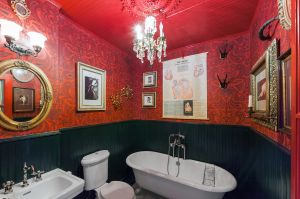 The master bath is en-suite and has a steam shower and a deep spa tub—though personally we don't find the blood-red wallpaper or the detailed diagram of the heart hung just above the tub to be all that conducive to relaxation.
There's also the requisite surplus of exposed brick for the locale, and the apartment doesn't seem to have gone through too many changes since it was last listed—the lucky submitter gets the pad "plushly furnished" for between four and 12 months.
Ms. Carlton must find her tenants quite trustworthy, since they get access to the two pianos she has in her living room. (Either that, or she's as hesitant as anyone else to pay for piano movers.) Of course, if the tenant doesn't have the same musical talent as the co-op's owner, they can always just sit on the piano bench and just look out the full wall of windows in the great room.
Prospective renters don't even need to worry about walking up the stairs, let alone a thousand miles for an ordinary day in the loft—an elevator opens right into the foyer.