After a long run in San Francisco, it looks like one soprano is ready to sing for the East Coast–at least part-time, anyway, as operatic soprano Nadine Sierra has purchased a one-bedroom, one-bathroom condo at the Hermitage on the Upper West Side.
Ms. Sierra, who currently holds the title of being the youngest winner ever of both the Metropolitan Opera National Council Auditions and Marilyn Horne Foundation Vocal Competition, graduated from New York's Mannes College of Music, before joining the Adler Fellowship Program at the San Francisco Opera, and continuing along with the San Francisco Opera in a number of other performances.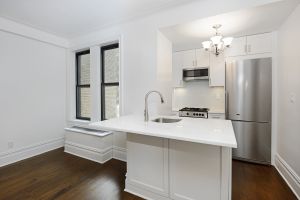 Her run with the San Francisco Opera included performing in the title role of Lucia di Lammermoor, as well as Pamina in The Magic Flute, for which her she had her last performance in November. Not to worry, San Francisco–she's headed back there for performances soon!
Now, though, it does look like she's thinking she'll be spending a substantial amount of time back on the East Coast, since she dropped $1.02 million on this 638-square-foot home at 41 West 72nd Street.
Her new prewar abode, which, per the listing held by The RSP Companies, was recently gut renovated, and has solid oak floors, a windowed open kitchen with a breakfast bar, custom cabinetry, stainless steel appliances and marble countertops, and a marble bathroom.
The listing photos for the sponsor unit present an unfurnished apartment, so at least Ms. Sierra won't have any preconceived notions for what the apartment is expected to look like, we suppose. Perhaps it was the condo's somewhat close proximity to the Metropolitan Opera and Carnegie Hall that drew Ms. Sierra to this particular apartment–she did, after all, make her debut at the Metropolitan Opera late last year, and performed as Gilda in Rigoletto in December at the Met.
Of course, per her website, Ms. Sierra has quite the busy schedule coming up–besides the Metropolitan Opera, she'll also be performing at the Opéra National de Paris, La Scala, and Berlin Staatsoper. At least she'll have somewhere nice to relax when she stops back in the city!