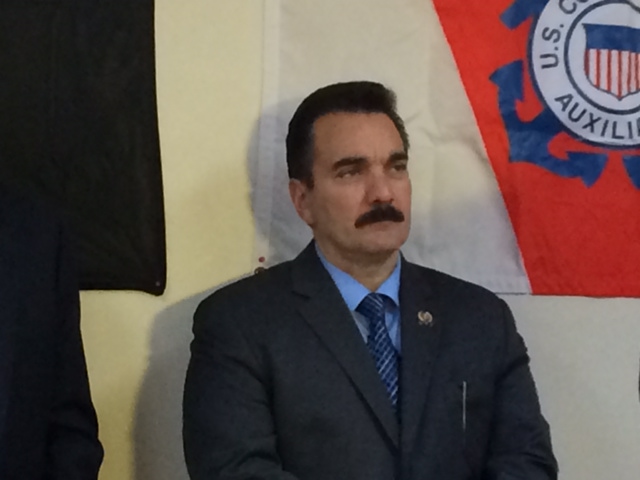 TRENTON – The Democratic caucus kicked staff out of the backroom here around 2:30 p.m. to discuss in depth the state takeover of Atlantic City.
What has emerged at this point is a call – tinctured with agony – for a unified Democratic caucus around a bill that incorporates Senate President Steve Sweeney's (D-3) and Speaker Vincent Prieto's (C-32) versions of a state takeover, a source told PolitickerNJ.
The caucus has been divided between Assembly Majority Lou Greenwald (D-6) on one side and Prieto on the other, but the source said the two assembly people – bitter party rivals – are talking out the potential of trying to get together behind a bill that could also persuade Sweeney to re-tweak his senate version.
But it's slow going – maybe too slow to mean anything ultimately, but mutterings all week about a South Jersey-led effort to throw Prieto out of his leadership chair have apparently gone nowhere fast, as the speaker continues to try to press the action for those components of his takeover bill that contain more public sector labor protections than Sweeney's version.
A second source close to the action told PolitickerNJ that Greenwald does not appear to be budging, and shows no signs of embracing even a scintilla of Prieto's bill.
"I don't get a sense that anything is getting resolved other than northerners calling out southerners for putting forth self interest, and southerners trying to convince everyone they don't walk in lock step," said the source, speaking on condition of anonymity.
A third source in the caucus meeting confirmed an atmosphere wherein nothing seemed close to getting resolved.
"Right now just airing of grievances in the caucus, back and forth," the source said.
A fourth source – from the north – described the caucus chamber as the scene of a family fight, and noted that a number of the members expressed dismay over Greenwald's decision to go public in his criticism of Prieto. "Folks not happy about lack of communication in general," the source added. "Folks fed up with south bending to Sweeney and Christie on a regular basis."
No one from Camp Greenwald would immediately confirm, but the source insisted (wishful thinking?) he/she sensed some movement on the assembly majority leader's end. "Good day for speaker, but a lot of work to do," the source said.